Did you know that 77% of high-performing projects use project management software? That's a significant number. So, what's the big deal about these tools? Let's find out.
Project management is vital. It keeps teams on track. Deadlines are met. Goals are achieved. But not all tools are equal. Some shine brighter. They make tasks simpler. They boost productivity. They lead to success.
In the modern digital age, using the right tool can be a game-changer. It can mean the difference between timely delivery and costly delays. Between clarity and confusion. Between a motivated team and a disheartened one.
Are you using the right software? Are you getting the most out of it? Dive in to discover the best project management software out there. See how they stack up. And find out which one is perfect for you.
Stay with us. Let's explore this journey together.
Quick List of 5 Project Management Software
Onethread: A visual card-based tool great for organizing tasks and team collaboration.
Hub Planner: Streamlines tasks and project timelines in a user-friendly interface.
Hive: A robust tool offering detailed project planning and resource management.
Slack: More than just messaging; integrates tasks, reminders, and third-party apps.
GanttPro: An all-in-one solution for team communication, to-dos, and file sharing.
Comparison Chart Of Project Management Software
Here's a simplified comparison chart of the specified project management software based on five relevant features:
| | | | | |
| --- | --- | --- | --- | --- |
| | | | | |
| | Thread-based, custom fields, task dependencies | Manual and automatic input, timesheet feature | | Gantt chart, Kanban Boards, Calendar View |
| | | Specialized for Resource Scheduling | | |
| | Task Tagging and progress tracking | | Extensive (Including Zapier) | Progress tracking, boards, timelines |
| | Limited (Mainly through integrations) | | Extensive (Including Trello, Asana, etc.) | Enterprise-grade Security |
| | | | | |
What is Project Management Software?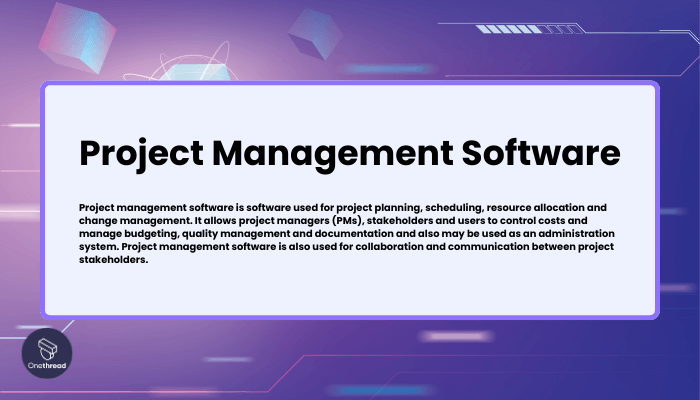 Project Management Software is a digital solution that assists teams and individuals in organizing, planning, and managing projects. Imagine Project Management Software as the blueprint for building a house.
When constructing a house, there are various elements involved – from the foundation, walls, and roofing to plumbing and electrical work. A blueprint provides clear instructions, guiding builders on what to do next ensuring every part fits in the right place.
Similarly, project management software serves as a comprehensive guide for teams. It outlines tasks, sets timelines, and allocates responsibilities, ensuring every step aligns and progresses towards successful project completion.
Just as a blueprint is crucial for erecting a sturdy home, project management tools are essential for building successful projects from the ground up.
Why Project Management Software Is Important to Your Business?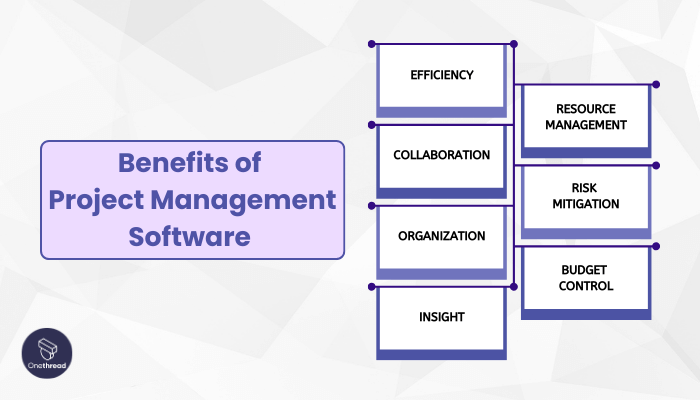 Project Management Software is a cornerstone in business operations today. Here's why it is pivotal:
Efficiency: Streamlines tasks, saving time and effort.
Collaboration: Facilitates seamless team communication and cooperation.
Organization: Helps in arranging tasks and schedules clearly.
Insight: Provides a snapshot of project status, helping in informed decision-making.
Resource Management: Enables optimal allocation of resources, avoiding wastage.
Risk Mitigation: Helps in identifying and addressing potential risks early on.
Budget Control: Assists in tracking and managing budgets effectively.
With such software, businesses can stay a step ahead, ensuring projects run smoothly from inception to completion, thereby achieving goals proficiently and fostering a productive work environment.
Key Features to Consider in Project Management Software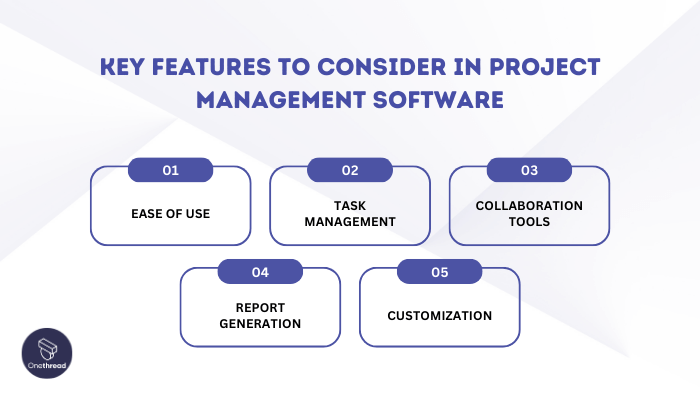 Ever wondered why some teams always hit their marks? Often, it's about the tools they use. Choosing the right project management software can redefine success for your team. Dive in to uncover the essential features. Find out what truly matters.
Ease of Use
A tool should be intuitive. No one wants to spend weeks learning. Simple interfaces matter. When software is easy to navigate, teams jump right in. They start projects faster. They adapt without hassle.
Task Management
Every project has tasks. Lots of them. Task management is crucial. Assign. Track. Update. All in one place. With clear visuals, you see the progress. You know what's next. Delays? They become rare.
Collaboration Tools
Projects need teamwork. Good software bridges gaps. It offers communication platforms. Think chat rooms. Think feedback forums. Quick messages replace long meetings. Ideas flow. Projects move.
Report Generation
Insightful reports are gold. They offer a peek into project health. Spot trends. Identify bottlenecks. With the right data, decisions become sharper. Managers steer projects confidently.
Customization
Not every team is the same. Customization matters. Tailor your software. Add what you need. Remove what you don't. The result? A tool that feels like home.
Propel them towards unmatched success. Eager to delve deeper? Keep reading. Together, we'll explore each feature. Discover what makes each one a game-changer.
Top 5 Project Management Software
Project management software has become a staple for teams worldwide, transforming the way we plan, execute, and deliver projects. From tracking tasks to fostering team collaboration, these tools offer a myriad of features.
But with so many options available, which ones truly stand out? Dive in as we uncover the top 5 project management software that are leading the pack in 2023.
#1. Onethread
Onethread stands out in project management. It's simple. It's powerful. Users love its clean design. Navigation? A breeze. Teams sync up with ease. Assign tasks. Track progress. All in real-time.
Its tools promote collaboration. Communication flows. Barriers break down. Projects move forward. Delays? Rare with Onethread. Integration is seamless. It fits with many apps. Customization is its strength. Tailor it to fit your needs.
Onethread is mobile-ready. Work on the go. Check updates. Make decisions. Anytime. Anywhere.
In a crowded market, Onethread shines. It redefines efficiency. It's the choice for modern teams. Dive in. Discover its potential. Onethread can elevate your projects. Make the switch. Experience the difference.
Overview and key features
Wondering what makes Onethread a standout choice in project management? It's all about the features it brings to the table. Here, we delve deep into what Onethread offers, making it an unbeatable tool in steering projects to success.
Superior Task Management
With Onethread, task management is a breeze. Assign tasks with a click. Use custom fields to personalize. Track progress in real time. Visual aids like project health dashboards help. You see where you stand. You know the way forward. It's task management, redefined.
Collaborative Tools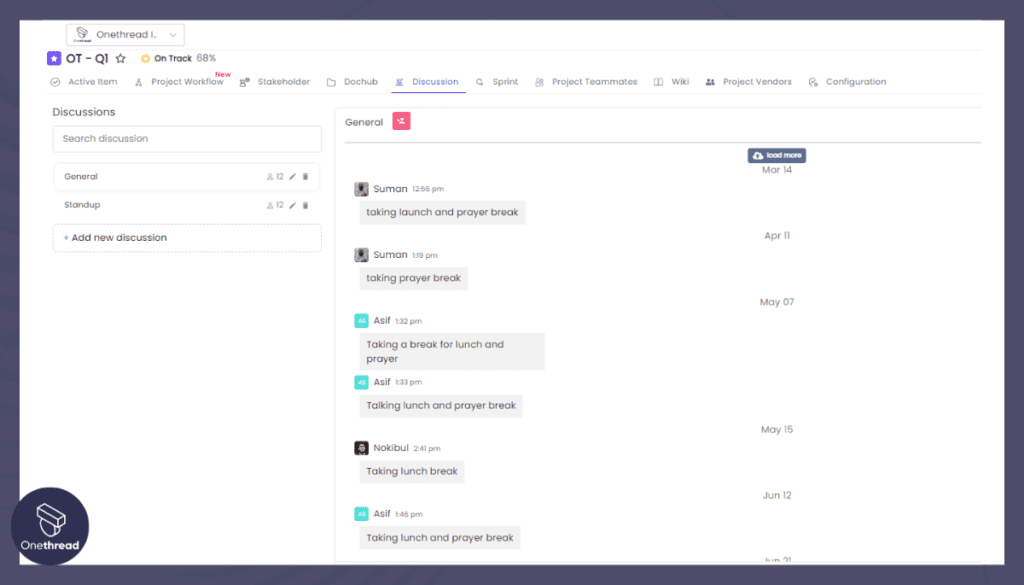 Onethread fosters teamwork. It offers robust collaboration tools like task specific feedback loops, document sharing, team inbox and company wide announcement. It encourages dynamic interactions. Projects become a collective achievement, not just a list of tasks.
Visualization and Planning
Onethread helps you in planning for your projects visually using different views like lists, kanban boards, gantt charts and calendar. Onethread also offers timesheet feature so that you know which part of your human resource is bogged down with what and how to distribute workload in an even manner.
Customization Opportunities
Your team is unique. Onethread understands this. It offers customization. Tailor features to suit your needs. Add what serves you. Remove what doesn't. Create a tool that feels right for your team. It is about crafting a personal user experience.
Mobile Accessibility
Onethread moves as you move. It offers mobile access. Manage projects on the go. With Onethread, you get quick updates and are able to take timely decisions. It ensures work never stops, no matter where you are. It brings flexibility to project management, redefining accessibility.
Pricing plans and options
Free Plan
Perfect for beginners. Onethread's free plan offers:
Access for a limited number of users.
Basic task management tools.
Standard collaboration features.
Initial integration options.
A taste of Onethread, without the price tag.
Growth Plan: $3.6
Scaling your operations? The Growth Plan is designed for expanding teams. For just $3.6, you receive:
Access for more team members.
Enhanced task management features.
Advanced collaboration tools.
Premium support.
More integration options.
Invest in growth, without breaking the bank.
Scale Plan: $6
For large teams with bigger aspirations. Onethread's Scale Plan, priced at $6, provides:
Unlimited user access.
Complete task management suite.
Premium collaboration tools.
Priority support.
Seamless integrations with top-tier apps.
Pros and cons
Pros:
Easy to navigate, making onboarding swift.
Suitable for teams of all sizes and budgets.
Fosters dynamic team interactions.
Tailor the software to fit team-specific needs.
Manage projects on-the-go, ensuring flexibility.
Cons:
Might not suffice for more complex projects.
While user-friendly, new features might require some learning.
Limited integrations
#2. Hub Planner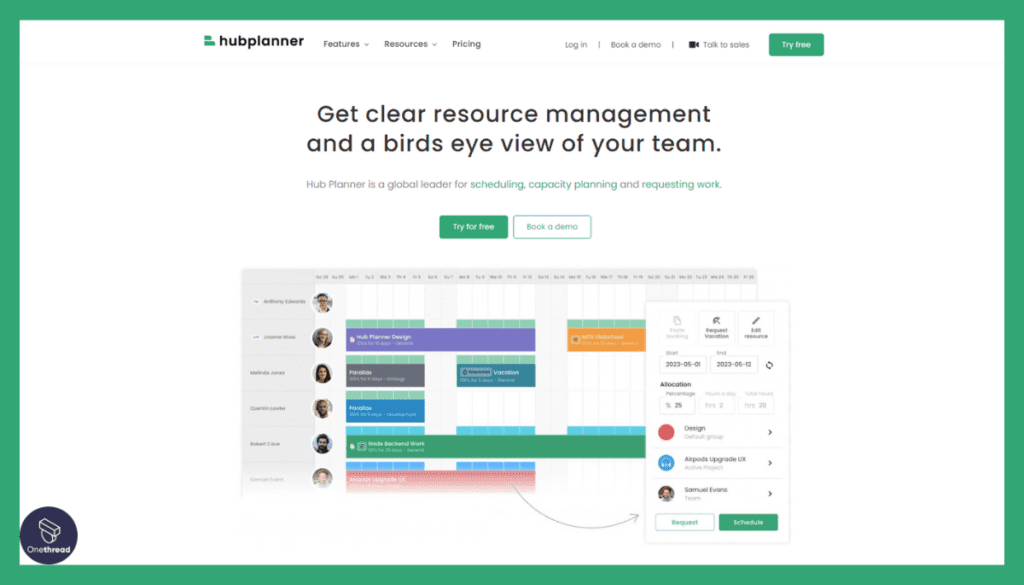 Hub Planner is a simple and effective resource management software. It makes scheduling and tracking resources a breeze.
With Hub Planner, you can manage your team's time and tasks effortlessly. Hub Planner promotes better collaboration and project management. You can share schedules, set availability, and integrate with popular business apps, saving time and improving efficiency.
Accessible on both desktop and mobile devices, Hub Planner adapts to your work style. It's known for its credibility and user-friendly interface.
Hub Planner – Overview
Focus: Resource management and scheduling software.
Stephen Martin: Co-founder and CEO.
Features
When it comes to project management software, Hub Planner is a name that consistently stands out. With its array of features and robust capabilities, it has earned its place as one of the best in the field. Let's explore what sets Hub Planner apart:
Resource Scheduling Made Easy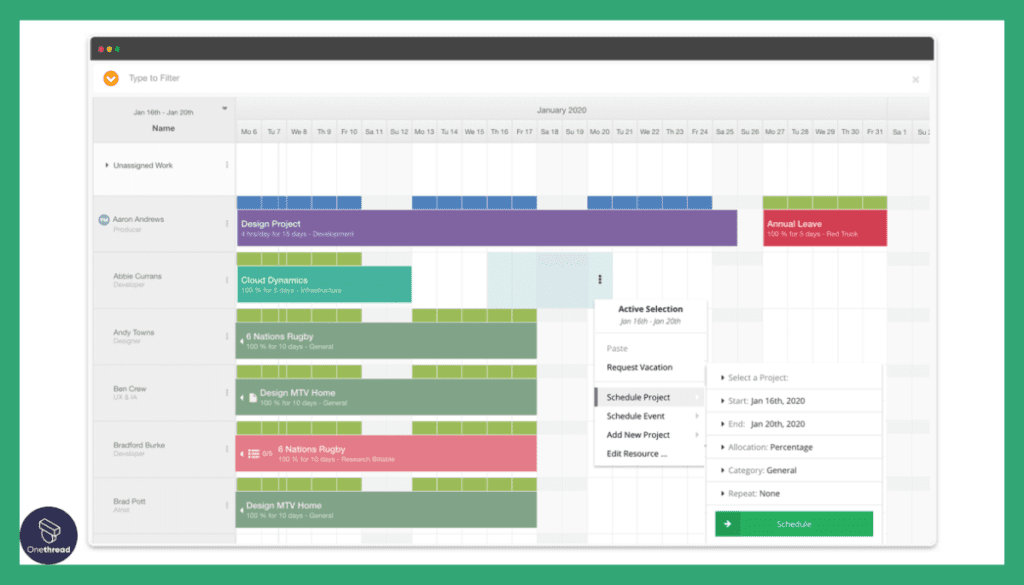 Hub Planner excels in resource scheduling. It provides a clear overview of resource allocation, ensuring that every team member's time is optimized. This feature is invaluable for project managers who need to balance workloads and prevent overallocation.
Team Collaboration at Its Best
Collaboration is at the heart of successful project management, and Hub Planner knows it. Its collaborative tools facilitate seamless communication among team members. Whether through integrated chat or shared calendars, teams can work together efficiently.
Customized Reporting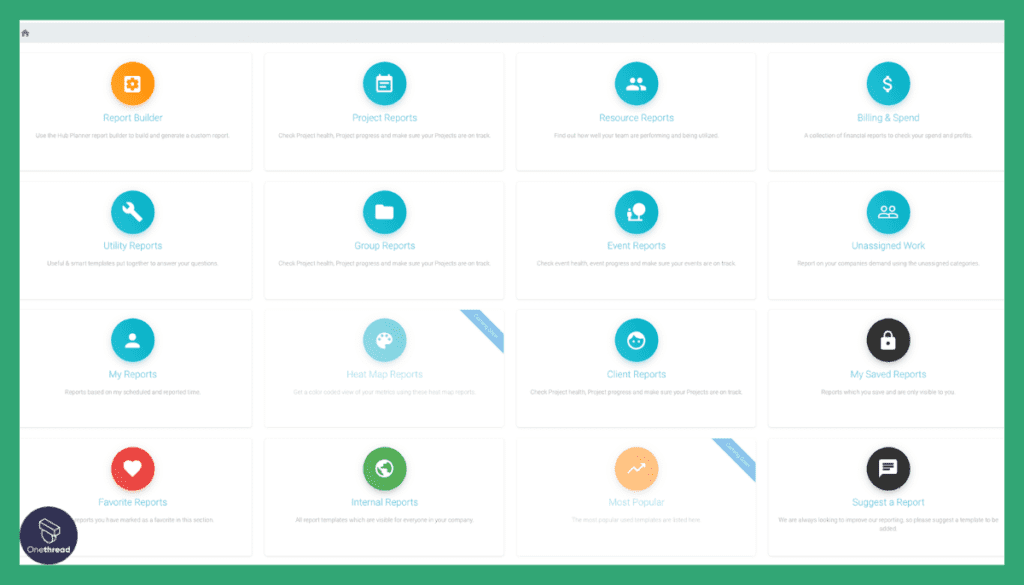 Hub Planner offers robust reporting capabilities. Users can create custom reports to track project progress, resource utilization, and other key metrics. This feature empowers managers with the insights needed to make informed decisions.
Integration Options Galore
The software seamlessly integrates with a wide range of other tools and platforms, such as Slack, Google Calendar, and various project management software. This ensures that Hub Planner can be integrated into your existing workflow without a hitch.
User-Friendly Interface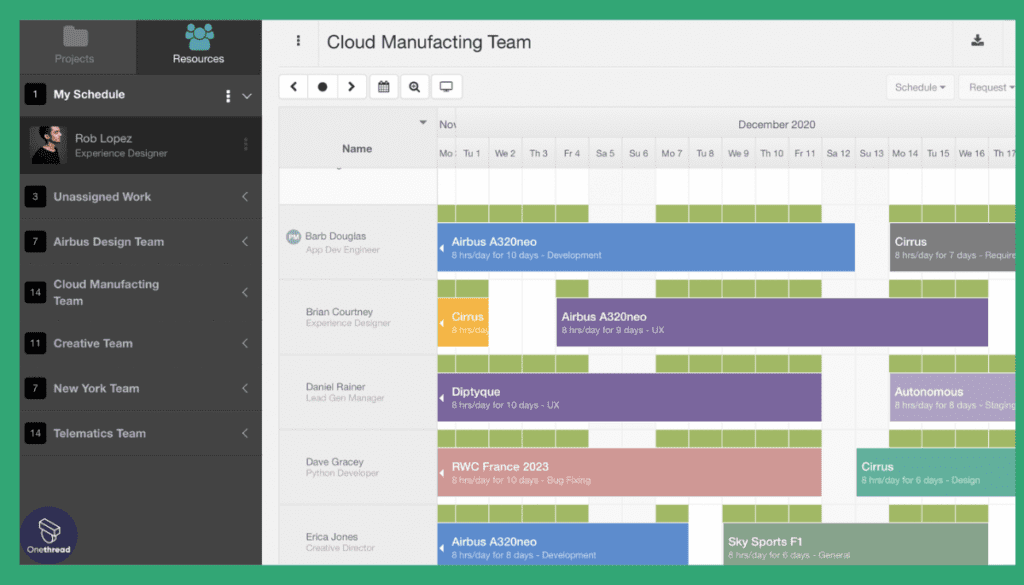 Hub Planner is known for its user-friendly interface. Even though it offers powerful features, it remains approachable and easy to use, making it suitable for teams of all sizes and tech-savviness levels.
Now, let's take a closer look at the pros and cons of Hub Planner:
Pros
Robust Resource Scheduling: Ideal for managing team workloads.
Excellent Collaboration Tools: Facilitates efficient team communication.
Customizable Reporting: Empowers data-driven decision-making.
Seamless Integrations: Works well with other essential apps.
User-Friendly: Easy to navigate and adopt.
Cons
Learning Curve: Some advanced features may require time to master.
Pricing: While competitive, it might not be the most budget-friendly option for smaller teams.
Pricing Plans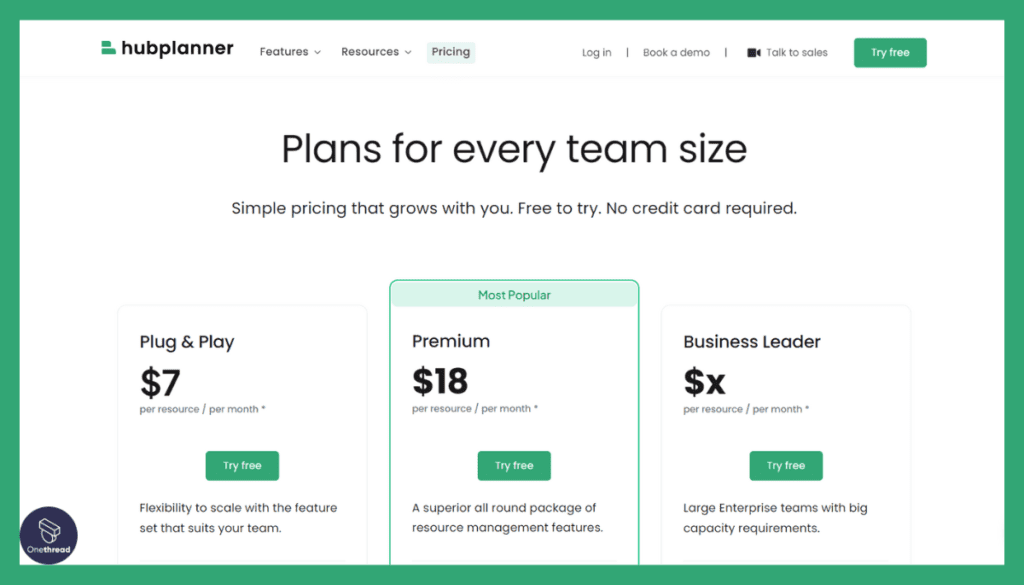 Hub Planner offers flexible pricing plans to cater to various needs:
Starter Plan: Free for small teams with basic features.
Team Plan: Starting at $8 per user per month, offering more advanced features.
Business Plan: Custom pricing for larger enterprises with tailored requirements.
Customer Ratings
G2: 4.4/5 stars.
Capterra: 4.5/5.
Our Review
Our experience with Hub Planner has been a mixed bag. On the positive side, it's undeniably a powerful resource management tool. The ability to visualize our team's workload and allocate resources efficiently is a game-changer.
We also appreciate the seamless integration with various project management tools; it makes our workflow smoother.
However, there are some drawbacks. The learning curve is rather steep, and it took us a while to fully harness its potential. Customer support, though responsive, could be more proactive in guiding new users. Pricing can be on the higher side, which might not be ideal for smaller businesses.
Hub Planner is a robust solution for resource management, and once you get the hang of it, it can be a valuable asset. However, it might not be the best fit for those on a tight budget or with limited time for onboarding.
#3. Hive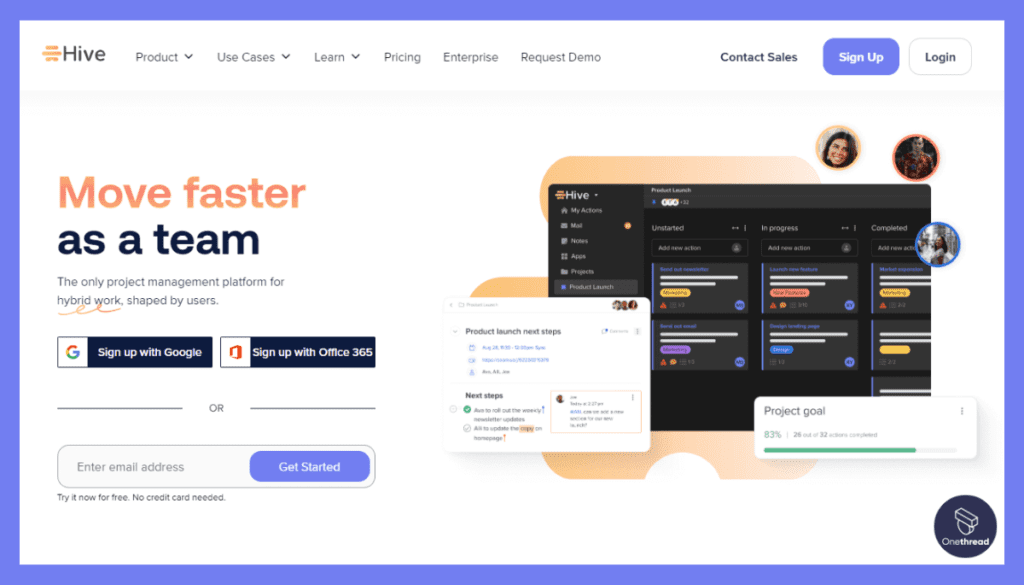 Hive is a user-friendly project management tool. It simplifies team collaboration and task tracking.
With Hive, you can manage projects and tasks efficiently. It offers features like to-do lists, timelines, and file sharing, making it suitable for various work needs.
Hive encourages teamwork effectively. You can easily share updates and files with your team and integrate it with other essential tools, saving time and enhancing productivity.
Accessible on both desktop and mobile devices, Hive adapts to your work style. It's known for its credibility and user-friendly interface.
Hive – Overview
Product Information
Project management and collaboration platform.
Company Valuation: $2B
Employee Numbers: 175+
Founding Team: Kevin Guo and Dmitriy Karpman
Features
Intuitive Task Management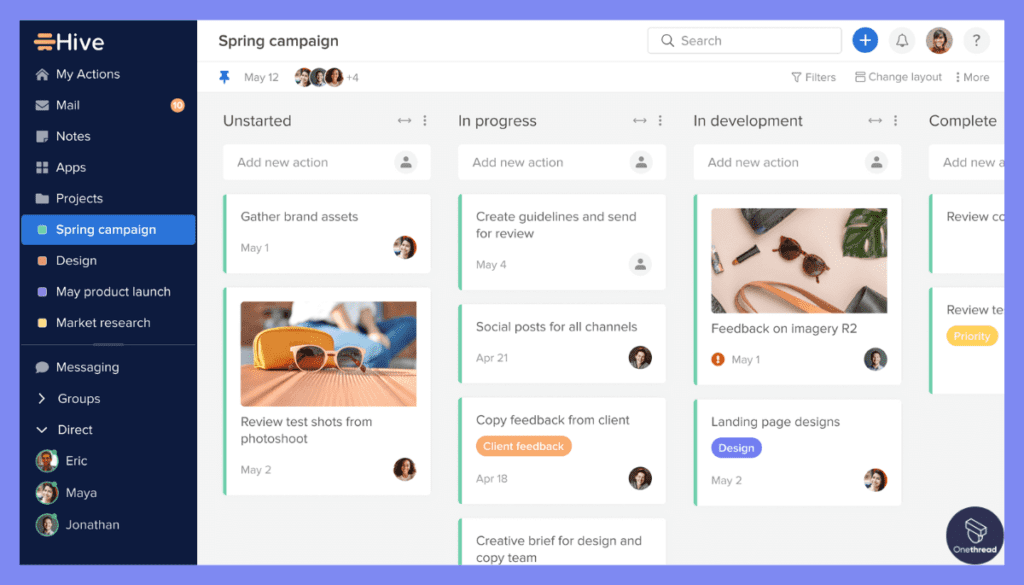 Hive takes the complexity out of task management. Its intuitive interface allows you to create, assign, and track tasks effortlessly. With features like task dependencies and priority settings, you have the tools to ensure that your project progresses smoothly and on schedule. Managing your to-do list has never been more straightforward.
Integrated Communication Hub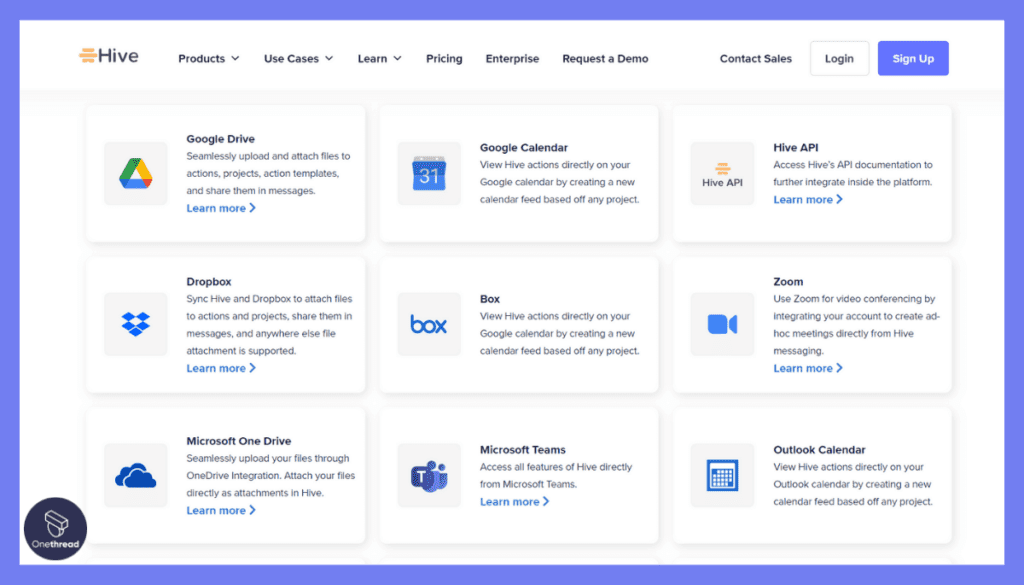 Communication is at the core of Hive's design. It integrates seamlessly with popular communication tools like Slack and email, keeping your team connected without switching platforms. Real-time chat, file sharing, and threaded discussions enhance collaboration, making it easier than ever to coordinate efforts and stay informed.
Time Tracking and Reporting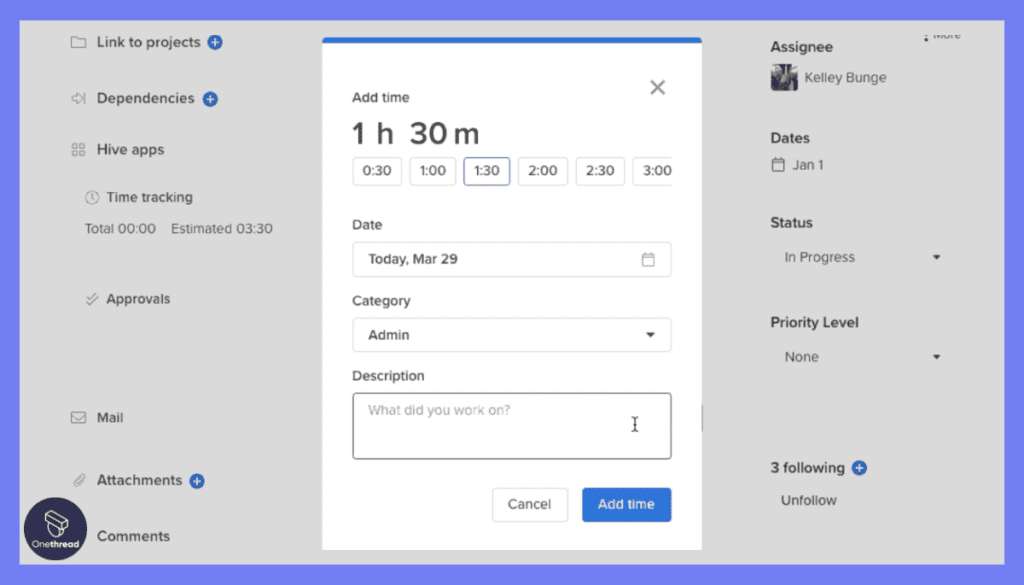 Hive empowers you with accurate time tracking and reporting capabilities. Keep a close eye on how your team spends their time, identify bottlenecks, and make data-driven decisions. The comprehensive reporting feature provides valuable insights into project progress, allowing you to optimize workflows and resource allocation.
Customizable Dashboards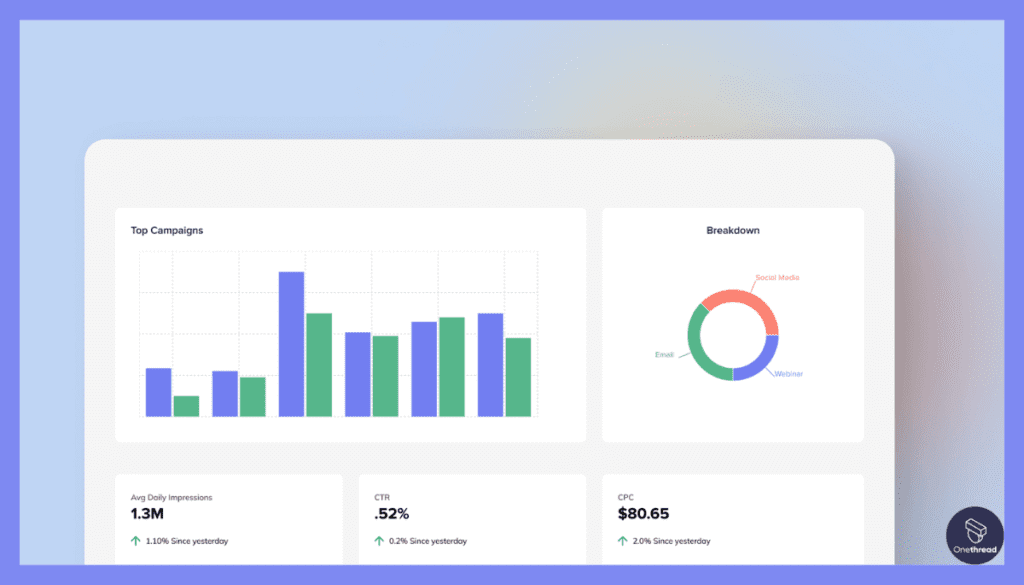 Tailor your project management experience with Hive's customizable dashboards. Create personalized views that suit your workflow, allowing you to focus on what matters most. Whether you're a visual thinker or prefer data-driven insights, Hive lets you design a dashboard that matches your unique preferences.
Automation and Workflow Templates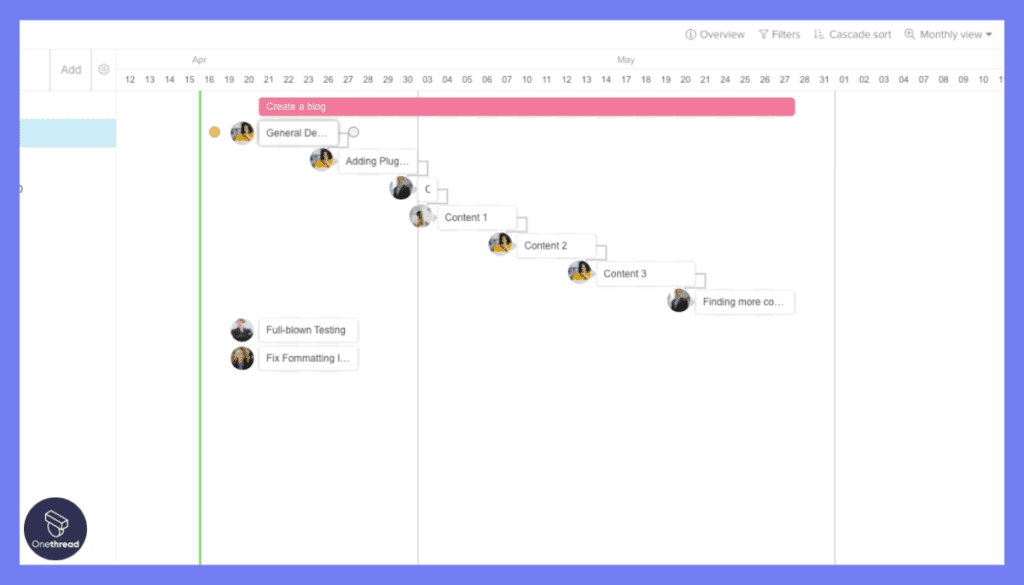 Hive simplifies repetitive tasks with automation and workflow templates. Streamline your processes by automating routine actions, reducing manual work, and minimizing the risk of errors. Workflow templates offer a starting point for common project types, saving you time and ensuring consistency.
Pros:
Intuitive task management for efficient project planning.
Integrated communication hub keeps teams connected.
Time tracking and reporting tools provide valuable project insights.
Customizable dashboards adapt to your workflow.
Automation and workflow templates streamline processes.
Cons:
Learning curve: Some users may require time to master all features.
Pricing may be relatively higher for smaller teams.
Pricing Plans: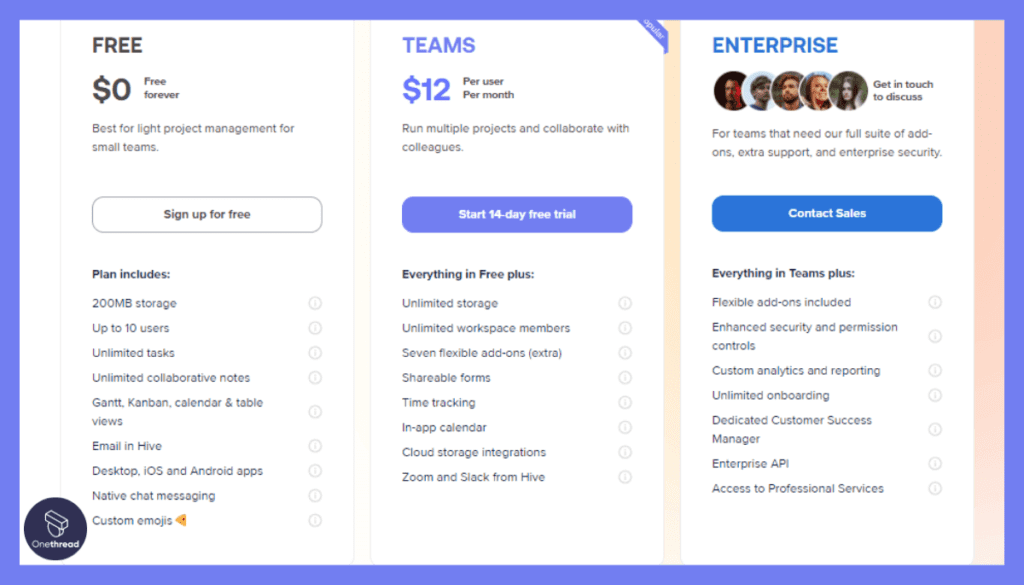 Starter Plan: $12/user/month
Professional Plan: $24/user/month
Enterprise Plan: Custom pricing (contact for a quote)
Customer Ratings:
G2: 4.3/5
Capterra: 4.5/5
Review
We've been using Hive for a while now, and it's a mixed bag of experiences. On the positive side, Hive is fantastic for project management. It offers a user-friendly interface that allows me to create and track tasks effortlessly.
The Gantt charts are a lifesaver, providing clear visuals of project timelines. Collaboration is a breeze with real-time updates and the ability to comment on tasks, making communication within the team seamless. Plus, it integrates smoothly with other common tools, which helps streamline workflows.
However, Hive isn't without its drawbacks. The pricing can be a bit steep, especially for smaller teams or startups. Customization options are somewhat limited, and we've encountered occasional glitches that disrupt workflow. Additionally, the mobile app could use some improvement in terms of functionality and responsiveness.
#4. Slack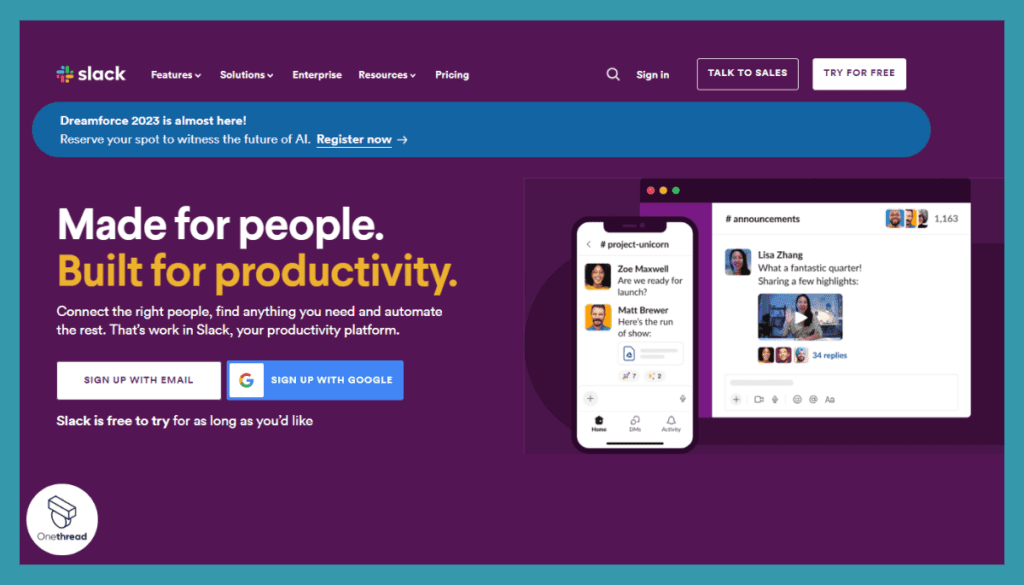 Slack is a user-friendly communication platform. It simplifies team collaboration and messaging.
With Slack, you can communicate with your team in real-time. It offers channels, direct messages, and file sharing, making it ideal for both small teams and large organizations.
Slack promotes efficient teamwork. You can integrate it with other essential tools and automate routine tasks, saving time and improving productivity.
Accessible on both desktop and mobile devices, Slack adapts to your work style. It's known for its credibility and user-friendly interface.
Slack – Overview
Product Information
Focus: Collaboration and communication platform for teams.
Parent Company: Salesforce (acquired Slack in 2020).
Company Valuation (Salesforce): $7B
Employee Numbers (Salesforce): 2445+
Founding Team of Slack Technologies (prior to acquisition by Salesforce):
Stewart Butterfield:

Position: Co-founder and CEO.

Eric Costello:

Position: Co-founder and Director of Design.

Cal Henderson:

Position: Co-founder and Chief Technology Officer.

Serguei Mourachov:

Position: Co-founder and Architect.
Features
Let's explore why Slack is often hailed as the best project management software and uncover the range of features that set it apart.
Real-Time Communication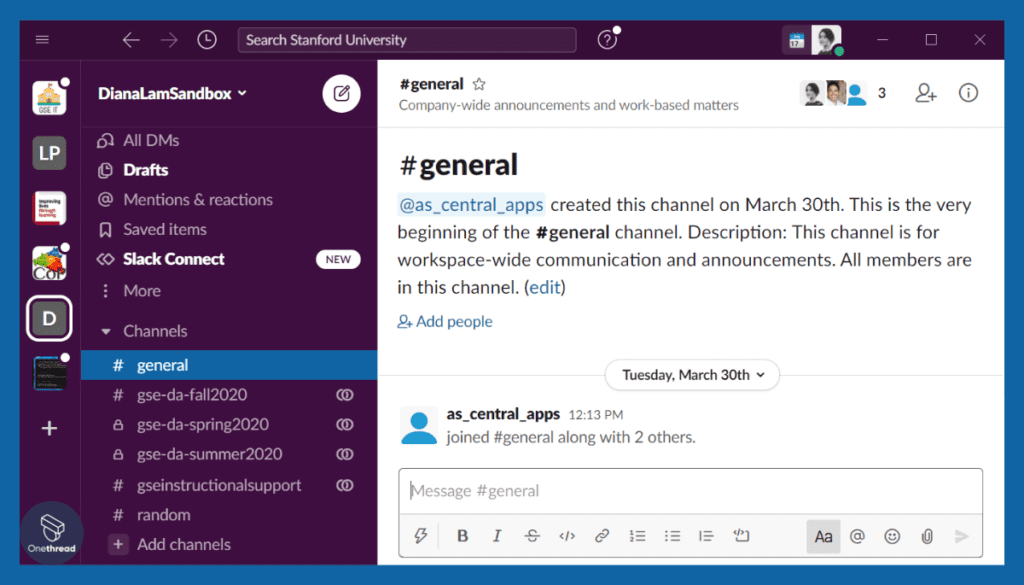 Slack is a communication hub like no other. It provides real-time messaging, enabling instant communication within teams and across departments. This feature fosters collaboration and ensures that important updates are shared promptly, keeping everyone on the same page.
Channel Organization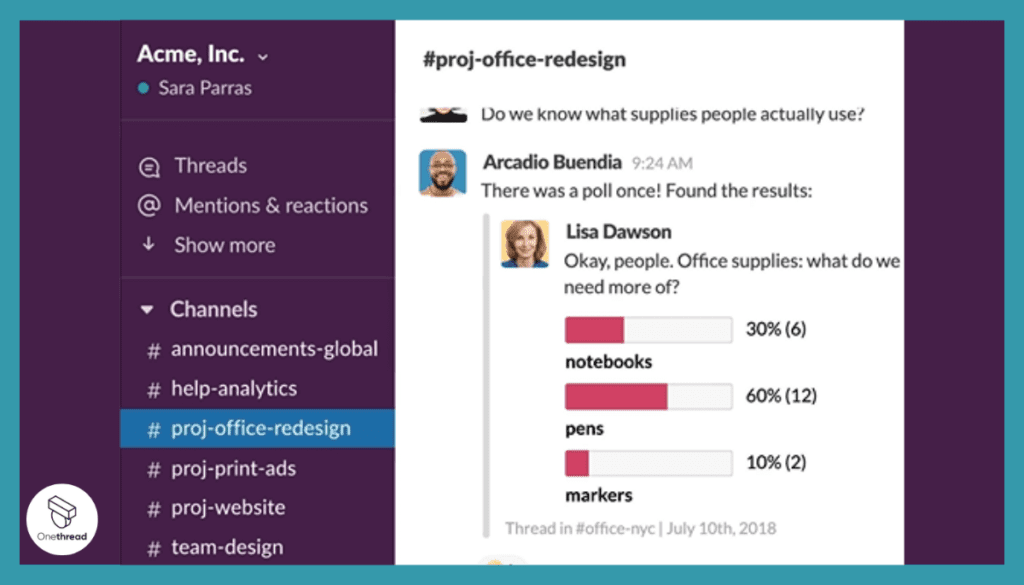 Slack's channel organization is a game-changer for project management. You can create channels for different projects, teams, or topics, allowing you to keep conversations and files neatly organized. This feature simplifies project tracking and ensures that relevant information is easily accessible.
Integration Capabilities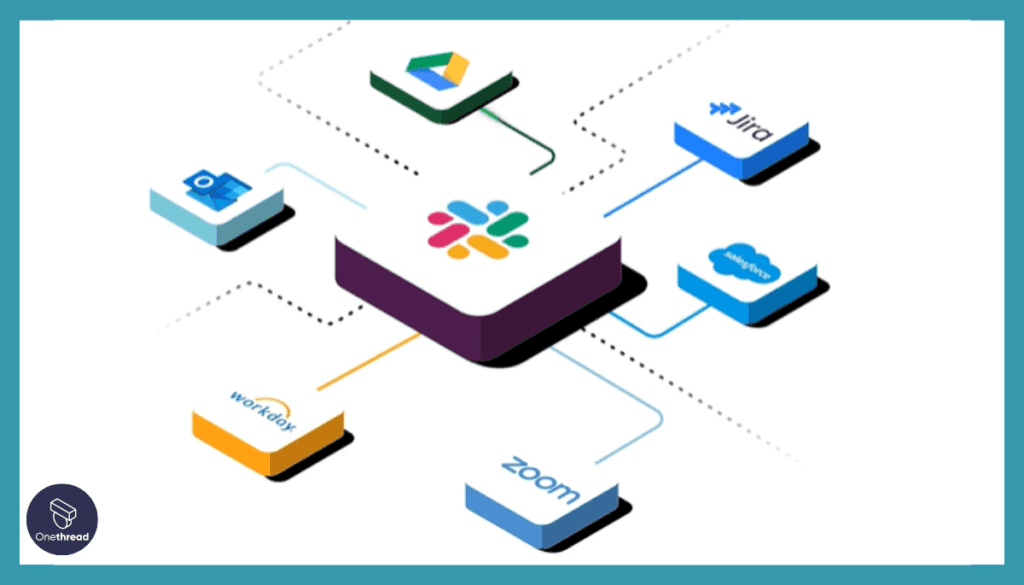 One of Slack's standout features is its integration capabilities. It seamlessly connects with a wide range of third-party apps and tools, such as project management software, file sharing platforms, and calendar applications. This integration flexibility allows you to centralize your workflow within Slack, reducing the need to switch between multiple apps.
File Sharing and Collaboration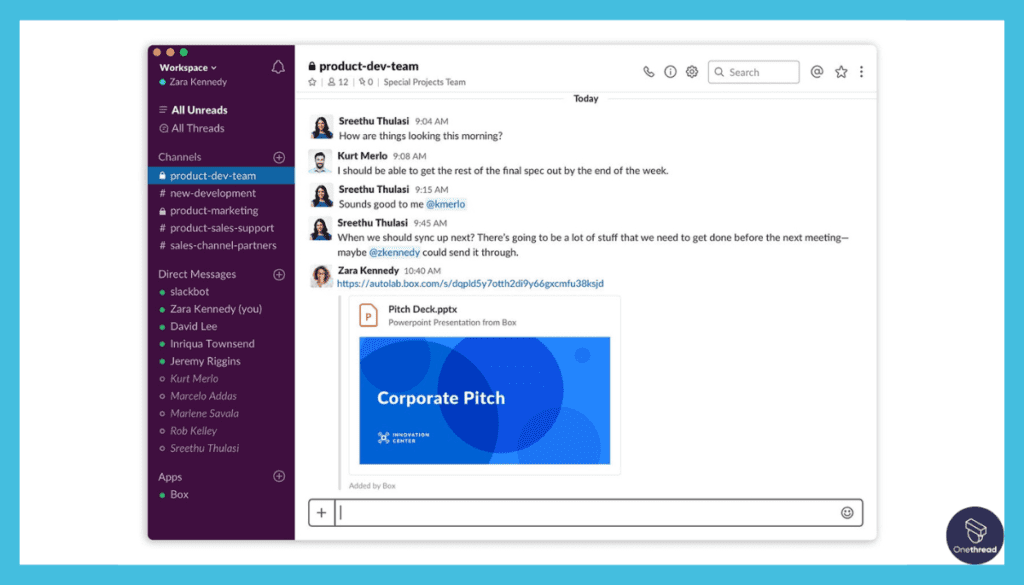 Slack simplifies file sharing and collaboration. You can upload and share files within conversations, making it easy for team members to access documents, images, and other project-related materials. Additionally, the ability to edit documents directly within Slack enhances collaboration and accelerates project progress.
Search and Archive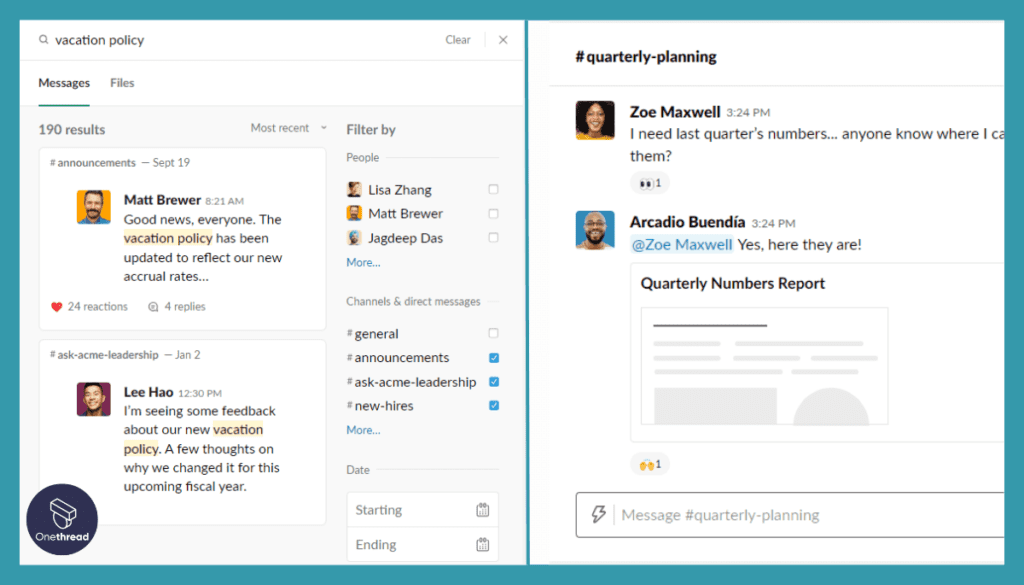 Slack's search and archive feature is a time-saver. You can search for specific messages, files, or conversations, even if they're buried deep within your chat history. This feature ensures that you can quickly retrieve important information and maintain a well-organized record of project-related discussions.
Pros:
Real-time communication enhances collaboration.
Channel organization keeps conversations and files neatly organized.
Integration capabilities streamline workflow management.
File sharing and collaboration tools simplify project tasks.
Search and archive feature ensures easy access to information.
Cons:
Slack can become overwhelming with a high volume of messages.
The free version has limitations on message history and storage.
Pricing Plans: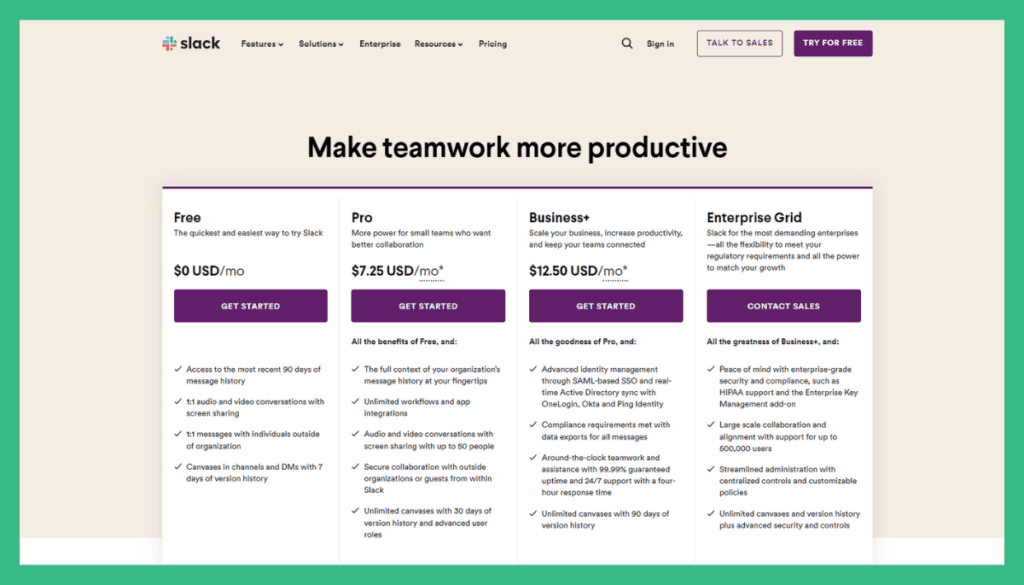 Free Plan: Limited features
Standard Plan: $6.67/user/month (billed annually)
Plus Plan: $12.50/user/month (billed annually)
Enterprise Grid: Custom pricing (contact for a quote)
Customer Ratings:
G2: 4.4/5
Capterra: 4.6/5
Review
Our team's journey with Slack has been both a blessing and a bit of a challenge. On the positive side, it's transformed the way we communicate and collaborate. The real-time messaging and file sharing have supercharged our productivity, making it easy to stay connected, especially for remote work.
However, we've also encountered some hiccups. Slack's notifications can sometimes feel overwhelming, making it tough to maintain focus. The search feature, although powerful, could use some simplification; finding older messages can be like hunting for a needle in a haystack.
In our collective opinion, Slack is a remarkable tool for enhancing team communication and collaboration. Its user-friendly interface and integrations have become indispensable. But, if you are looking for an all-in-all project management tool, Slack might not be the ideal choice for you.
#5. GanttPro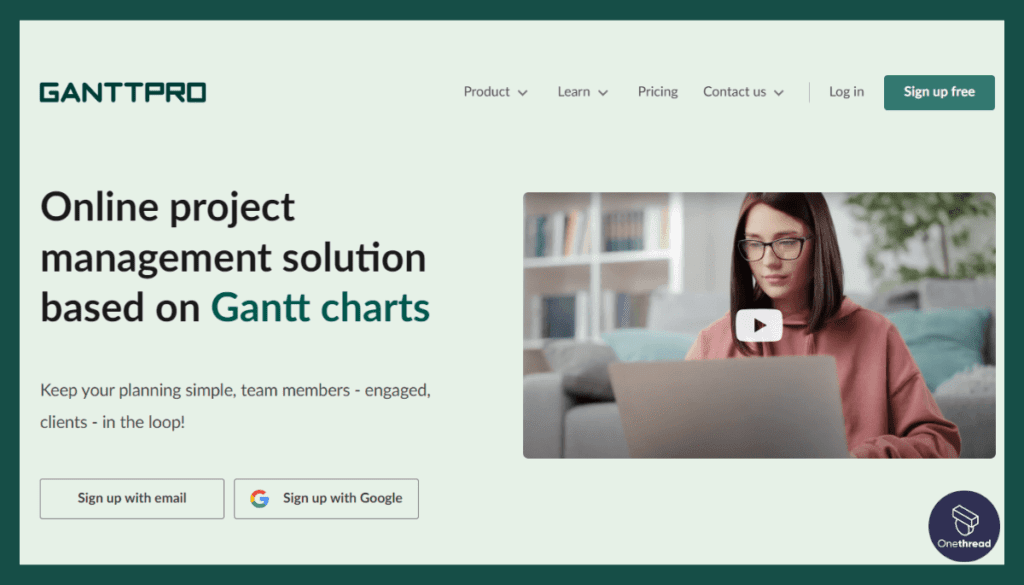 GanttPro is a user-friendly project management software. It simplifies project planning and tracking.
With GanttPro, you can create and manage project timelines effortlessly. It offers intuitive Gantt charts, task dependencies, and team collaboration features, making it ideal for project managers and teams.
GanttPro encourages effective teamwork. You can share project plans, set priorities, and integrate with other essential tools, enhancing productivity and project success.
GanttPro – Overview
Product Information:
Focus: Online Gantt chart software for project planning and management.
Employee Numbers: 25+
Founding Team:
Dmitry Dudin:

Position: Co-founder and CEO
Features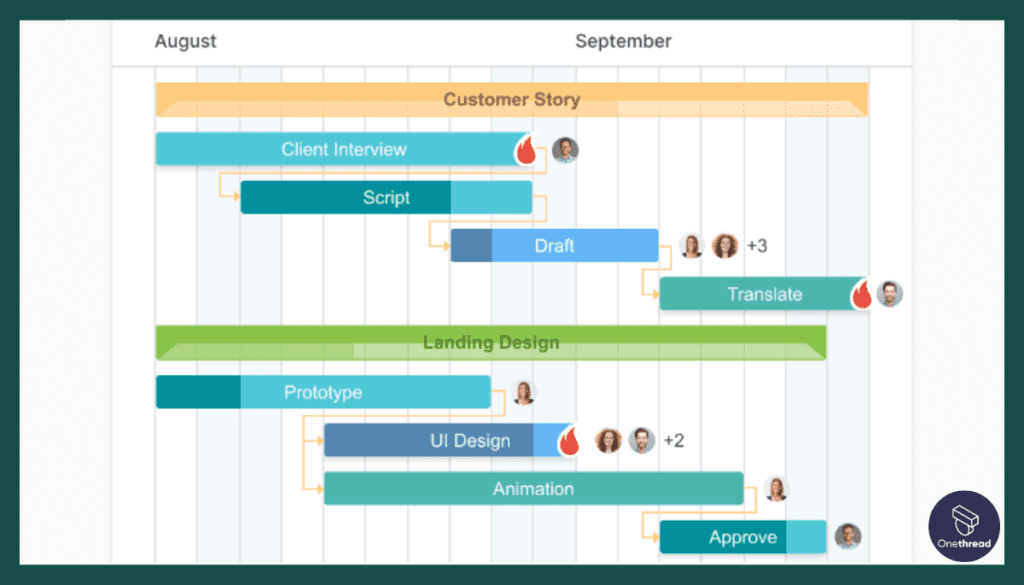 Let's explore why GanttPro is favored by teams across the globe, thanks to its exceptional range of features that redefine project management.
Interactive Gantt Charts
GanttPro's interactive Gantt charts are at the heart of its prowess. These visual timelines provide a comprehensive overview of project tasks, dependencies, and timelines. It's a powerful tool for project planning, allowing you to create and adjust project schedules with ease. With drag-and-drop functionality, managing tasks and timelines becomes intuitive.
Resource Management
Efficient resource allocation is a breeze with GanttPro. It offers resource management tools that enable you to assign team members to tasks, ensuring that workloads are evenly distributed. Real-time resource tracking ensures that you're making the most of your team's skills and availability, preventing bottlenecks and overallocation.
Dependency Management
GanttPro's dependency management feature is a game-changer. You can define task dependencies, specifying which tasks must be completed before others can start. This ensures that your project progresses in a logical and efficient sequence, reducing delays and improving project flow.
Customization and Collaboration
GanttPro offers a high degree of customization. You can tailor your project plan to match your specific needs, creating a personalized project management environment. Additionally, its collaboration tools foster teamwork, allowing team members to comment on tasks, share files, and provide updates, all within the software.
Integration and Reporting
Seamless integration with other tools is a hallmark of GanttPro. It plays well with various third-party applications, ensuring that your workflow remains connected. Additionally, GanttPro's reporting capabilities provide valuable insights into project progress, enabling informed decision-making and enhancing project efficiency.
Pros:
Interactive Gantt charts simplify project planning.
Resource management tools ensure optimal team allocation.
Dependency management reduces delays and improves project flow.
High degree of customization for tailored project management.
Integration and reporting capabilities enhance workflow.
Cons:
The learning curve may be steep for new users.
The cost may be relatively high for smaller businesses.
Pricing Plans: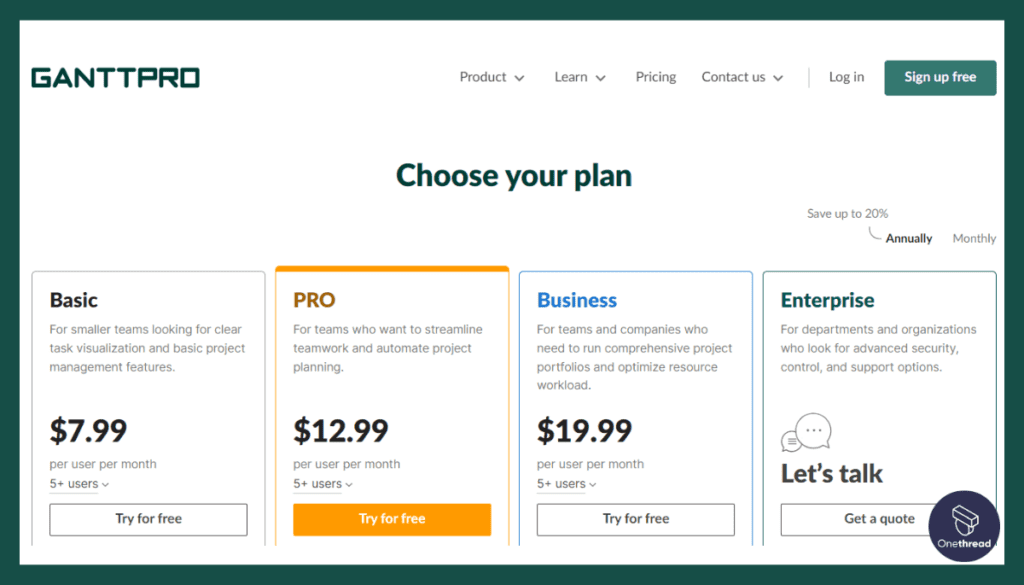 Individual Plan: $15/user/month (billed annually)
Team Plan: $9.80/user/month (billed annually)
Business Plan: Custom pricing (contact for a quote)
Customer Ratings:
G2: 4.3/5
Capterra: 4.4/5
Review
Our experience with GanttPRO has been quite the rollercoaster. On the plus side, it's undeniably powerful for project planning and management. We've appreciated the ease of creating intricate Gantt charts, assigning tasks, and tracking progress. It's a lifesaver when it comes to visualizing project timelines.
However, there have been some downsides to our GanttPRO journey. The learning curve was steeper than expected, and it took us a bit of time to fully harness its capabilities. Additionally, while it's feature-rich, the interface sometimes feels cluttered, making navigation less intuitive.
GanttPRO is a potent tool for serious project management, especially for larger teams with complex projects. Nevertheless, it might be a bit overwhelming for beginners, and a cleaner, more user-friendly interface could enhance the overall experience.
Getting the Most Out of Project Management Software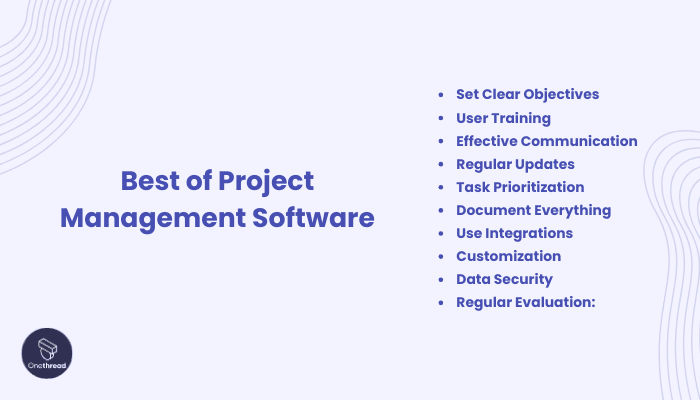 Unlocking the full potential of project management software is essential for maximizing efficiency and achieving project success. Here are some best practices to make the most out of your project management software:
Set Clear Objectives: Define project goals and expectations upfront.
User Training: Ensure all team members are proficient in using the software.
Effective Communication: Encourage open and clear communication among team members.
Regular Updates: Keep project data and progress updated in real time.
Task Prioritization: Focus on high-priority tasks to prevent overload.
Document Everything: Maintain detailed project documentation.
Use Integrations: Leverage integrations with other tools for a seamless workflow.
Customization: Tailor the software to fit your team's unique needs.
Data Security: Ensure data security and privacy measures are in place.
Regular Evaluation: Continuously assess the software's effectiveness and make improvements as needed.
Following these best practices will help you harness the full potential of your project management software, leading to more successful and streamlined project outcomes.
Summary
Project management software has become an indispensable tool for businesses and teams aiming to achieve efficiency and success. With features ranging from task management to real-time collaboration and data analysis, these tools empower organizations to streamline workflows, enhance communication, and make informed decisions.
Embracing the right project management software can propel teams towards greater productivity and project success in today's fast-paced work environment.
FAQs
Can project management software be integrated with other business tools?
Yes, most project management software offers integrations with popular apps like email, calendars, and file storage to create a seamless workflow.
How can I ensure my team adopts project management software effectively?
Provide proper training, set clear expectations, and lead by example to encourage adoption and maximize the software's benefits.
Is project management software suitable for non-technical teams?
Yes, many project management tools are designed with user-friendly interfaces, making them accessible to non-technical teams.
What's the cost of project management software, and are there free options available?
Costs vary widely based on features and the number of users. Some software offers free plans with limited features, while others have tiered pricing based on usage.