Imagine having a digital canvas. A place to put all your ideas, plans, and thoughts. That's what mind mapping software can do for you. It's like a GPS for your brain. Instead of a messy notebook or endless lists, you get a clear map. A map that shows how everything connects.
Why does this matter? Because we all know how easy it is to lose track. You start with one idea, and suddenly you have a hundred. It gets overwhelming. That's where mind mapping comes in. It organizes the chaos. And the software makes it even easier. With the click of a button, you can add branches, notes, or even files. It's that simple.
Here's the kicker. You don't have to be a tech wizard. These tools are user-friendly. They work for students, professionals, and anyone in between. Whether you're planning a project or studying for an exam, mind mapping can help.
Ready to change how you think? Keep reading to discover the five best mind-mapping software. We've done the hard work, so you don't have to. Say goodbye to clutter and hello to clarity.
Quick List of 5 Mind Mapping Software
Figjam: Open-source option for those looking for a free yet powerful tool.
MindMeister: Online tool that offers real-time collaboration for teams.
XMind: Feature-rich software with various templates and design options.
Ayoa: Great for integrating mind maps into other work documents.
Coggle: Easy to use with a simple interface, perfect for beginners.
Comparison Chart Of Mind Mapping Software
Here is the comparison of Mind Mapping Software,
| | | | | |
| --- | --- | --- | --- | --- |
| | | | | |
| | Online whiteboard can collaborate more effectively | | | |
| | | | In-app cloud, Google Drive, Dropbox | |
| | | | Local, Dropbox, Google Drive | |
| | | Mind Map, Radial, Organizational | In-app cloud, Google Drive | |
| | | | In-app cloud, Google Drive | |
What is Mind Mapping Software?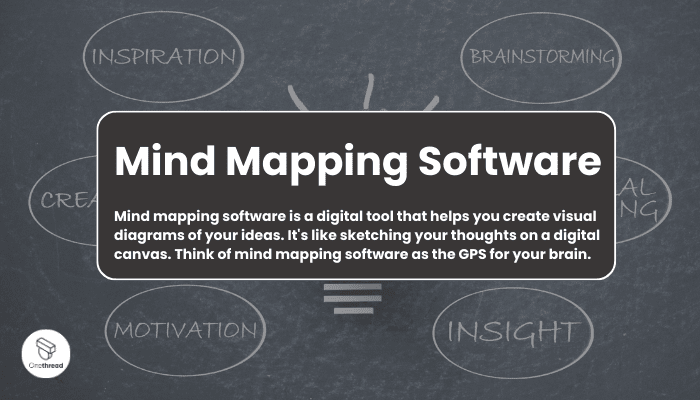 Mind mapping software is a digital tool that helps you create visual diagrams of your ideas. It's like sketching your thoughts on a digital canvas. Think of mind mapping software as the GPS for your brain.
Just like a GPS helps you navigate roads and find the best routes, mind mapping software guides your thought process. It organizes your ideas, showing you the connections between them. This way, you can easily navigate through your thoughts, making it simpler to reach your destination, whether that's a completed project, a study plan, or a problem solved.
How Mind Mapping Software Can Help Your Business?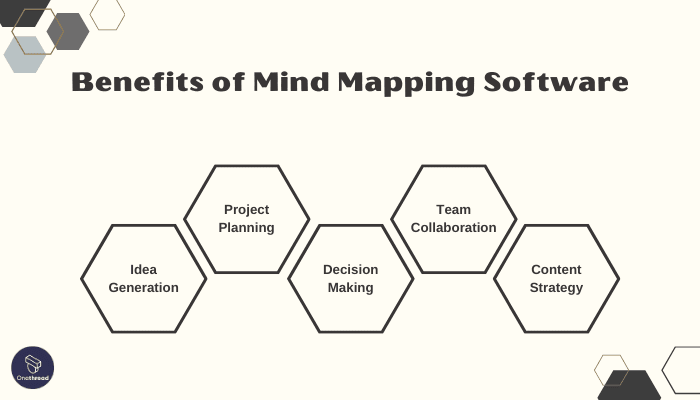 Mind mapping software is like a Swiss Army knife for your business. It's versatile and incredibly useful in various scenarios. But how exactly can it elevate your business game?
Idea Generation: Create a visual brainstorming session that's easy for everyone to contribute to.
Project Planning: Use a mind map to outline project phases, allocate resources, and set deadlines.
Decision Making: Weigh pros and cons visually to make better-informed decisions.
Team Collaboration: Real-time editing makes it easy for teams to work together, no matter where they are.
Content Strategy: Plan your marketing or social media content in a structured, easy-to-follow format.
In essence, mind mapping can be a game-changer, offering clarity and structure in a busy business landscape.
Key Features to Consider in Mind Mapping Software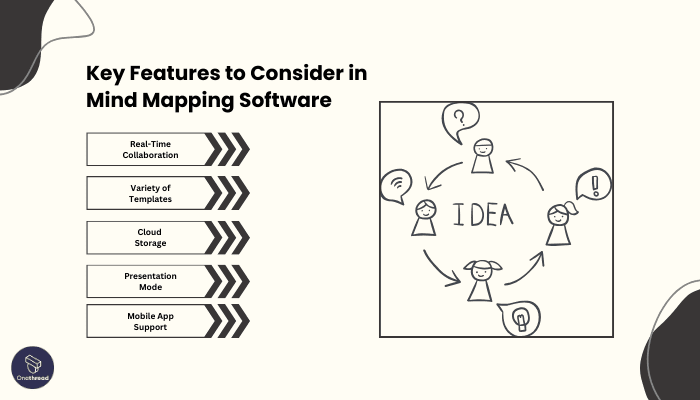 You want a tool that's both robust and user-friendly. But what should you look for? Below, we delve into the five key features that can make or break your experience.
Real-Time Collaboration
This is teamwork made easy. Real-time collaboration lets multiple people edit a map at the same time. It's perfect for brainstorming sessions and team projects. Make sure your software allows this to keep everyone on the same page.
Variety of Templates
Templates are a time-saver. A good software will offer different templates for various needs. Whether it's project planning or study guides, templates can give you a head start. Look for software that provides a wide variety to choose from.
Cloud Storage
Don't risk losing your work. Cloud storage ensures that your mind maps are safe and accessible. Anywhere, anytime. This feature is vital for those who work across different devices or locations.
Presentation Mode
Sometimes you need to share your ideas. Presentation mode allows you to turn your mind map into a slide show. This makes it easy to showcase your thoughts to a team or a client. It's a feature that can add professionalism to your presentations.
Mobile App Support
We're always on the move. Having a mobile app means you can work on your mind maps wherever you are. On the train, at a café, or in a meeting. A mobile app gives you the freedom to be productive on the go.
To sum up, these five features can greatly affect your experience with mind mapping software. Choose wisely to get the most out of your tool.
Top 5 Mind Mapping Software
Navigating the world of ideas can be complex. That's why having the right tool to map your thoughts is essential. Whether you're brainstorming, planning, or simply trying to organize your mind, the right software can make a world of difference.
Here, we've rounded up the top 5 mind mapping software to help you find your way through the labyrinth of your thoughts. Read on to find the tool that suits you best.
#1. Figjam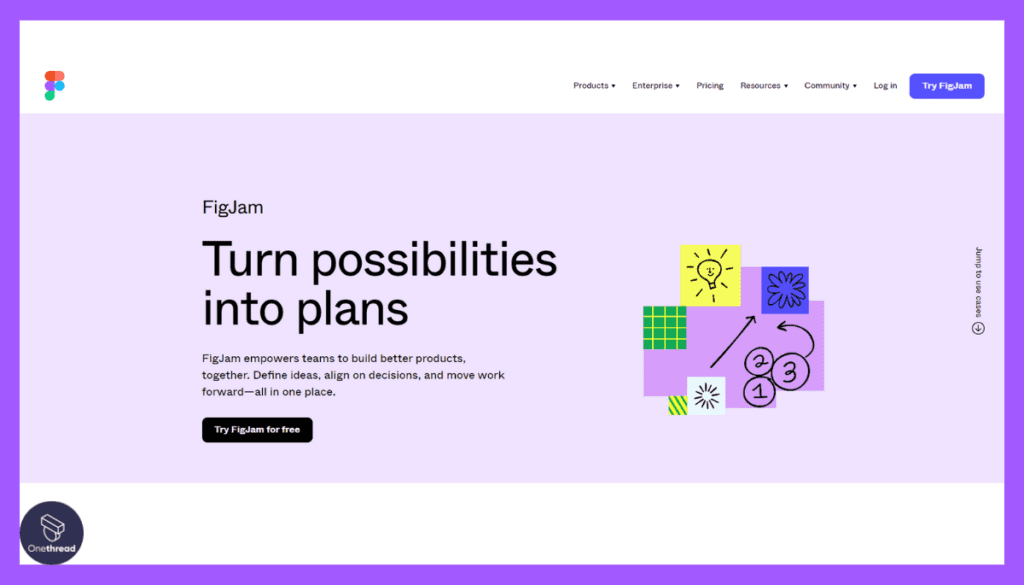 Figjam stands out as a top-tier mind mapping software. It's like your digital whiteboard, but better. Unlike other tools, Figjam focuses on simplicity. Its user-friendly interface makes mapping your thoughts a breeze.
Don't let the simplicity fool you, though. It's packed with features. You get cloud storage options like OneDrive and Google Drive. Your data is secure and accessible anytime, anywhere. Although it lacks real-time collaboration, its ease of use more than makes up for it.
You can use basic templates to get started quickly. Figjam is great for both beginners and pros who value straightforward, effective mind mapping.
Overview and key features
If you're searching for a no-nonsense approach to mind mapping, look no further than Figjam. This software puts user experience front and center. Below, we unpack the top 5 features that make Figjam a go-to choice for effective and simple mind mapping.
User-Friendly Interface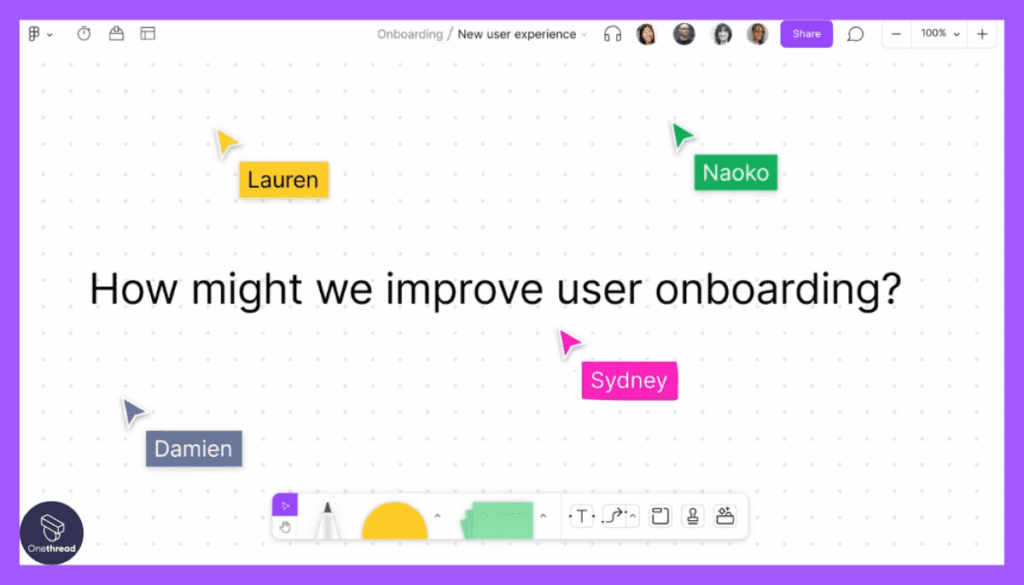 Figjam scores big in simplicity. Its interface is clean and intuitive. This means you spend less time figuring out how to use the tool and more time on what matters: mapping your ideas. Even if you're new to mind mapping, you'll feel right at home.
Basic Templates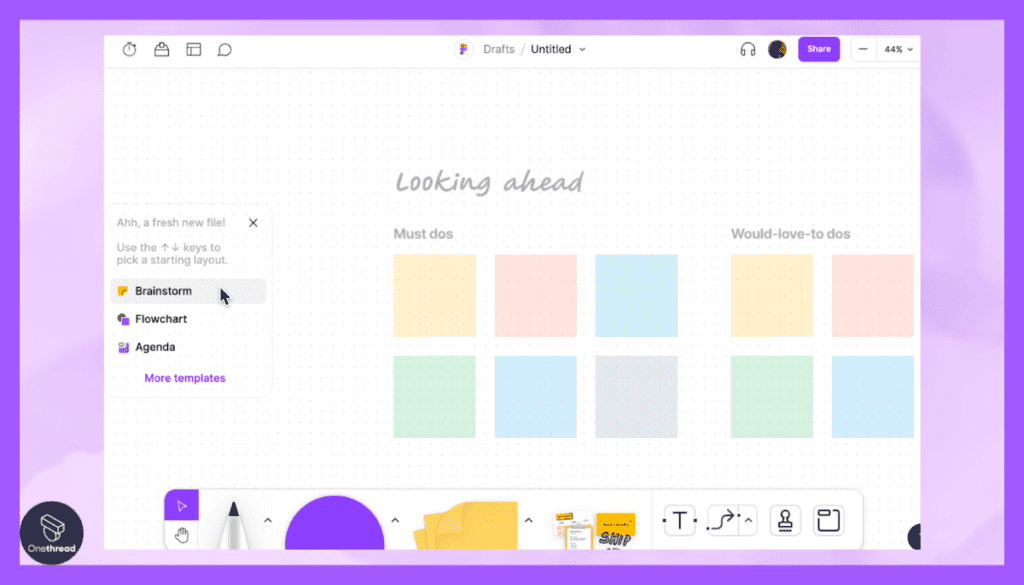 Don't know where to start? Figjam offers basic templates to kickstart your project. While not as varied as some other platforms, these templates get the job done. They're ideal for users who want a straightforward starting point without unnecessary frills.
Cloud Storage Options
Never worry about losing your work. Figjam lets you store your mind maps on popular cloud services like OneDrive and Google Drive. This ensures that your files are safe, secure, and accessible from any device.
Real-Time Collaboration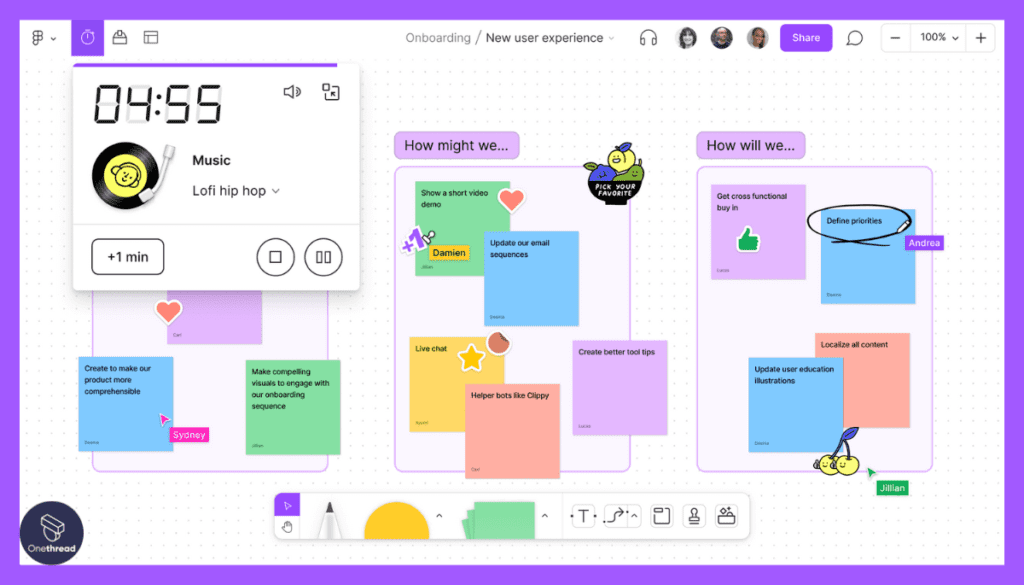 Figjam doesn't offer real-time collaboration, but that's by design. The focus here is on individual clarity and organization. If you're a solo user who wants to get things mapped out without distractions, Figjam has you covered.
Simple Yet Effective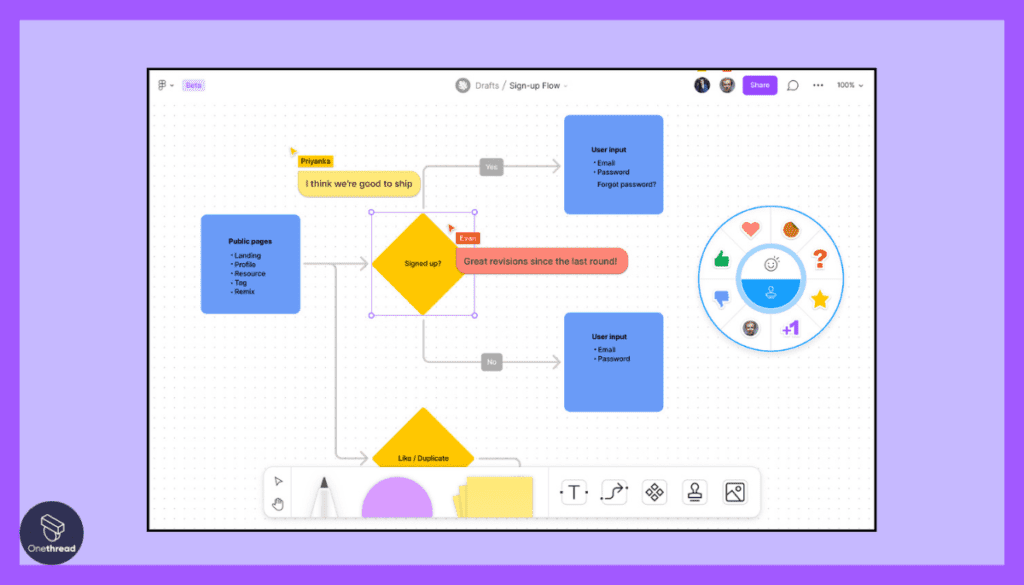 At its core, Figjam aims to do one thing well: mind mapping. It skips bells and whistles to deliver a straightforward, reliable experience. This laser focus on simplicity makes it one of the best options for those who want to map their thoughts without any fuss.
Figjam offers a streamlined experience that centers on ease-of-use and efficiency. These key features make it an excellent choice for anyone looking to simplify their thought processes.
Pricing plans and options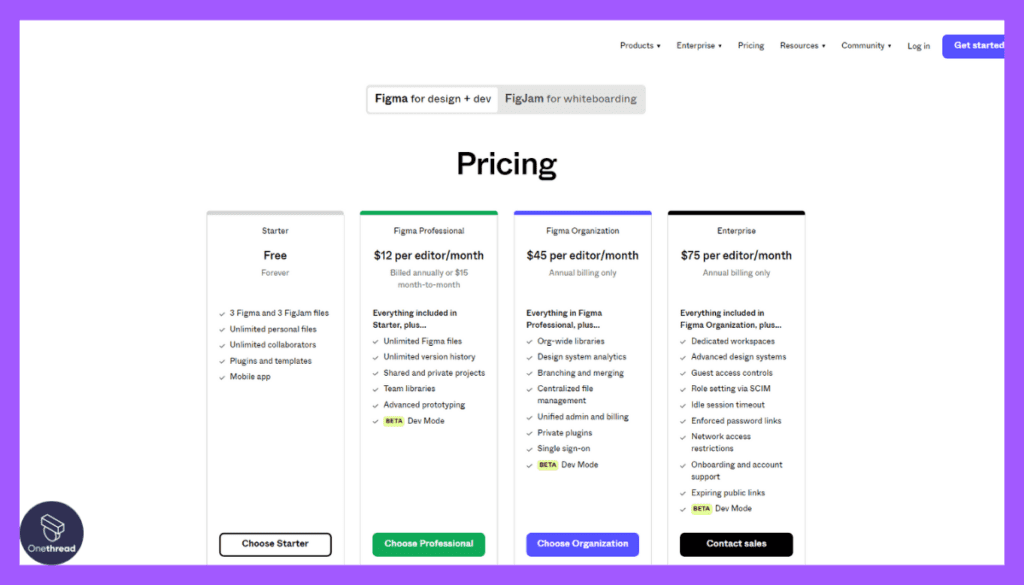 Figjam offers a range of pricing plans to fit different needs. Here's a breakdown:
Free Version:

Access to FigJam's basic features.
Limited to three files.

Professional Plan ($12):

Priced per editor per month.
Unlimited files.
Includes advanced features and priority support.

Organization Plan ($45):

Designed for businesses.
Priced per editor per month.
Centralized team management.
Advanced security features.

Enterprise ($75):

Custom pricing.
Designed for large teams or organizations.
Advanced security and support.
Pros and cons
Pros
User-Friendly Interface: Easy for anyone to use, even if you're new to mind mapping.
Affordable Pricing: With plans starting at $3.6/month, it's budget-friendly.
Cloud Storage: Integration with OneDrive and Google Drive keeps your work safe and accessible.
Basic Templates: Provides a quick start for your projects without overcomplicating things.
Focused Experience: Skips unnecessary features to provide a streamlined, effective mind mapping tool.
Cons
No Real-Time Collaboration: Not ideal for teams who need to work on projects simultaneously.
Limited Templates: While they're straightforward, the options are not as diverse as other platforms.
No Mobile App: Lack of mobile support means you can't work on-the-go.
#2. MindMeister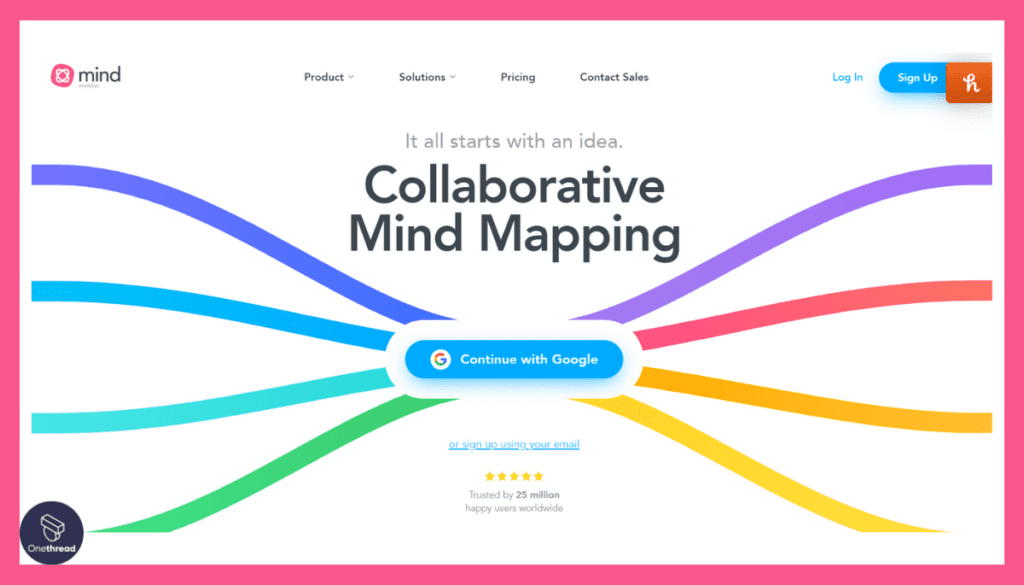 MindMeister is a user-friendly mind-mapping tool that enables individuals and teams to visually organize their ideas, plans, and projects. With its intuitive interface, MindMeister offers a range of features to create, collaborate, and share mind maps in real time.
Users can easily brainstorm, structure concepts, and outline tasks using customizable nodes and branches. This platform fosters creativity, enhances clarity, and aids in decision-making. MindMeister's collaboration capabilities allow team members to contribute simultaneously, promoting effective teamwork.
The platform offers integration with other popular tools, making it seamless to incorporate mind maps into various workflows. Whether used for project planning, note-taking, or brainstorming, MindMeister is a versatile solution that empowers individuals and teams to visualize their thoughts and bring their ideas to life.
MindMeister: A Company Snapshot
Company Valuation
MindMeister is a privately held company, so its exact valuation is not publicly disclosed.
Employee
Founded in 2007.
Employed a team of around 100 people as of 2023.
Founding Team
MindMeister was established by Michael Hollauf and Till Vollmer.
With a decade of presence in the market, MindMeister boasts over 7 million users who have collectively generated more than a billion ideas to date.
Features
MindMeister is a powerhouse in the world of mind mapping software. Known for its versatility and user-friendly experience, this tool covers all the bases for individual thinkers and team collaborators alike. Below, we dive deep into the features that make MindMeister an industry leader.
Real-Time Collaboration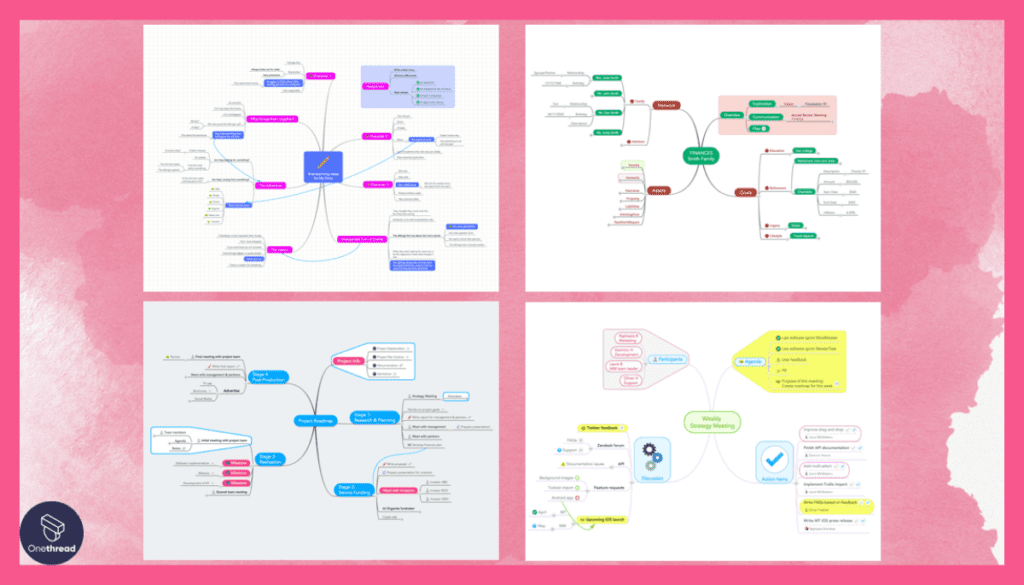 Real-time collaboration is a standout feature in MindMeister. It enables multiple users to work on a single mind map at the same time. This is invaluable for brainstorming sessions and team projects. You can easily see changes made by teammates and keep everyone aligned. Moreover, this function is well-implemented, offering seamless interaction without lag.
Customizable Templates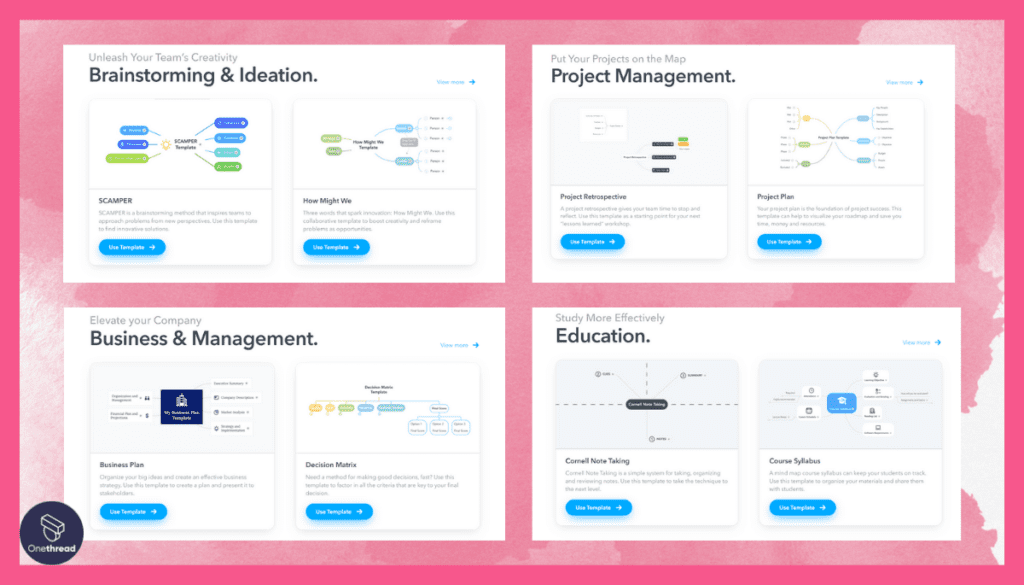 MindMeister offers a range of templates to fit all kinds of projects. Whether you're creating a marketing plan or organizing your study notes, there's a template for that. These templates are not just placeholders; they come with useful tips and guidelines. It's a great way to hit the ground running and saves you valuable time.
Robust Cloud Storage
When it comes to data storage, MindMeister has you covered. The in-app cloud ensures that your work is safe and available from anywhere. The platform also offers integration with popular storage options like Google Drive and Dropbox, allowing for easy import and export of your maps.
Presentation Mode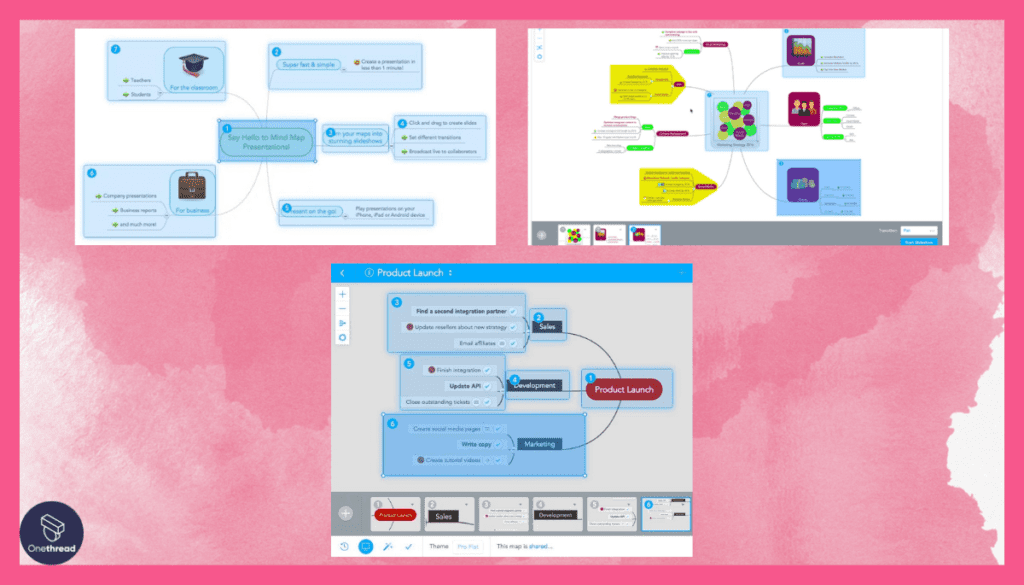 Transforming your mind maps into presentations is a breeze with MindMeister's Presentation Mode. This feature offers a smooth transition from brainstorming to presenting your ideas, making it ideal for business meetings or educational settings. Each node in your map becomes a slide, giving you an organized and impactful presentation.
Mobile App Support

MindMeister extends its user-friendly experience to mobile devices. The mobile apps for iOS and Android ensure you can work on your projects even when you're away from your desk. It retains most of the desktop features and offers a seamless transition between devices.
Pros
Strong Real-Time Collaboration features
Variety of Customizable Templates
Robust Cloud Storage options
Effective Presentation Mode
Excellent Mobile App Support
Cons
Premium features come at a cost
Might be overwhelming for beginners due to feature richness
No offline mode for mobile app
Pricing Plans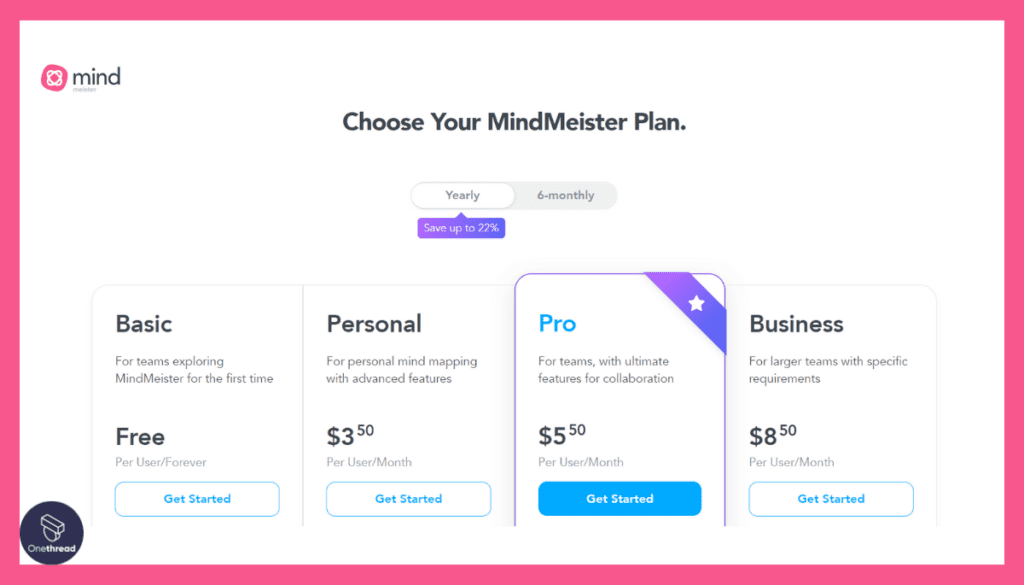 Basic (Free): Limited to three mind maps
Personal ($4.99/month): Unlimited mind maps and file attachments
Pro ($8.25/month): Adds project planning and team collaboration features
Customer Ratings
G2: 4.3 out of 5
Capterra: 4.5 out of 5
Our Review
MindMeister excels in delivering a feature-rich experience without compromising on user-friendliness. The tool is adaptable to various use-cases, making it an all-rounder in the realm of mind mapping software.
While the array of options might seem daunting to beginners, the learning curve is worth it. Overall, if you're looking for a well-rounded, reliable mind mapping tool, MindMeister is a top-tier choice.
#3. XMind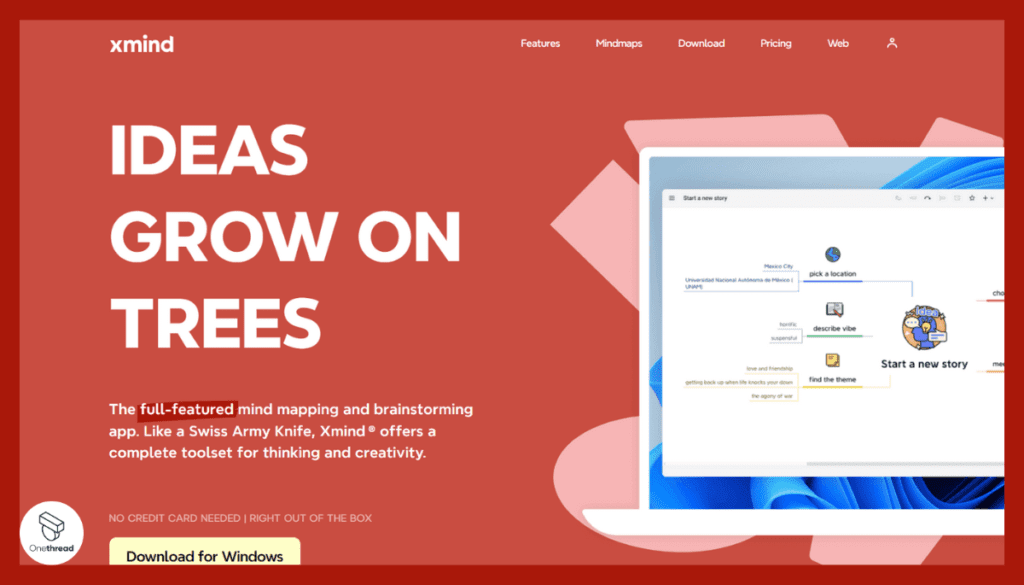 XMind is a powerful and user-friendly mind-mapping software designed to help individuals and teams organize their thoughts, brainstorm ideas, and visualize concepts. With its intuitive interface, XMind enables users to create structured diagrams that enhance understanding and communication.
The platform offers various features such as customizable templates, task management tools, and collaboration options, making it ideal for both personal and professional use. XMind supports different map styles, including mind maps, organizational charts, and timelines, catering to diverse needs.
Its integration with cloud storage and other productivity tools ensures seamless sharing and collaboration. XMind empowers users to capture their ideas and transform them into actionable plans, making it a valuable tool for boosting productivity, creativity, and strategic thinking.
XMind: A Company Snapshot
Company Valuation
XMind is a privately held company, so its exact valuation is not publicly disclosed.
Xmind secured $50,000 in funding in a single funding round.
Employee Numbers
Founded in 2006.
Employed a team of less than 50 people as of 2023 according to Crunchbase.
Focused on providing mind mapping and brainstorming tools for individuals and teams.
Founding Team
XMind was founded by Brian Sun and the company is located in Honk Kong.
Features
XMind offers a potent mix of features that make it a top choice for those seeking advanced capabilities in mind mapping. Known for its extensive set of tools and flexible options, it is the ideal software for anyone who wants a robust, customizable experience. Let's delve into what sets XMind apart.
Fishbone Charts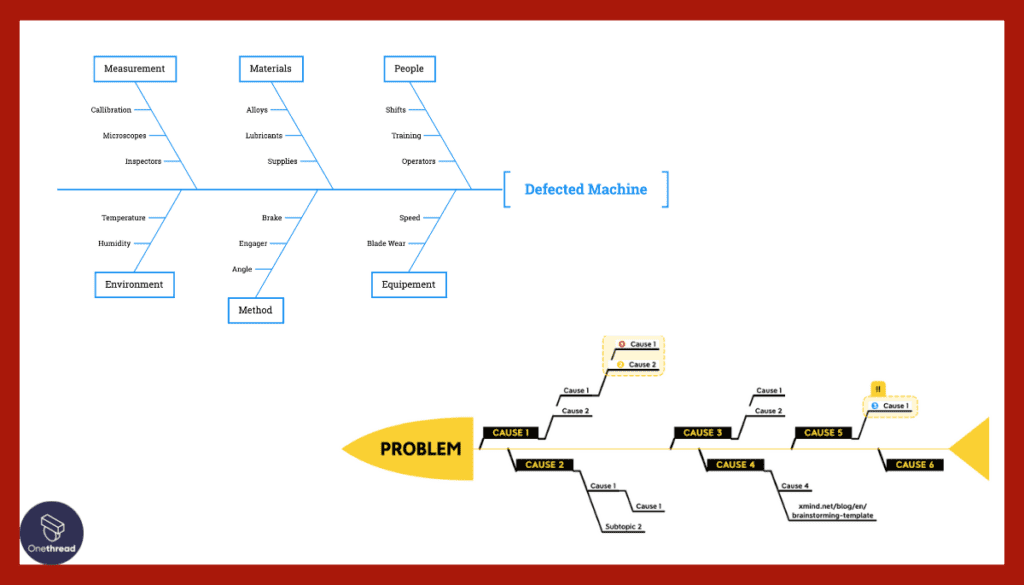 XMind offers something unique: fishbone charts. This feature is incredibly helpful when you're breaking down complex projects. It helps to identify root causes, bottlenecks, or key drivers behind any topic. In a few clicks, you can turn your traditional mind map into a fishbone diagram, bringing a fresh perspective to problem-solving.
Gantt View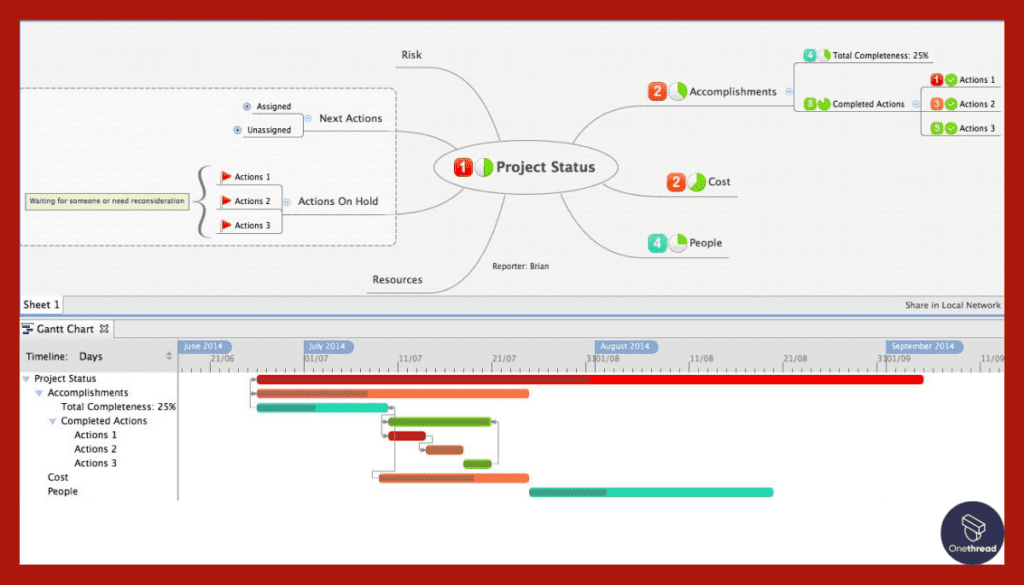 Project management gets easier with XMind's Gantt View. Not only can you lay out your ideas in mind map form, but you can also switch to a Gantt chart for timelines. This dual-view function allows you to manage tasks, deadlines, and resources right within the software. It's an excellent feature for people in managerial roles.
Dark Mode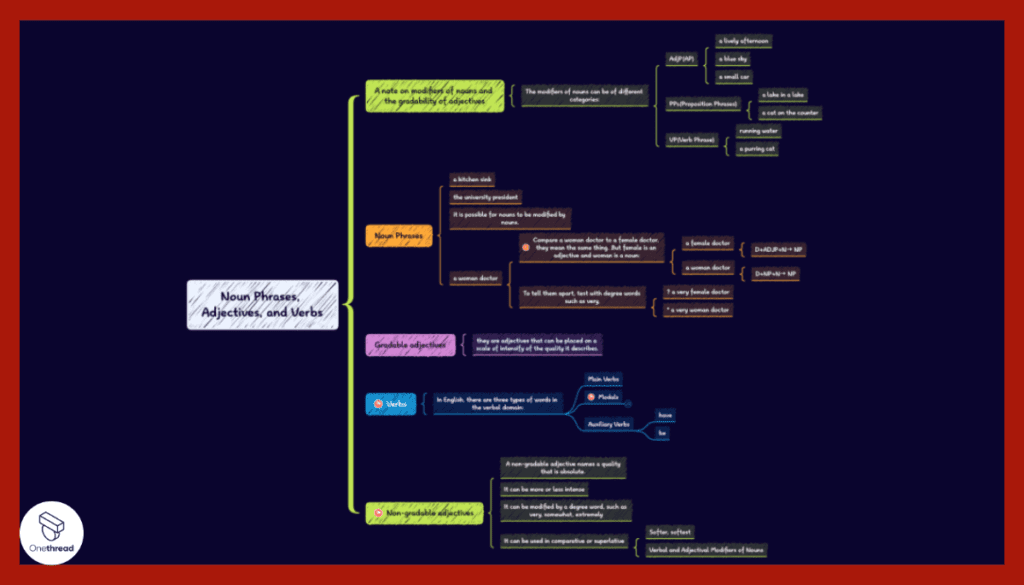 Eye comfort matters. XMind's Dark Mode reduces glare and eye strain, especially during long sessions or late nights. This may seem like a small touch, but it enhances user experience considerably. Dark Mode can also be beneficial for power saving on OLED and AMOLED screens.
Local Network Sharing

Sometimes, you want to share your work quickly within a local network. XMind makes this easy with its local network-sharing feature. This is particularly useful in office settings where internet access may be restricted or monitored. You can transfer your mind maps securely within your local network without needing external cloud services.
Audio Notes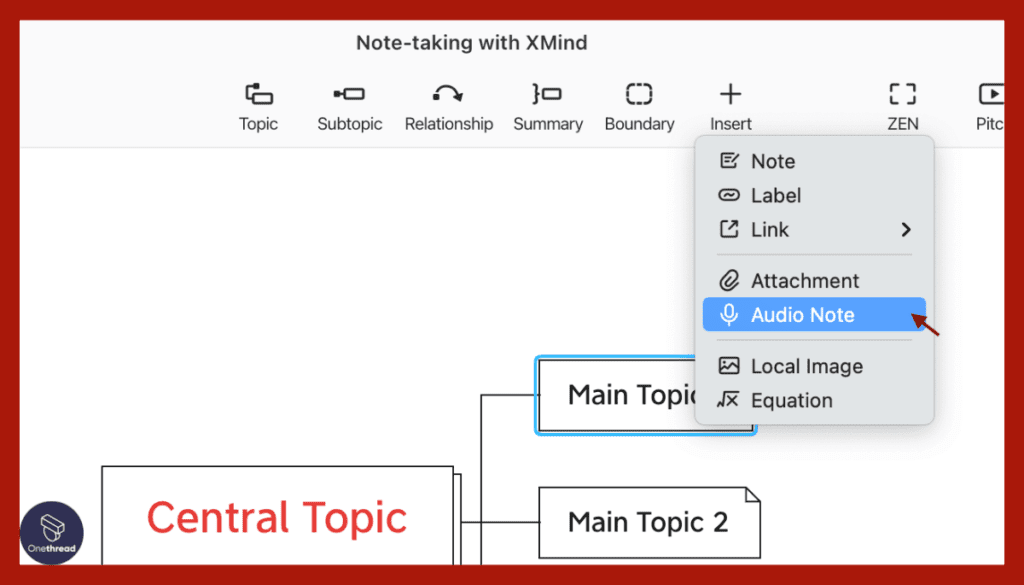 XMind goes beyond text and graphics with its audio notes feature. You can record voice memos directly into the mind map, making it a multi-dimensional tool for capturing ideas. This is excellent for those who prefer auditory learning or need to explain complex points in greater detail.
Pros
Unique Fishbone Charts for complex problem-solving
Gantt View for integrated project management
Dark Mode for reduced eye strain
Local Network Sharing for easy internal distribution
Audio Notes add an extra layer of information
Cons
May have a steep learning curve due to extensive features
Costlier than other mind mapping tools
Limited template variety
Pricing Plans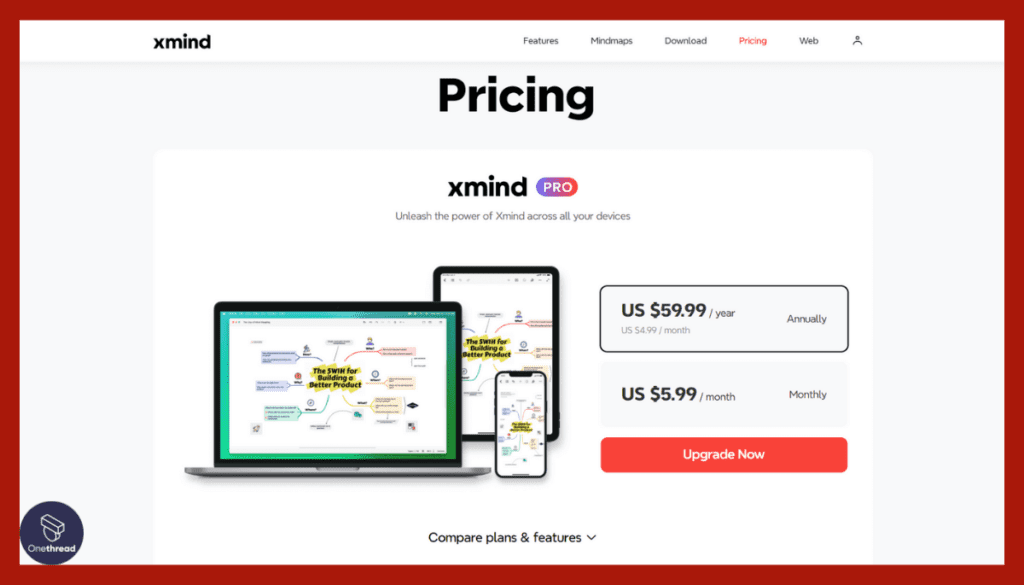 Free Version: Limited to basic mind mapping features
XMind Plus ($39.99 one-time): Adds exporting features and more themes
XMind Pro ($59.99/year): All features including Gantt View, audio notes, and more
Customer Ratings
G2: 4.1 out of 5
Capterra: 4.4 out of 5
Our Review
XMind packs a punch with its array of advanced features, making it ideal for those who need more than just basic mind mapping. While the extensive toolset may seem overwhelming at first, it provides a high degree of customization and utility that few other tools can match.
It may come at a higher price point, but for those who require its unique features, XMind proves to be a valuable investment.
#4. Ayoa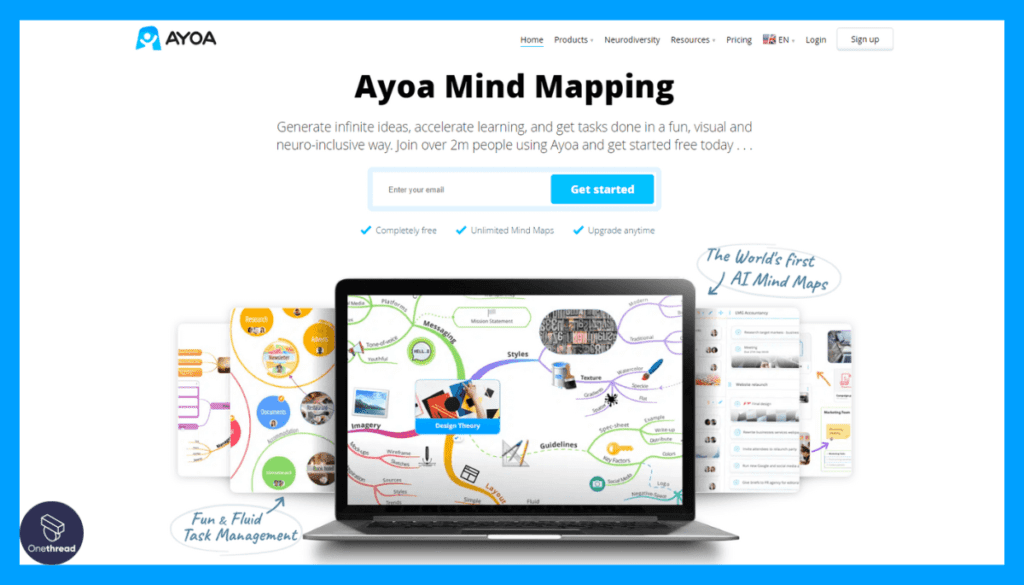 Ayoa is a versatile and innovative work management tool designed to enhance collaboration, creativity, and productivity. With an array of features such as mind mapping, task management, and real-time collaboration, Ayoa empowers individuals and teams to brainstorm ideas, plan projects, and achieve goals efficiently.
The platform's user-friendly interface and intuitive tools make it easy to capture, organize, and share ideas in various visual formats. Ayoa's integration with other popular productivity tools ensures seamless workflow and streamlined communication.
Its unique combination of brainstorming, task management, and communication features makes it a valuable asset for businesses, educators, and creative professionals alike.
Ayoa transforms the way teams work together, helping them generate innovative solutions and stay on top of their projects with ease.
Ayoa: A Company Snapshot
Company Valuation
Ayoa is a privately held company, so its exact valuation is not publicly disclosed.
According to CBinsights, the valuation is around $99 million. The most recent funding round for Ayoa, a Seed round, amounted to $1.44 million and took place on March 28, 2019.
Employee Numbers
Founded in 2005.
Employed a team of less than 50 people as of 2023 according to Crunchbase.
Focused on providing innovative tools for productivity and visual collaboration.
Founding Team
Ayoa was founded by Chris Griffiths.
Chris Griffiths's expertise and vision led to the creation of Ayoa.
Features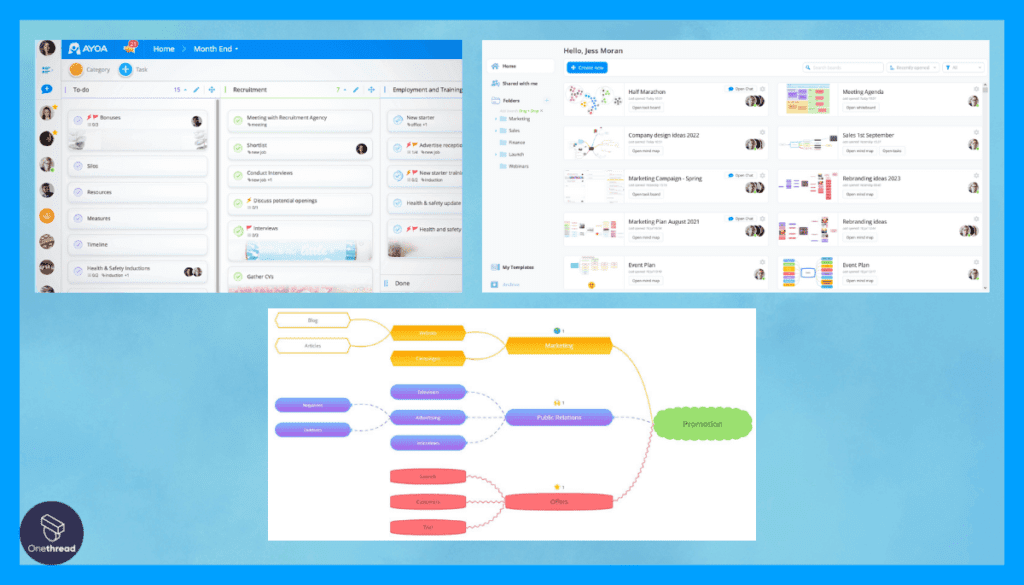 Ayoa is not just another mind mapping tool; it's an all-in-one workspace. This software integrates mind mapping with task management and collaboration features, offering a unified platform for brainstorming, planning, and execution. Here's an in-depth look at its top features that make Ayoa a standout choice.
Task Boards
Task Boards in Ayoa are a game-changer. They let you move from brainstorming to action planning in the same interface. You can turn any mind map node into a task and assign it to team members. It's ideal for project management, ensuring nothing gets lost in the transition from planning to doing.
Speed Mind Mapping
Speed is of the essence, and Ayoa's Speed Mind Mapping feature proves it. It allows you to quickly jot down ideas as they come, without fumbling through menus and options. You can later refine these quick drafts into more elaborate maps. It's the perfect tool for capturing ideas during brainstorming sessions.
Chat and Comment
Communication is key in any team setting. Ayoa's built-in chat and comment features make it easy to discuss tasks, mind maps, and projects without ever leaving the platform. You can leave comments on individual nodes or chat in a dedicated conversation tab. This ensures that everyone is on the same page.
Time Management Tools
Ayoa goes beyond mind mapping with its time management tools. The software includes features like a built-in calendar and due date assignments for tasks. It makes it easy to track project timelines right from your mind maps, ensuring you never miss a deadline.
Visual Styles
Visuals matter, especially in mind mapping. Ayoa offers a variety of visual styles to make your mind maps engaging. From classic formats to organic and radial styles, the software provides flexibility in how you present your ideas. These options cater to different visual preferences, enhancing readability and engagement.
Pros
Task Boards simplify project management
Speed Mind Mapping for quick idea capture
Built-in chat and comment for seamless communication
Time management tools for deadline tracking
Varied visual styles for personalized mind maps
Cons
May be overwhelming for users seeking a simple mind mapping solution
Subscription model may not be ideal for occasional users
No option for offline usage
Pricing Plans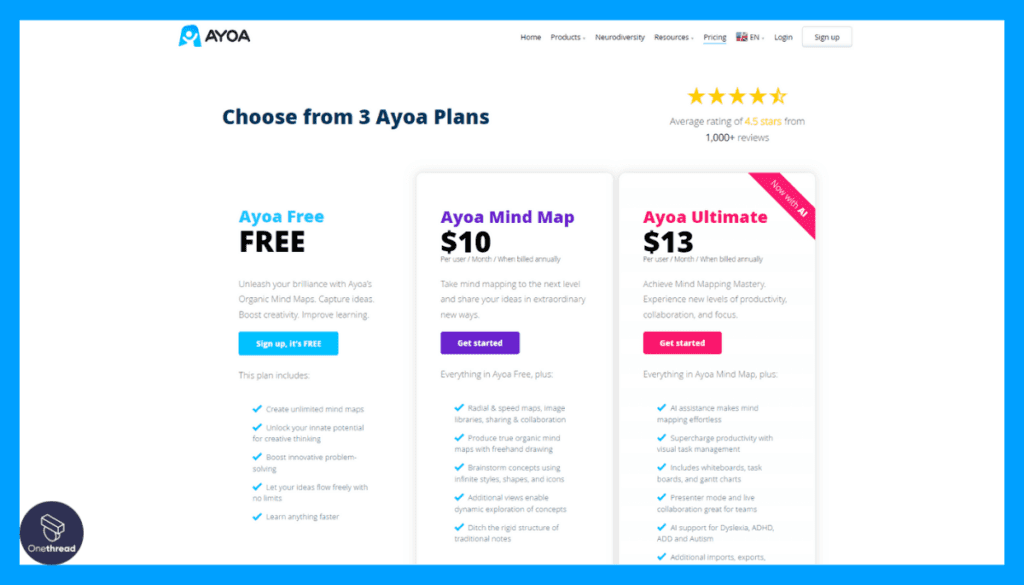 Basic (Free): Limited to 3 boards and basic mind mapping
Standard ($10/month): Unlimited boards and task assignments
Advanced ($13/month): Adds priority support and advanced analytics
Customer Ratings
G2: 4.0 out of 5
Capterra: 4.2 out of 5
Our Review
Ayoa is a holistic solution that combines the best of mind mapping, task management, and team collaboration. While the range of features may feel overwhelming to some, they offer a level of versatility that's hard to find elsewhere.
For those who are looking for an all-in-one platform that can handle a project from conception to completion, Ayoa is an excellent choice.
#5. Coggle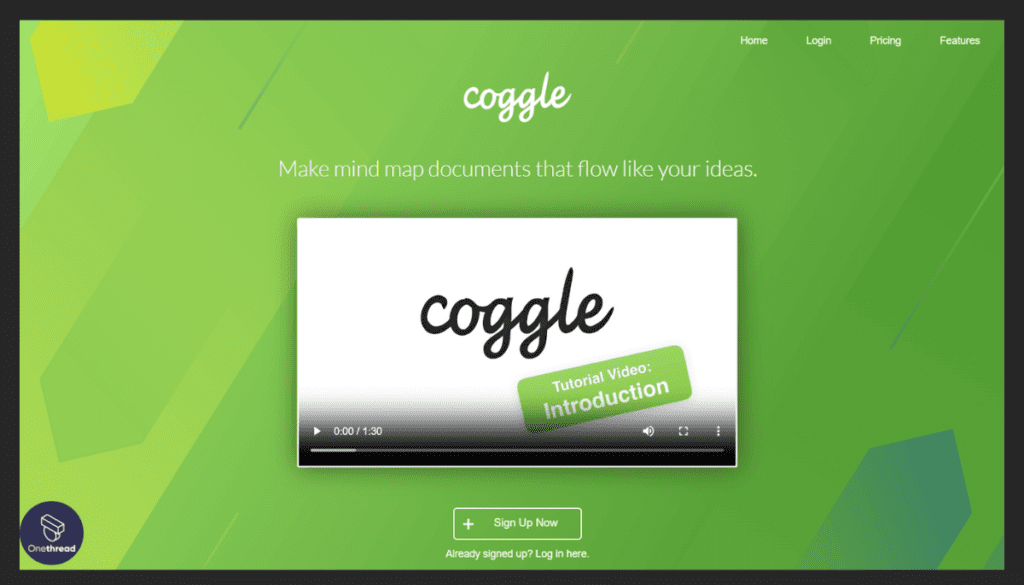 Coggle is a dynamic online tool that simplifies mind mapping and collaborative brainstorming. With its user-friendly interface and intuitive features, Coggle enables individuals and teams to create visual diagrams that capture ideas, concepts, and connections in a clear and organized manner.
Whether used for project planning, knowledge sharing, or problem-solving, Coggle's drag-and-drop functionality and real-time collaboration capabilities make it easy to generate, modify, and collaborate on mind maps.
The platform supports various formats like text, images, and links, enhancing the visual representation of concepts. Coggle's cloud-based nature allows users to access and edit their mind maps from any device with an internet connection. It's a powerful tool for boosting creativity, fostering collaboration, and transforming complex ideas into actionable plans.
Coggle: A Company Snapshot
Company Valuation
Coggle is a privately held company, so its exact valuation might not be publicly disclosed.
Valuation reflects its position in the collaborative mind mapping software sector.
Employee Numbers
Founded in [1974].
Employed a team of around [250+] people as of 2021.
Focused on providing online mind mapping and collaborative tools.
Founding Team
Coggle was founded by Victoria Bage.
Victoria Bage's expertise and vision led to the creation of Coggle.
Features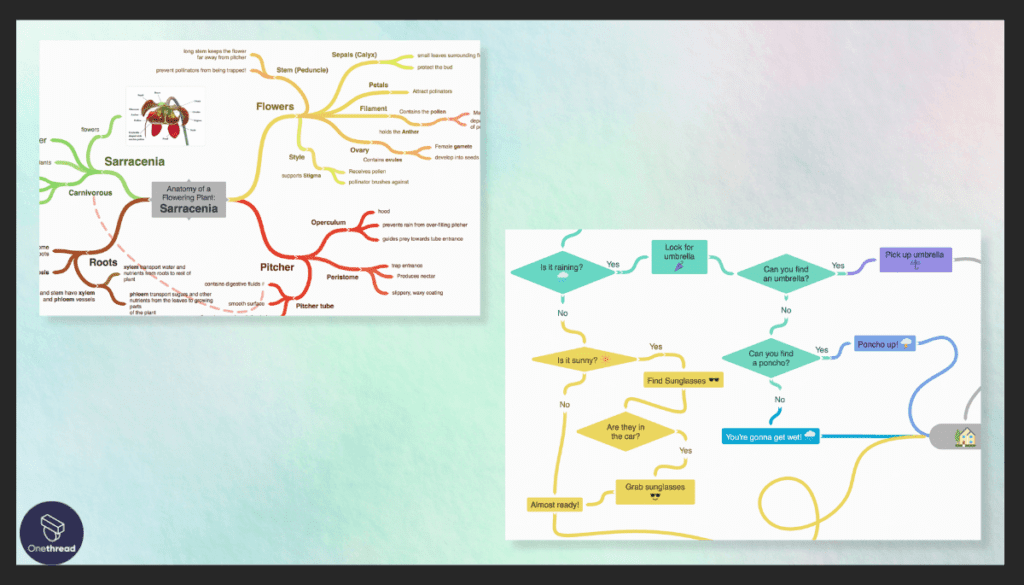 Coggle is the mind mapping software for those who prioritize simplicity and collaboration. With an intuitive interface and a focus on real-time teamwork, Coggle is the go-to platform for quick, collaborative brainstorming. Here's a closer look at what makes Coggle a preferred choice.
Real-Time Collaboration
Coggle stands out for its real-time collaboration features. Multiple users can work on the same mind map simultaneously. Changes appear instantly, allowing for dynamic, real-time brainstorming sessions. This feature is especially useful for remote teams who want to work together seamlessly, without waiting for updates.
Floating Text and Images
Coggle's floating text and images feature lets you add additional context without crowding the map. You can insert summaries, explanations, or visual cues next to map branches. This is perfect for clarifying complex points or adding depth to simpler topics.
Unlimited Image Uploads
With Coggle, you're not limited to just text. The software allows for unlimited image uploads, enabling you to make your mind maps as visual as you want. It's great for creative projects or for people who prefer a visual learning style.
Downloadable Maps
Coggle allows you to download your maps in various formats like PDF, PNG, or text. This flexibility is useful for sharing your work with those who might not be using the Coggle platform. You can also present your mind maps in offline settings, which is a bonus for business presentations.
Branch History
Ever wish you could go back and see how an idea developed? Coggle's Branch History lets you do just that. It tracks changes to individual branches, helping you review and analyze the evolution of your ideas. It's like having a time machine for your project planning.
Pros
Real-time collaboration for seamless teamwork
Floating text and images for added context
Unlimited image uploads for visual complexity
Downloadable maps in multiple formats
Branch history for reviewing idea development
Cons
Lacks advanced features like Gantt charts
Limited customization options for visual styles
Free version has collaboration restrictions
Pricing Plans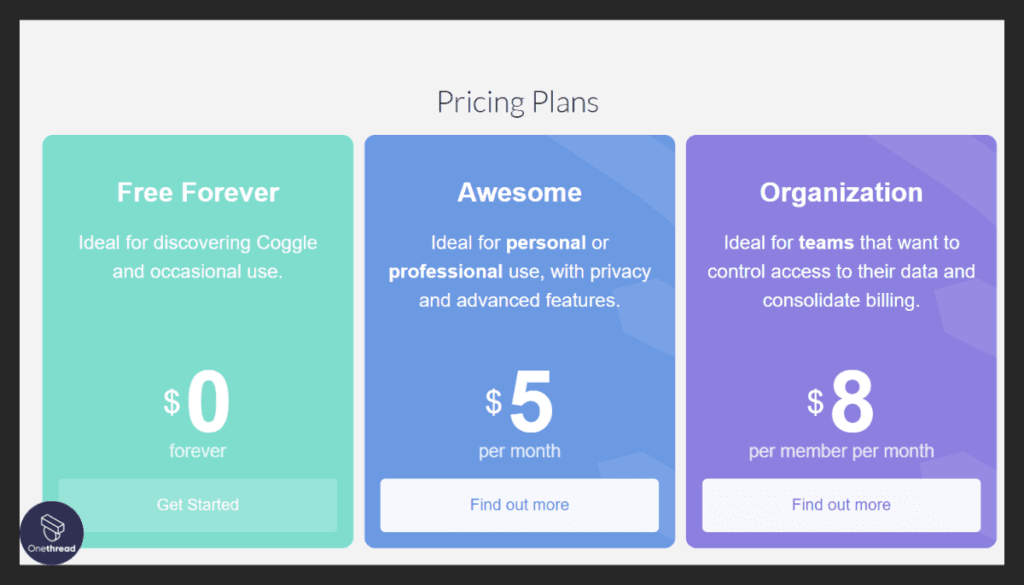 Free Plan: Basic mind mapping and limited collaboration
Awesome ($5/month): Unlimited private diagrams and collaboration
Organization ($8/user/month): Team management features and priority support
Customer Ratings
G2: 4.3 out of 5
Capterra: 4.5 out of 5
Our Review
Coggle shines in its simplicity and focus on collaboration. It may lack some of the advanced features found in other software, but what it does, it does well. If you're looking for an easy-to-use tool that excels in real-time teamwork, Coggle is worth considering. Its intuitive design makes it accessible, even for those who are new to mind mapping.
Getting the Most Out of Mind Mapping Software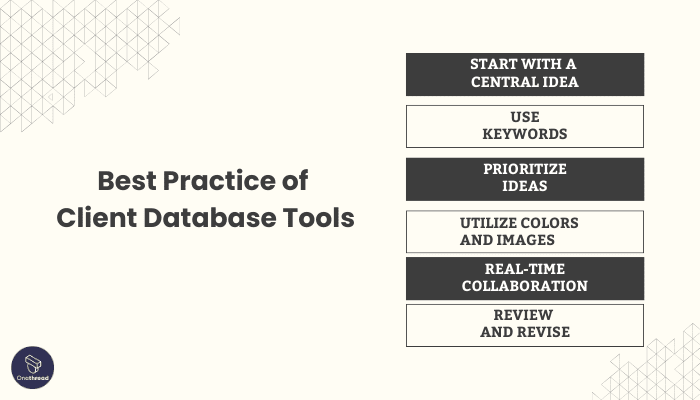 Unlocking the full potential of mind mapping software can boost your productivity, creativity, and team collaboration. But how do you get the most bang for your buck? Here are some best practices to guide you.
Start with a Central Idea: Always begin your mind map with a single, central idea. It's the anchor that holds everything else in place.
Use Keywords: Don't clutter. Use single words or short phrases to keep your map neat and easy to read.
Prioritize Ideas: Place the most important ideas closer to the center. This helps in quick identification and recalls later.
Utilize Colors and Images: Use different colors for various branches and include images where relevant. They aid in memory retention and make your map engaging.
Real-Time Collaboration: If working in a team, use the real-time collaboration features to brainstorm ideas simultaneously.
Review and Revise: A mind map is a living document. Keep revisiting and updating it as new ideas or information come in.
By implementing these practices, you'll be well on your way to mastering the art of effective mind mapping.
Summary
Mind mapping software is a powerful tool for organizing thoughts, fostering team collaboration, and turning ideas into actionable plans. With various unique features across different platforms, there's something for everyone, from simple brainstorming to complex project management.
Investing in the right tool can significantly boost your productivity and enhance your creative processes.
FAQs
Is Mind Mapping Software Useful for Teams?
Yes, many mind mapping software options offer real-time collaboration features, making them excellent tools for team brainstorming and project planning.
Can I Use Mind Mapping for Studying?
Absolutely. Mind mapping can help in organizing study materials and concepts, making it easier to remember and understand complex topics.
Are There Free Versions Available?
Yes, many mind mapping software providers offer free plans with limited features. Paid versions usually offer more customization and collaboration options.
Is My Data Secure?
Most reputable mind mapping software uses encryption and secure cloud storage to protect your data. Always check the security features before subscribing.
Can I Share My Mind Maps?
Yes, most tools allow you to share your mind maps in various formats like PDF, PNG, or through a direct link.
Do I Need Special Training to Use It?
Generally, no. Most mind mapping software is user-friendly with intuitive interfaces. Some even offer quick tutorials to get you started.