In today's fast-paced world, managing projects is a challenge. Enter Visual Project Management Software. With colorful dashboards and easy drag-and-drop features, these tools transform dull data into lively visuals. It's like turning a dense book into a vibrant comic strip.
Imagine knowing your project's status with just one look. No long spreadsheets. No confusing data. Just simple, clear visuals.
Studies show that our brains process images faster than text. Why? Because visuals are the language of the brain. So, if you're not using a visual tool for your projects, you might be missing out.
Curious to know which software tops the list in 2023? Dive in. The future of project management is visual, and it's brighter than ever. Don't get left behind. Stay ahead with the power of visualization.
Quick List of 5 Visual Project Management Software
Onethread: A card-based tool that turns tasks into visual boards for easy tracking.
Asana: A flexible platform that visualizes work in lists, boards, and timelines.
Monday.com: A colorful workspace that displays projects through vibrant charts and graphs.
Wrike: An all-in-one solution that uses visual timelines for streamlined project planning.
ClickUp: A versatile tool that offers mind maps, Gantt charts, and visual goal tracking.
Comparison Chart Of Visual Project Management Software
This chart gives a snapshot of whether each platform uses the mentioned features.
| | | | | |
| --- | --- | --- | --- | --- |
| | Advanced Analytics Dashboard | | | |
| | Features a detailed analytics dashboard with real-time data visualization. | Embedded time tracking that logs hours and assesses workload. | Custom workflow based on conditions and triggers | Human resource workload management with timesheets and task lists. |
| | Lacks an advanced analytics feature; basic metrics available. | Does not have built-in time tracking; integrations available. | | Offers visual project timelines and individual task loads. |
| | Basic dashboard with customizable widgets. | Uses integrations for time tracking, like Toggl and Harvest. | Boasts automation blueprints to streamline workflow processes. | Doesn't offer in-depth workload analysis; focuses more on task status. |
| | Comprehensive dashboard for project performance metrics. | Built-in timer to directly track work hours on tasks. | | Balances and allocates work based on user's capacity and project timelines. |
| | Dashboard is customizable but leans towards task and status overview. | Native time tracking with detailed reports. | Custom triggers and conditions | Provides a box view to see workload distribution among team the members. |
What is A Visual Project Management Software?

Visual Project Management Software is a digital tool designed to help teams plan, track, and execute projects using visual aids. Visual Project Management Software is akin to a city's subway map.
Just as a subway map condenses a complex network of routes into a simple, easy-to-understand visual representation, this software turns intricate project details into clear visuals.
Without the map, navigating the city's vast transportation system would be overwhelming. Similarly, without visual tools, managing multiple tasks, timelines, and team members can become chaotic.
In both cases, a visual guide streamlines understanding and navigation, making the journey smoother and more efficient.
Why Visual Project Management Software Is Important to Your Business?

In the evolving business landscape, visuals aren't just for presentations; they're pivotal for project management. Here's why:
Clarity: Transforms complex data into easy-to-understand visuals, minimizing confusion.
Efficiency: Streamlines workflows, reducing the time spent on project planning and tracking.
Collaboration: Teams can see the big picture, fostering better communication and teamwork.
Resource Allocation: Visuals highlight resource distribution, ensuring optimal use of manpower and tools.
Timely Decision-making: Instantly spot bottlenecks and areas needing attention, facilitating quicker decisions.
For businesses aiming for growth and efficiency, integrating visual project management software isn't just a choice; it's a necessity.
Key Features to Consider in Visual Project Management Software

The visual element is a game-changer. But what features truly stand out? Here's a breakdown of the top 5 must-have features.
1. Intuitive Visual Interface
An efficient visual project management tool should be user-friendly. It should transform intricate data into clear visuals. Think of a dashboard where you can glance and instantly grasp your project's status. A good interface reduces the learning curve and boosts productivity.
2. Customizable Workflows
Every project is unique. The software should allow teams to tailor their workflows. Whether it's a drag-and-drop function or customizable templates, flexibility is key. This ensures the tool fits the project, not the other way around.
3. Real-time Collaboration
Project management is a team sport. The software should enable real-time collaboration. Team members need to comment, share, and update tasks simultaneously. This feature eliminates back-and-forths, making project execution seamless.
4. Comprehensive Reporting
While visuals are central, detailed reporting is indispensable. The tool should generate reports that dive deep into project metrics. Whether it's time-tracking summaries or bottleneck analyses, comprehensive reports allow for informed decision-making.
5. Integration Capabilities
Your visual project management tool shouldn't exist in isolation. It needs to integrate with other business tools—be it communication software, CRM, or finance tools. Seamless integration ensures data flow across platforms, amplifying efficiency.
While many tools promise the moon, focusing on these key features ensures you invest in a tool that truly elevates your project management game.
Top 5 Visual Project Management Software
Selecting the best visual project management software can significantly impact your team's productivity and project outcomes. Here are the top 5 tools that stand out in 2023 for their exceptional features and user reviews. Dive in to discover which one aligns best with your needs.
#1. Onethread
Onethread stands out in the crowded project management arena. It's designed for clarity. With its intuitive dashboard, teams instantly see project statuses. No more guessing or sifting through endless data.
Its strong suit? Customized workflows. Projects differ, and Onethread gets that. Teams mold their processes, not adapt to rigid software structures.
Real-time collaboration in Onethread is seamless. Teammates comment, adjust, and update simultaneously. It's all about dynamic teamwork without delays.
Deep dive analytics? Onethread delivers. Its reports offer insights, from time spent to potential bottlenecks. Informed decisions become the norm, not the exception.
In a nutshell, Onethread isn't just another tool; it's a visual project management companion.
Overview and key features
Choosing the right project management tool is crucial. Onethread emerges as a front-runner, proving its mettle with unique features. Let's take a closer look at what sets Onethread apart.
1. Intuitive Dashboard

Onethread's dashboard is its crown jewel. Designed for immediate clarity, it provides a snapshot of all project activities. With a quick glance, team members can understand progress, spot issues, and identify the next steps. No more wading through cluttered data; everything you need is right in front of you.
2. Tailored Workflows:
Every project has its unique demands. Onethread acknowledges this with its highly customizable workflows. Users have the freedom to shape their workflows, ensuring the software aligns with the project's nature and not the other way around.
3. Seamless Real-time Collaboration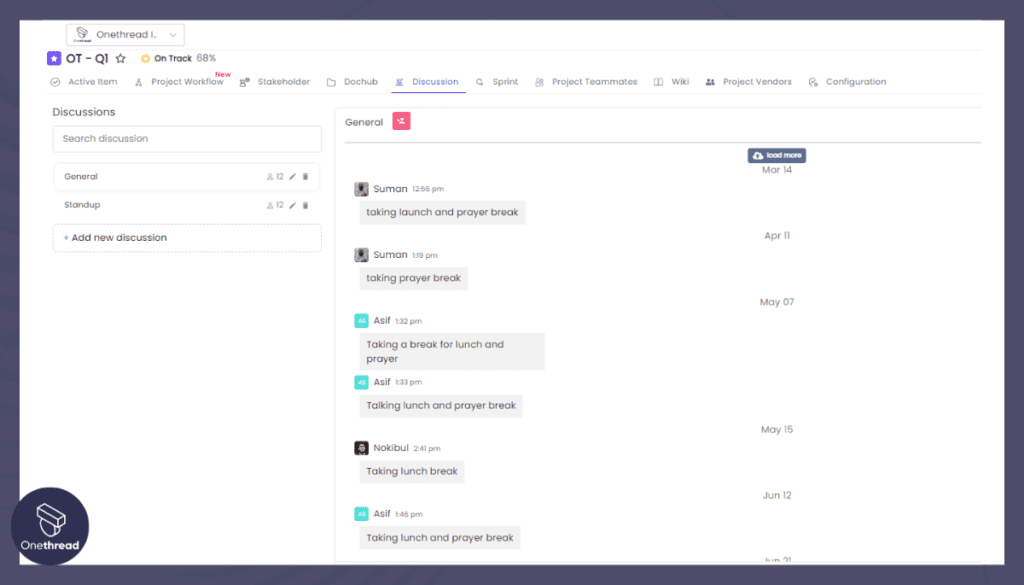 Teamwork is the heart of any project. Onethread fosters this with its real-time collaboration feature. Every update, comment, or modification is instantly visible to all team members. This means fewer meetings, quicker decisions, and a unified team vision.
4. In-depth Analytics and Reporting
Knowledge is power. Onethread's robust analytics offer a deep dive into every aspect of the project. From time allocation to performance metrics, these reports are not just numbers; they're actionable insights driving teams toward continuous improvement.
5. Dynamic Contract Management
Dealing with multiple vendors means multiple contracts. Onethread offers a robust contract management system. It not only stores contracts but also sends timely alerts for renewals, evaluations, and expirations, ensuring no detail is overlooked.
6. Performance Analysis Tools
Vendor performance impacts project outcomes. With Onethread, businesses can regularly assess vendor performance using insightful analytics. This aids in making informed decisions, be it continuing collaborations or seeking new partnerships.
7. Secure Document Sharing
Sharing sensitive documents with vendors requires utmost security. Onethread's encrypted document sharing ensures that all shared files, from contracts to specifications, are secure and accessible only to the intended recipients.
8. Multiple Project Views
Onethread offers list view, calendar view, gantt chart view, and kanban board view, all within the same platform. All these view options make project management in a visual way like a breeze when it comes to using Onethread as your tool.
Pricing plans and options
Onethread offers flexible pricing options to cater to everyone, from budding startups to established enterprises. Here's a breakdown of their plans:
1. Free Plan: For businesses just getting started or those wanting to test the waters:
Access to core features with some limitations.
Ideal for small teams or solo entrepreneurs.
A great way to experience Onethread without any financial commitment.
2. Growth Plan ($3.6/month): For growing businesses needing a bit more horsepower:
Unlocks additional features and tools, enhancing project management capabilities.
Provides a balanced blend of affordability and functionality.
A perfect fit for medium-sized teams aiming for steady growth.
3. Scale Plan ($6/month): For businesses looking to scale operations and optimize every process:
Complete access to all of Onethread's features, including premium ones.
Advanced analytics and reporting for in-depth insights.
Best suited for larger teams or projects with complex requirements.
Pros and cons
Pros:
User-Friendly Interface: Intuitive design makes navigation and task management easy for all users.
Customizable Workflows: Tailor processes to fit project-specific needs.
Real-time Collaboration: Enhances team communication, reducing delays and misunderstandings.
Detailed Analytics: Offers actionable insights for better project decisions.
Seamless Integration: Connects effortlessly with other essential business tools.
Affordable Pricing: Flexible plans cater to both small businesses and large enterprises.
Secure Data Management: Encrypted platforms ensure data safety and privacy.
Cons:
Learning Curve: While user-friendly, new users might need some time to familiarize themselves with all features.
Limited Features in Free Plan: Core functionalities might be restrictive for larger projects.
Dependency on Internet Connection: Being cloud-based, any downtime can halt operations.
#2. Asana

Asana is a work management and project collaboration tool designed for teams and organizations. It simplifies task and project tracking, benefiting teams of all sizes.
With Asana, users create and assign tasks, set deadlines, and prioritize work for clarity. The platform's clean interface supports seamless collaboration, reducing reliance on scattered emails and spreadsheets. Visual project timelines and boards provide clear insights into project progress.
Asana integrates with popular tools, enhancing productivity and workflows. Real-time updates and notifications keep teams informed. Accessible on desktop and mobile, Asana caters to various workstyles and needs, empowering efficient work management and collaboration.
Asana: Key Details
Company Valuation: Asana has a market valuation of $4.24 billion dollars as of September, 2023.
Employee Numbers: In 2023, Asana had over 3,000+ employees.
Founding Team:

Dustin Moskovitz: Co-founder of Facebook, who went on to establish Asana with a focus on enhancing workplace productivity.
Justin Rosenstein: A former Google and Facebook engineer who is passionate about creating products that improve team collaboration.
Features
Asana stands tall as a preferred choice for many organizations worldwide. Let's delve deep and understand what makes Asana a leader in visual project management.
1. User-Friendly Interface

Asana's intuitive design makes navigation a breeze. New users can quickly grasp the platform's features. The drag-and-drop function simplifies task management. This enhances team collaboration and boosts productivity.
2. Timeline Visualization

With Asana, visualize project timelines with ease. This aids in understanding project flow. Teams can spot potential delays early. This feature ensures timely project completion.
3. Customizable Workspaces

Asana allows personalized workspaces. This caters to diverse team needs. Whether it's marketing, HR, or development, Asana adapts. It provides the flexibility teams crave.
4. Advanced Integration Capabilities

Integration is a strength for Asana. It smoothly syncs with other tools like Slack, Google Drive, and more. This streamlines work processes. It reduces the need for constant platform switching.
5. Automated Workflow Creation

Asana enables teams to automate repetitive tasks. This feature reduces manual intervention. It ensures consistent project progress. Teams can focus on high-priority tasks.
Pros & Cons:
Pros:
Intuitive design enhances user experience.
Robust integration with other productivity tools.
Personalized workspaces offer flexibility.
Automation minimizes manual work.
Cons:
Might be overwhelming for first-time users.
Advanced features come with a learning curve.
Not ideal for very small teams.
Pricing Plans:

Basic: Free

For individuals or teams just getting started.

Premium: $13.49/user/month

For teams that need to create project plans with confidence.

Business: $30.49/user/month

For teams and companies that need to manage work across initiatives.

Enterprise: Contact for pricing

For organizations that need additional security, control, and support.
Customer Ratings:
G2: 4.3 out of 5 stars (based on 3,500+ reviews)
Capterra: 4.4 out of 5 stars (based on 9,800+ reviews)
Our Review:
We've analyzed various feedback from users and experts. Asana stands out in the realm of visual project management software. Its diverse features cater to different teams. While it may take time for new users to adapt, the learning curve is worth the outcome.
The platform's versatility is its strength, making it a top recommendation. However, very small teams might find it excessive. As always, understanding your team's specific needs is key.
#3. Monday.com

Monday.com is a versatile work operating system designed to simplify task and project management for teams. This platform offers custom workflows, replacing complex spreadsheets.
Visual boards help track tasks, projects, and timelines, promoting collaboration in shared workspaces. It seamlessly integrates with popular tools, streamlining workflows.
Automations reduce manual tasks, and real-time notifications keep everyone updated. Accessible on desktop and mobile, Monday.com suits various team needs, catering to both beginners and tech-savvy users.
Monday.com: A Quick Overview
Company Valuation: Monday.com went public (NASDAQ: MNDY) with an IPO valuation of around $6.8 billion.
Employee Numbers: In 2023, Monday.com had over 1500+ employees.
Founding Team:

Roy Mann: Co-founder and CEO, providing leadership and vision for the company.
Eran Zinman: Co-founder and CTO, responsible for the technical aspects of the platform.
Lior Krengel: Co-founder and Chief Brand Officer, contributing to brand development and user experience.
Feature
Renowned for its visual boards, Monday.com caters to teams desiring a clear, visual overview of their projects. Dive in to see why it's touted as the best in visual project management.
Visual Workspaces

Monday.com's visual workspaces are intuitive and engaging. Boards come alive with color-coded tasks and status columns. You can drag-and-drop items, making adjustments hassle-free. These visual aids offer clarity, keeping everyone aligned and informed about project milestones.
Seamless Integrations

Monday.com is all about integrations. Whether it's Slack, Google Drive, or Zoom, it ensures your tools are in one place. Integration eliminates repetitive tasks and boosts productivity. It bridges the gap between various software solutions, resulting in a unified working experience.
Automation and Bots

Harness the power of automation with Monday.com. Automated workflows mean fewer manual tasks. Set rules to auto-assign tasks or update statuses. This smart move ensures consistency, reduces human error, and paves the way for an efficient work environment.
Time Tracking and Reporting

Time is of the essence, and Monday.com knows it. Time tracking tools monitor hours spent on tasks. The reporting feature then crunches numbers, giving insights into team performance. This data-driven approach fosters improvement and efficiency.
Collaboration Tools

Collaboration is at the heart of Monday.com. Team members can comment, tag, and share documents in real-time. No more back-and-forth emails or missed messages. It promotes open communication, fostering a cohesive team environment.
Pros & Cons
Pros

Highly Visual: Boards and tasks are easy to interpret at a glance.
Adaptable Templates: Ready-to-use templates suit various projects.
Real-time Collaboration: Ensures team unity and faster decision-making.

Cons

Learning Curve: Might take time for non-tech users to adapt.
Price Point: Can be costly for startups or smaller teams.
Pricing Plans

Individual: Free with basic features.
Standard: $10 per user/month, added features like timelines and automations.
Pro: $16 per user/month, with added integrations and dashboard views.
Enterprise: Custom pricing, tailored for organizational needs.
Customer Ratings
G2: 4.5/5 (based on user reviews till September 2021)
Capterra: 4.6/5 (based on user reviews till September 2021)
Our Review
Drawing insights from various user feedback and industry experts, Monday.com shines bright in the realm of visual project management. Its captivating boards, coupled with robust features, undoubtedly set it apart.
However, the initial learning curve and pricing might pose challenges for some. It's crucial to juxtapose its features against team requirements before diving in. The commendable customer ratings highlight its efficacy and user-friendliness.
Monday.com is a game-changer for those keen on blending visuals with functionality, ensuring streamlined workflows and higher team engagement.
#4. Wrike

Wrike is a project management and collaboration platform designed for teams of all sizes. It simplifies task and project management, allowing users to set deadlines and collaborate effectively.
Its real-time update system and Gantt charts provide clear project progress tracking. Wrike offers extensive integrations to centralize work, and its user-friendly interface suits both small and large teams.
Wrike is a solution for efficient project management and collaboration, eliminating complex spreadsheets and enhancing teamwork.
Wrike: A Snapshot
Company Valuation: Wrike was acquired by Citrix for $2.25 billion.
Employee Numbers: In 2023, Wrike had approximately 100+ employees according to Zoominfo.
Founding Team: Andrew Filev: Founder and CEO of Wrike, with a strong background in project management and business operations.
Feature

Best known for its visual-centric approach, Wrike has captivated numerous organizations. Let's delve into its offerings to uncover why it's considered top-tier in visual project management.
Interactive Gantt Charts
Wrike's Gantt charts are more than just timelines. They are interactive, dynamic, and a visual representation of your project's progress. By dragging and dropping tasks, you can adjust deadlines effortlessly. This visual tool ensures that teams stay on track and stakeholders remain informed.
Visual Dashboards
The dashboards in Wrike are a sight to behold. They're customizable, enabling teams to focus on critical metrics. With various widgets and data views, they provide real-time insights. This visual display ensures clarity and aids in making informed decisions.
Document Collaboration
Wrike goes beyond mere task management. Its document collaboration feature allows team members to co-edit in real-time. This eradicates the need for multiple document versions, fostering efficiency. With integrated editing tools, the workflow becomes smooth, ensuring everyone is on the same page.
Workload Management
Understanding team workload is crucial. Wrike's visual workload feature showcases each member's tasks. This ensures even distribution and helps in identifying potential bottlenecks. By visually assessing workloads, managers can allocate resources more effectively.
Integration Capabilities
Wrike is not an isolated tool. It seamlessly integrates with popular platforms like Google Drive, Salesforce, and Microsoft Teams. This amalgamation ensures all essential tools are unified. Such integrations pave the way for streamlined workflows and reduced manual entry.
Pros & Cons
Pros

Flexible Structuring: Adapts to varying project needs.
Real-time Updates: Ensures everyone is in sync.
Centralized Communication: Reduces scattered information.

Cons

Complexity: Can be overwhelming for beginners.
Pricey Premium Plans: May not be suitable for tight budgets.
Pricing Plans

Free: Basic tools suitable for small teams.
Professional: $9.80 per user/month, encompassing full project planning and collaboration tools.
Business: $24.80 per user/month, offering advanced integrations and automation.
Enterprise: Custom pricing tailored to larger organizations with complex needs.
Customer Ratings
G2: 4.2/5 (based on user reviews till September 2021)
Capterra: 4.3/5 (based on user reviews till September 2021)
Our Review
Upon analyzing diverse feedback and expert opinions, Wrike stands out in the visual project management arena. The tool's visual flair combined with powerful features sets a high bar.
However, its complexity may deter new users, and the premium plans could stretch budgets. Balancing its capabilities against specific needs is essential.
Its solid customer ratings underscore its robust nature and user satisfaction. In summary, Wrike offers a blend of visual clarity and functional depth, promising optimized workflows and cohesive teamwork.
#5. ClickUp

ClickUp is a work management and productivity platform designed for teams of all sizes. It simplifies task and project management with customizable workspaces and various views.
ClickUp's features include task assignment, due dates, and priorities, along with seamless integrations. Real-time notifications and accessibility on desktop and mobile devices make it flexible for teams.
ClickUp is a powerful solution for efficient work management and collaboration, essential for productivity and goal achievement.
ClickUp: A Quick Overview
Company Valuation: According to TechCrunch, ClickUp's valuation is $4B as of 2023.
Employee Numbers: ClickUp had a team size of over 1,000+ employees.
Founding Team:

Zeb Evans: Founder and CEO, driving ClickUp's vision and growth.
Alex Yurkowski: Co-founder and CTO, responsible for the technical aspects of the platform.
David Van Puyvelde: Co-founder, contributing to various aspects of the company's development.
Features
ClickUp is becoming a go-to for many businesses. Here's a deep dive into what makes ClickUp a visual project management gem.
Customizable Views
ClickUp offers multiple views, from List to Board to Calendar. This flexibility lets teams choose their preferred visual representation. Whether it's tracking a project's timeline or managing tasks in a board format, ClickUp adapts. This customization fosters better engagement and understanding among teams.
Goal Tracking
Goals are easier to achieve when visualized. ClickUp's Goal Tracking showcases targets using pie or bar charts. This offers teams a visual measure of their progress. It motivates, creates clarity, and ensures everyone is aligned towards common objectives.
Task Dependencies
Projects often have interconnected tasks. ClickUp's Task Dependencies visually represent these connections. By clearly showcasing which task relies on another, the feature eliminates confusion. It streamlines workflows and ensures tasks are completed in the correct order.
Time Tracking

Time management is pivotal for any project. ClickUp's built-in time tracker provides a visual account of time spent on tasks. By analyzing these visual reports, teams can optimize their time better. It aids in identifying bottlenecks and improving overall efficiency.
Integration Suite

ClickUp isn't an island. It integrates with tools like Slack, Trello, and Google Calendar. These integrations allow teams to bring all their tools under one umbrella. It reduces manual work, promotes better data flow, and ensures a seamless work environment.
Pros & Cons
Pros

All-in-one Platform: Combines multiple tools into one.
Hierarchical Structure: Enables organized project management.
User-friendly Interface: Simplifies navigation and task management.

Cons

Overwhelming Features: Might be complex for new users.
Mobile App Limitations: Some features may not be as robust on mobile.
Pricing Plans

Free Forever: Unlimited tasks with 100MB storage.
Unlimited: $5 per user/month, offering unlimited integrations and advanced reporting.
Business: $9 per user/month, introducing goal folders and extra customization.
Enterprise: Custom pricing for extensive business needs and larger teams.
Customer Ratings
G2: 4.7/5 (based on user reviews till September 2021)
Capterra: 4.7/5 (based on user reviews till September 2021)
Our Review
After evaluating diverse opinions and feedback, ClickUp emerges as a formidable tool in visual project management. Its ability to offer various visual perspectives coupled with a suite of robust features makes it stand out.
The challenges lie in its vast array of features which can be daunting for newcomers, and the mobile experience might need refining. It's imperative to gauge the tool's offerings against an organization's specific needs.
High customer ratings reflect its effectiveness and user-centric approach. In essence, ClickUp seamlessly marries visual appeal with functionality, aiming to elevate project management to greater heights.
Getting the Most Out of Visual Project Management Software

Visual project management software can transform the way teams operate. However, harnessing its full potential requires strategy and awareness.
Best Practices:
Understand Your Tool: Take time to learn the software's capabilities and features.
Consistent Usage: Ensure team members use the tool regularly for all tasks.
Customize Views: Adapt the visual displays to suit your project's unique needs.
Integrate Other Tools: Enhance functionality by integrating with other software.
Use Task Dependencies: Visually connect related tasks for better flow.
Regularly Update: Keep all project data current for real-time insights.
Encourage Collaboration: Utilize the software's collaborative features for better team synergy.
By adhering to these practices, teams can truly maximize the benefits of visual project management software.
Summary
Visual Project Management Software revolutionizes the way teams handle tasks, fostering collaboration and clarity. Its visual elements streamline workflows, ensuring timely project completion.
Integrating visuals with task management, it provides a comprehensive overview, helping teams stay aligned and informed. Embracing such tools is pivotal for modern businesses aiming for efficiency and cohesion.
FAQs
Is it suitable for remote teams?
Absolutely. Its visual elements can enhance clarity and collaboration among dispersed teams.
Can it integrate with other tools?
Most visual project management tools offer integrations with popular platforms like Slack, Google Drive, and Trello.
Is there a steep learning curve?
While some tools may require familiarization, many are designed for user-friendliness with intuitive interfaces.
Are there free versions available?
Yes, many providers offer free versions with basic features, while premium plans unlock advanced capabilities.
How secure is my data?
Reputable providers prioritize security with encryption and regular backups. It's advisable to review a tool's security policies before committing.