Did you know that over 85% of companies consider project management software will change their way of doing business in the next five years?
Yet, in the midst of numerous tasks, tight deadlines, and a web of communication channels, things can quickly spiral into chaos. The remedy? Team project management tools. They're not just a luxury; they've evolved into a necessity for modern-day teams.
From small startups to large enterprises, everyone's on the hunt for the best tool. It's not just about tracking tasks; it's about revolutionizing collaboration, ensuring punctual deliveries, and supercharging overall productivity. With the right tool, your team can unleash untapped potential you didn't even know was there.
In this guide, we've done the research, crunched the numbers, and compiled the top 5 team project management tools on the market. These aren't just trendy choices; they're the game-changers you've been searching for. Ready to dive in and discover which one could be your team's next secret weapon?
Quick List of 5 Team Project Management Tools
Onethread: A visual-based tool using cards and boards to simplify project tracking.
Asana: Task-oriented management software designed for seamless team collaboration.
Miro: A communication platform integrating project management features for real-time updates.
Monday.com: A color-coded system offering a clear view of tasks, timelines, and progress.
Smartsheet: All-in-one project management with to-do lists, calendars, and team messaging.
Comparison Chart Of Team Project Management Tools
Here's a comparison chart of the five team project management tools,
| | | | | |
| --- | --- | --- | --- | --- |
| | | | | |
| | Kanban boards, calendar view, document sharing | Task Threads with custom field and task specific feedback loop | | Basic Report templates, project health dashboards, basic analytics |
| | | | Multiple Project Templates | |
| | | | | |
| | | | | |
| | | | | Detailed Reports & Charts |
What is Team Project Management Tools?

Team Project Management Tools are specialized software designed to help teams coordinate, track, and complete their projects efficiently.
Think of Team Project Management Tools like a conductor in an orchestra. In an orchestra, you have various musicians playing different instruments, each with its own role and timing.
The conductor ensures everyone plays in harmony, starts and stops at the right moments, and follows the composed piece's rhythm and pace. Similarly, in a project team, members have varied tasks and roles.
The Team Project Management Tool acts as the "conductor," making sure everyone is aligned, tasks are prioritized, deadlines are met, and the project flows smoothly to its completion.
Just as an orchestra would struggle without a conductor's guidance, a team can face challenges without a proper management tool to synchronize their efforts.
How Team Project Management Tools Can Help Your Business?

In the ever-evolving business landscape, streamlined collaboration is a game-changer. Team Project Management Tools serve as the backbone for such collaboration. Here's why they're indispensable:
Task Coordination: Assign, track, and manage tasks, ensuring everyone knows their responsibilities.
Time Management: Set deadlines and prioritize tasks, maximizing productivity.
Resource Allocation: Ensure optimal use of available resources, avoiding over-allocations or underuse.
Centralized Communication: Keeps all discussions, feedback, and updates in one place, reducing confusion.
Real-time Collaboration: Allows team members to work together in real-time, enhancing cohesion and efficiency.
Performance Metrics: Monitor project progress and individual contributions, facilitating timely adjustments.
Incorporating these tools can drastically elevate a business's operational efficiency, ensuring projects run seamlessly and goals are achieved.
Key Features to Consider in Team Project Management Tools

To make the right choice, understanding key features to look for in a team project management tool is essential. Below, we delve deeper into five crucial features you should prioritize.
Communication
Effective project management hinges on flawless communication. The ideal tool offers a unified platform for real-time chats, feedback exchanges, and streamlined discussions. With centralized communication, every team member remains aligned, informed, and engaged.
Progress Tracking
A clear view of where the project stands is vital. Progress tracking tools visualize task stages, pinpoint bottlenecks, and monitor milestones. This feature ensures projects keep moving forward, eliminating the guesswork from the process.
Organization
An organized workspace is a productive workspace. Prioritize tools that offer intuitive categorization, efficient labeling, and easy archival. With structured task organization, teams can navigate projects with clarity, ensuring no detail gets overlooked.
Scheduling
Timeliness is paramount. Efficient scheduling tools allow teams to set and meet deadlines, allocate time blocks, and automate reminders. These tools ensure projects adhere to timelines, fostering accountability and punctuality.
Reporting
Data-driven insights shape successful projects. A robust reporting feature delivers in-depth analytics, performance evaluations, and health checks of projects. Armed with these insights, teams can make informed decisions, adapt strategies, and consistently deliver excellence.
An effective project management tool is more than just a platform—it's an enabler. If you focus on these key features, you're well on your way to selecting a tool that will truly empower your team.
Top 5 Team Project Management Tools
With an array of features, interfaces, and capabilities, how do you pinpoint the one tailored for your team? Fret not; we've done the legwork.
Dive into our curated list of the top five tools, handpicked for their prowess in streamlining collaboration, boosting productivity, and driving projects to the finish line.
#1. Onethread
Onethread emerges as a fresh, user-centric project management tool designed for today's dynamic teams. At its core, it streamlines task coordination, making assignment and tracking intuitive. The interface? Clean and clutter-free, promoting a distraction-less environment.
Real-time collaboration is Onethread's strong suit. Team members converse, share updates, and adjust tasks seamlessly. No more endless email threads or lost messages. Everything's right there, centralized.
Integration? Onethread shines. It meshes well with other popular tools, ensuring your workflow remains uninterrupted. And when it comes to scalability, Onethread grows with you. Whether you're a startup or a multinational, it adapts.
In essence, Onethread is not just a tool—it's a partner. It simplifies the complex, fosters collaboration, and keeps projects on track. For teams eager to elevate their project management game, Onethread is a compelling choice.
Overview and key features:
Onethread stands out in the crowded realm of project management tools. Its unique blend of features marries simplicity with efficiency. Let's delve deep into the standout offerings of Onethread that promise to transform how teams work.
Communication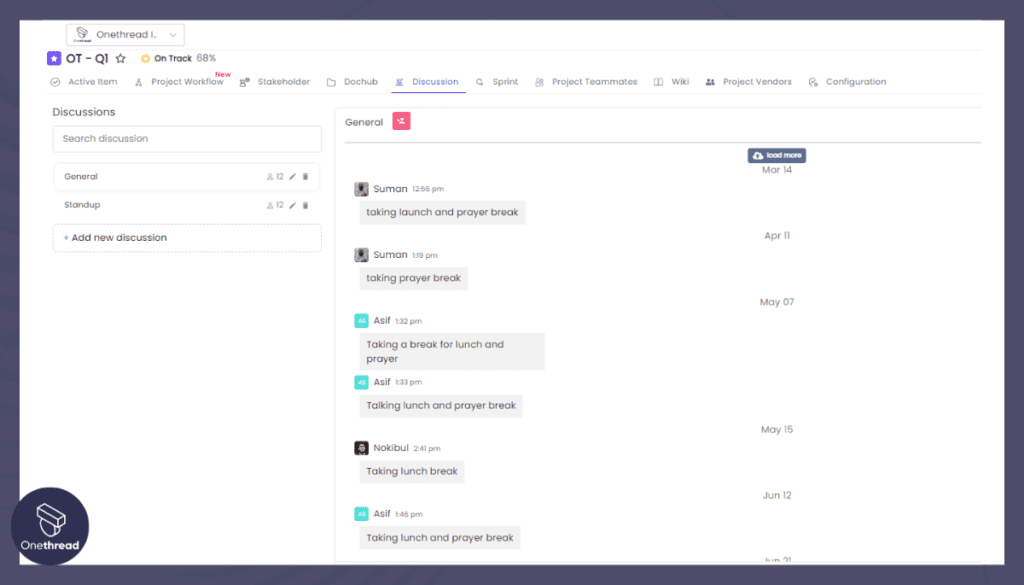 Communication is the lifeblood of any project. Onethread offers a streamlined communication hub. No more juggling between apps or losing vital info in lengthy email chains. Instead, enjoy real-time chats, threaded discussions, and centralized feedback. With Onethread, every team member stays informed and engaged.
Progress Tracking
Say goodbye to guesswork. With Onethread's progress tracking, you're always in the know. Visualize task stages, monitor team contributions, and identify bottlenecks. It's about maintaining momentum and ensuring that every project phase advances smoothly.
Organization
Onethread champions structure. Its intuitive interface sorts tasks, files, and feedback neatly. Whether it's labeling, categorizing, or archiving, Onethread offers a clutter-free space. The result? A clear roadmap and a team that knows precisely where to head.
Scheduling
Time is of the essence in project management. Onethread's scheduling tool ensures every second counts. Set deadlines, allocate time blocks, and send reminders. With Onethread, tasks are timely, and deadlines are met, not missed.
Reporting
Knowledge drives informed decisions. Onethread's reporting feature offers insights at your fingertips. Dive into detailed analytics, understand performance metrics, and assess project health. With Onethread's reports, you're always equipped to steer projects in the right direction.
Pricing plans and options
Here's a breakdown of the commonly offered plans:
1. Free Plan Ideal for startups and small teams, the Free Plan provides:
Basic task management
Limited users
Essential collaboration tools
Some storage capacity
This option is a good starting point for those looking to explore the tool's core features without committing financially.
2. Growth Plan – $3.6/month Tailored for growing teams, the Growth Plan offers:
Advanced task and project management features
Increased user limits
Enhanced storage capacity
Integration capabilities
Priority customer support
It's a balanced package, providing more robust features while still being cost-effective.
3. Scale Plan – $6/month Designed for large teams or enterprises, the Scale Plan encompasses:
Comprehensive task and project management tools
Unlimited users
Maximum storage capacity
Premium integrations
Advanced analytics and reporting
Priority 24/7 customer support
Pros and cons
Pros:
Cost-Efficient: Monthly or yearly subscription models can save businesses money compared to traditional software purchases.
Collaboration: Real-time collaboration features enhance team coordination and task efficiency.
Scalability: Adjusts to the growing needs of teams, from startups to large enterprises.
Integration: Easily integrates with other tools, streamlining work processes.
Centralized Information: Keeps all project-related data in one place, reducing miscommunication.
Cons:
Learning Curve: The tool might be a little complex to less tech-savvy people, requiring time for them to adapt.
Limited Integrations: The tool has limited integration options making it difficult for teams that use multiple tools.
Internet Dependency: Onethread requires internet access, which can be problematic in areas with connectivity issues.
#2. Asana

Asana is a practical work management and project collaboration tool. It simplifies task tracking and project management, making it valuable for teams of all sizes.
With Asana, you can create tasks, set deadlines, and prioritize work. Its clean interface promotes collaboration, reducing the need for scattered emails and spreadsheets.
Asana provides clear insights into project progress with visual timelines and boards. It integrates with popular tools to streamline workflows. Real-time updates and notifications keep teams on track.
Accessible on desktop and mobile, Asana caters to various workstyles. Whether a small business or a large enterprise, Asana enhances work management and collaboration for efficient goal achievement.
Asana: Key Insights
Company Valuation: Asana has a market capitalization of $4.24 billion dollars as of September 2023.
Employee Numbers: In 2023, Asana has over 1700 employees.
Founding Team:

Dustin Moskovitz: Co-founder of Facebook, moved on to establish Asana with a focus on enhancing workplace productivity.
Justin Rosenstein: Former Google and Facebook engineer, passionate about improving team collaboration.
Features:
Asana simplifies collaboration while ensuring efficient project execution. Let's deep dive into what makes Asana a standout choice.
1. Task and Milestone Tracking

Asana shines when it comes to tracking tasks and milestones. Teams can easily set, assign, and monitor tasks, ensuring everyone remains accountable. Milestones help break down larger projects into manageable chunks, allowing for progress tracking at micro and macro levels.
2. Project Visualization

With its timeline and board views, Asana offers comprehensive project visualization. Teams can get a snapshot of the project's flow, identify potential bottlenecks, and adjust strategies accordingly.
3. Integration Capabilities

One of Asana's core strengths is its seamless integration with various tools and applications. Whether it's file sharing, communication, or CRM tools, Asana bridges the gap, ensuring a cohesive work environment.
4. Automated Workflows

Eliminate manual interventions with Asana's automated workflows. By setting up custom rules, repetitive tasks are handled automatically, giving teams more time to focus on critical project elements.
5. Advanced Reporting
For teams that thrive on data-driven decisions, Asana's advanced reporting is a boon. Dive deep into analytics, track performance metrics, and glean actionable insights to guide future projects.
Pros:
User-Friendly Interface: Asana is intuitive and requires minimal training.
Customizability: Offers tailor-made solutions for various project needs.
Strong Community Support: A vast community for troubleshooting and tips.
Comprehensive Mobile App: Enables work on-the-go, ensuring constant connectivity.
Cons:
Overwhelming for New Users: The plethora of features might seem daunting initially.
Pricey Higher Tiers: Advanced features come at a steeper price.
Limited Free Version: The free version offers basic functionalities and may quickly become insufficient for growing teams.
Pricing Plans:

Basic: Free for individuals or teams just starting off.
Premium: $13.49/user per month; includes advanced features like timelines and dashboards.
Business: $30.49/user per month; adds integrations, automation, and advanced reporting.
Customer Ratings:
G2: 4.3/5 stars (based on 4,000+ reviews)
Capterra: 4.5/5 stars (based on 9,500+ reviews)
Our Review:
Asana's strengths in ease of use, feature-richness, and adaptability to various team sizes.
Its comprehensive toolset paired with flexibility makes it an excellent choice for teams looking for a robust project management solution. The pricing might be a concern for some, but the value derived, especially from its premium versions, justifies the investment for many.
#3. Miro

Miro is an online collaborative whiteboard platform designed for teams of all sizes. It streamlines brainstorming, planning, and collaboration, serving as a vital tool for organizations.
Miro offers an infinite canvas for ideation and visualization, providing templates and tools for diagrams, charts, and mind maps to foster creativity and problem-solving. Real-time collaboration features enable remote teamwork, with seamless integration with popular tools for easy sharing and commenting.
Accessible on both desktop and mobile devices, Miro suits various workstyles and needs. Whether you're a small startup or a large corporation, Miro empowers visual collaboration to drive effective idea generation and innovation.
Miro: A Quick Overview
Company Valuation: According to Techcrunch, Miro was valued at over $17.5 billion in 2022.
Employee Numbers: According to Zoominfo, Miro has over 1,800+ employees in 2023.
Founding Team:

Andrey Khusid: Co-founder and CEO, leading Miro's strategic direction.
Oleg Shardin: Co-founder and CTO, responsible for the technical aspects of the platform.
Ilya Ponomarev: Co-founder, contributing to various aspects of the company's development.
Features:
It brings the physical whiteboard experience to the digital realm, enhancing team creativity and alignment. Let's delve deep into the offerings of Miro.
1. Infinite Canvas

Miro's infinite canvas is a dream for brainstorming. Teams can create, draw, map, and plan without constraints. The vast digital workspace ensures every idea, no matter how big, finds a place.
2. Pre-built Templates

Jumpstart your sessions with Miro's extensive library of templates. From flowcharts to mind maps, the platform equips teams with starting points, reducing setup time and enhancing productivity.
3. Real-time Collaboration

Miro truly excels in real-time collaboration. Team members, irrespective of their geographical location, can work together synchronously. The visible cursors of collaborators mimic an in-person brainstorming session, fostering teamwork.
4. Integration Suite

Miro isn't an island. It integrates effortlessly with popular apps like Slack, Microsoft Teams, and Google Drive. This ensures that the visual brainstorming done on Miro fits seamlessly into a team's existing workflow.
5. Presentation Mode
After brainstorming and planning, teams can shift to presentation mode. This allows for polished, streamlined presentations right within Miro, ensuring ideas transition smoothly from inception to delivery.
Pros:
User-Centric Design: Intuitive and easy to navigate.
Platform Agnostic: Works seamlessly across devices and operating systems.
Highly Customizable: Tailor the workspace according to specific project needs.
Secure: Robust data encryption and GDPR compliance ensure data safety.
Cons:
Learning Curve: Some advanced features require a bit of exploration.
Can be Overwhelming: The vastness of the canvas can be daunting to first-timers.
Cost: Premium features come at a premium price.
Pricing Plans:

Free Plan: For individuals with basic needs.
Team: $8/user per month; aimed at teams requiring more advanced collaboration.
Business: $16/user per month; caters to businesses with features like single sign-on and advanced integrations.
Customer Ratings:
G2: 4.4/5 stars (based on 2,500+ reviews)
Capterra: 4.7/5 stars (based on 1,200+ reviews)
Our Review:
Industry feedback and widespread acclaim underscore Miro's prowess as a visual collaboration tool. Its expansive canvas, coupled with a suite of collaboration tools, makes it an indispensable asset for teams, especially those spread across geographies.
The pricing might seem on the higher side for some, but the vast feature set and the fluidity it brings to brainstorming sessions often justify the cost for many users.
#4. Monday.com

Monday.com is a dynamic work operating system designed to streamline task and project management for teams. It simplifies productivity and collaboration within organizations effectively.
With Monday.com, you can create customized workflows, eliminating complex spreadsheets. Visual boards make tracking tasks, projects, and timelines effortless, fostering team collaboration.
The platform integrates seamlessly with popular tools, ensuring a smooth workflow and reducing manual work through automation. Real-time notifications keep everyone informed.
Accessible on both desktop and mobile devices, Monday.com caters to diverse work environments, offering both simplicity for beginners and advanced features for tech-savvy users.
Monday.com: A Snapshot
Company Valuation: Monday.com went public (NASDAQ: MNDY) with an IPO valuation of around $8.27 billion.
Employee Numbers: In 2023, Monday.com had over 1500+ employees.
Founding Team:

Roy Mann: Co-founder and CEO, providing leadership and vision for the company.
Eran Zinman: Co-founder and CTO, responsible for the technical aspects of the platform.
Lior Krengel: Co-founder and Chief Brand Officer, contributing to brand development and user experience.
Features:
With a unique blend of features, Monday.com facilitates seamless collaboration and ensures that teams remain aligned, regardless of their physical location. Here's a detailed exploration of what puts Monday.com ahead of many competitors.
1. Visual Project Tracking

Monday.com's strong suit is its visually appealing project tracking. With color-coded boards and customizable layouts, teams can view tasks, statuses, and priorities at a glance, ensuring everyone remains on the same page.
2. Automation Workflows

Simplify repetitive tasks with Monday.com's automation workflows. With this feature, routine processes are set on autopilot, freeing up team members to concentrate on more strategic and crucial project aspects.
3. Integration Ecosystem

Monday.com proudly boasts a wide array of integrations. Whether syncing with CRM tools, communication platforms, or data analytics suites, Monday.com ensures every tool a team needs is accessible from one central hub.
4. Time Tracking

Efficiently manage hours spent on tasks with Monday.com's time tracking tool. This aids in resource allocation, billing processes, and ensures that project timelines remain on track.
5. Collaborative Document Management
Storing, sharing, and collaborating on documents is a breeze with Monday.com. Its centralized document management system guarantees that the latest versions are always at the team's fingertips, minimizing confusion and streamlining workflows.
Pros:
Intuitive Interface: The drag-and-drop functionality ensures ease of use.
High Customizability: Teams can tailor boards and workflows to suit their specific needs.
Robust Reporting: Generate insights and detailed reports for informed decision-making.
Regular Feature Updates: Monday.com continually evolves, ensuring users always have the best tools.
Cons:
Pricing: Higher-tier plans can be cost-prohibitive for smaller teams.
Initial Setup Time: Customizing the platform for specific needs can take time initially.
Overwhelming for Simpler Needs: Small projects may not require all the features offered, leading to underutilization.
Pricing Plans:

Individual: Free with basic functionality.
Standard: $8/user per month; offers advanced search and additional integrations.
Pro: $16/user per month; provides time tracking, chart views, and formula columns.
Customer Ratings:
G2: 4.5/5 stars (based on 1,200+ reviews)
Capterra: 4.6/5 stars (based on 800+ reviews)
Our Review:
The broader industry feedback paints a positive picture. Monday.com's vibrant and user-friendly interface is frequently lauded, offering teams an engaging platform to manage projects. Its expansive feature set caters to varied project needs, from simple task management to complex project orchestration.
However, the richness in features can sometimes feel overwhelming, especially for teams new to project management platforms. The cost, particularly for its advanced plans, may not suit all budgets, but for many, the value derived makes it a worthwhile investment.
In essence, Monday.com emerges as a comprehensive solution, apt for teams seeking an efficient and engaging project management tool.
#5. Smartsheet

Smartsheet is a versatile work management and collaboration platform that streamlines tasks and projects for teams and organizations, boosting productivity. You can create and customize sheets as central workspaces, incorporating task lists, schedules, and project timelines.
Its user-friendly interface simplifies collaboration and data sharing. Smartsheet offers grid, card, Gantt chart, and calendar views for flexible project management. Real-time updates and notifications keep everyone informed about project progress.
Integration with popular tools enhances workflows and ensures data consistency. Smartsheet is accessible on both desktop and mobile devices, accommodating diverse workstyles and needs.
Smartsheet: Key Information
Company Valuation: Smartsheet is a publicly traded company (NYSE: SMAR). Its market capitalization is $5.75B.
Employee Numbers: As of 2023, Smartsheet has over 3000+ employees.
Founding Team: Smartsheet's co-founder is Brent Frei.
Features:
Marrying the familiarity of spreadsheets with the power of a robust project management tool, Smartsheet appeals to a broad spectrum of professionals. Here's an in-depth look at its standout attributes.
1. Grid, Card, Gantt, and Calendar Views

Smartsheet shines with its multiple view options. Whether you prefer a traditional grid layout, visual card setup, timeline-driven Gantt chart, or calendar view, there's a perspective tailored to your working style.
2. Automation and Workflows

Streamlining processes is a breeze with Smartsheet. Automated alerts, reminders, and approval requests ensure tasks progress smoothly, without unnecessary manual interventions, maximizing productivity.
3. Dynamic Dashboards and Reporting

Data visualization reaches new heights with Smartsheet's dynamic dashboards. Real-time insights, interactive charts, and customizable widgets offer a comprehensive overview, ensuring decision-makers are always informed.
4. Advanced Integration Options

Smartsheet's powerful integration capabilities encompass a plethora of tools, including Salesforce, Microsoft, Google Workspace, and more. This ensures seamless data flow and synchronization across all utilized platforms.
5. Secure Collaboration

Teams can collaborate with confidence, thanks to Smartsheet's robust security measures. With fine-grained permission settings, document versioning, and encrypted data transmission, project data remains safeguarded.
Pros:
Intuitive Design: The spreadsheet-like interface is familiar and easy to navigate.
Highly Customizable: Adapts to varied project needs, ensuring tailored solutions.
Extensive Template Library: A rich assortment caters to diverse project types.
Real-time Collaboration: Teams can simultaneously work on sheets, enhancing efficiency.
Cons:
Steep Learning Curve: Some advanced features demand time to master.
Pricing Model: Premium features come at a steeper price, potentially straining small-business budgets.
Performance Issues: Larger sheets might experience occasional lags.
Pricing Plans:

Individual: $14/month with core functionality.
Business: $25/user per month; includes advanced automation and reporting features.
Enterprise: Custom pricing; designed for large-scale operations with enhanced security and support.
Customer Ratings:
G2: 4.2/5 stars (based on 1,300+ reviews)
Capterra: 4.4/5 stars (based on 1,400+ reviews)
Our Review:
The market sentiment speaks volumes. The tool's blending of traditional spreadsheet familiarity with advanced project management capabilities often draws praise. Professionals appreciate its adaptability, catering to both small-scale tasks and large, intricate projects.
However, the richness of features can also be its Achilles' heel, with some users mentioning a learning curve.
The pricing can be a tad prohibitive, especially when unlocking its full potential. In sum, Smartsheet emerges as a formidable contender in the project management domain, balancing traditional ease with modern prowess.
Getting the Most Out of Team Project Management Tools

To extract the utmost value from Team Project Management Tools, it's crucial to follow best practices that ensure seamless collaboration and project success. Here are some key guidelines:
Clear Objectives: Define project goals, roles, and responsibilities upfront.
Effective Communication: Encourage open and timely communication among team members.
Structured Workflow: Develop organized workflows, utilizing task dependencies and timelines.
Regular Updates: Maintain project status updates and progress reports.
Collaboration: Promote real-time collaboration, using tools for discussions and feedback.
Integration: Integrate relevant apps and tools for a unified work environment.
Training: Ensure team members are proficient in using the chosen tool.
Data Security: Implement robust security measures to protect sensitive project data.
Feedback Loop: Establish a system for collecting and acting on feedback.
Continuous Improvement: Regularly assess and optimize your tool usage for maximum efficiency.
By adhering to these best practices, teams can harness the full potential of their project management tools and achieve successful project outcomes.
Final Thoughts
Team Project Management Tools stand as indispensable assets. They streamline collaboration, enhance communication, and provide the structure needed for successful project execution.
From task tracking to reporting, these tools empower teams to navigate complex projects with ease. Embracing the right tool is not just a choice; it's a strategic advantage in achieving goals efficiently and effectively.
FAQs
Can these tools handle remote team collaboration effectively?
Yes, many Team Project Management Tools are designed to facilitate remote collaboration, offering real-time communication and file-sharing features.
Is there a learning curve associated with these tools?
The learning curve can vary depending on the tool's complexity. However, many tools offer user-friendly interfaces and provide resources like tutorials and customer support to help users get started.
Are Team Project Management Tools secure for storing sensitive project data?
Most reputable tools prioritize data security, offering features like encryption, access controls, and regular data backups to protect sensitive information.
Can Team Project Management Tools integrate with other software and apps?
Yes, integration capabilities are a common feature. Many tools offer integrations with popular apps like email, calendars, and file storage solutions to streamline workflow.
Is there a free version available for Team Project Management Tools?
Some tools offer free versions with limited features, while others provide free trials. It's essential to review the pricing options and feature sets of different tools to find what suits your needs.