Web-based project management is a game-changer. Gone are the days of juggling paper and losing track of tasks. Now, we have digital tools. These tools live online. Why does this matter? You can access them anywhere, anytime.
You're on a business trip? Check your project status. At a cafe? Update tasks over coffee. Web-based means flexibility. It also means collaboration. Team members can connect instantly. They can share updates or tackle problems together.
But it's not just about ease. It's about results. Projects finish faster. Teams communicate better. Mistakes? They reduce. Efficiency? It increases. This isn't just a trend. It's the future of how we manage work.
Dive in and discover how web-based project management is revolutionizing our approach to projects. It's exciting. It's modern. And it's here to stay.
Quick List of 5 Web-Based Project Management
Onethread: A visual card-based tool for organizing tasks and workflows with drag-and-drop ease.
Wrike: A task-oriented tool that facilitates team collaboration and project tracking.
Basecamp: An all-in-one platform for communication, task assignment, and document storage.
Smartsheet: A versatile tool offering detailed project timelines, team collaboration, and resource management.
Monday.com: A colorful, intuitive platform for task tracking, team communication, and workflow visualization.
Comparison Chart Of Web-Based Project Management
Here's a simplified comparison chart of the mentioned web-based project management tools based on unique features:
| | | | | |
| --- | --- | --- | --- | --- |
| | Advanced Analytics Dashboard | | | |
| | Gantt Charts, calendar view, project health dashboards | Vendor management, document sharing, task specific feedback loop, team discussion | Task tracking, task dependencies, Task prioritization | |
| | | | | |
| | | Message Boards & Comments | | |
| | | | | |
| | | | | |
What is Web-Based Project Management?

Web-based project management refers to the use of online software tools and platforms to plan, organize, and manage projects. Think of web-based project management as the digital version of a construction site's command center.
Just as a command center organizes blueprints, schedules, and communication among workers, web-based tools do the same for projects. Instead of physical blueprints, there are digital task lists.
Instead of shouted updates across a worksite, there are real-time notifications and chats. All team members, like construction workers checking in at the command center, can log in from anywhere to see their tasks and updates.
And just as the command center ensures the building is constructed efficiently and on time, web-based tools ensure projects move smoothly towards completion.
How Web-Based Project Management Can Help Your Business?

In today's digital age, web-based project management has become a game-changer for businesses striving for efficiency and growth. Here are the top 7 reasons why you should considering using this method for yourself:
Centralization: Consolidates all project data in one accessible place.
Real-time Collaboration: Team members can work together, regardless of location.
Cost-effective: Reduces overhead costs with online tools, eliminating the need for physical software.
Scalability: Easily adaptable as a business grows or project demands change.
Efficiency: Automated features streamline tasks, reducing manual efforts.
Transparency: Provides a clear view of progress and responsibilities.
Accessibility: Access projects anytime, anywhere, ensuring continuity.
Incorporating web-based project management propels businesses into modern operations, making them more competitive and responsive to change.
Key Features to Consider in Web-Based Project Management

These platforms offer a range of features designed to streamline tasks, foster collaboration, and enhance overall productivity. Here are five pivotal features to consider when selecting the perfect tool for your team:
1. Real-time Collaboration
Real-time collaboration is at the heart of any successful project. This feature allows team members to communicate, share documents, and make changes instantly.
Whether it's through chat systems, shared boards, or comment sections, real-time collaboration ensures that everyone stays on the same page, reducing misunderstandings and speeding up decision-making.
2. Visual Project Planning
Visual representations, like Gantt charts or Kanban boards, help teams see the bigger picture. They provide an overview of tasks, deadlines, and dependencies.
This visual aid ensures everyone understands the project flow, identifies potential bottlenecks, and stays aligned with the project's goals.
3. Automated Workflow
Automation can significantly boost a team's efficiency. With automated workflows, routine tasks are streamlined.
For instance, once a task is marked as completed, the next step can automatically be triggered. This reduces manual intervention, minimizes errors, and ensures a smooth progression of tasks from initiation to completion.
4. Accessibility and Mobile Integration
In a world where work isn't confined to office spaces, having access to your project from anywhere is crucial.
Mobile integration ensures that team members can view updates, assign tasks, and communicate from their smartphones or tablets. This feature is especially beneficial for teams spread across different time zones or those who often work on the go.
5. Customizable Dashboards
Every project and team is unique. Customizable dashboards allow teams to set up their interface according to their preferences and needs.
Whether it's prioritizing certain metrics, highlighting specific tasks, or creating a unique view for different team roles, customization ensures that the tool adapts to the team, not the other way around.
Top 5 Web-Based Project Management
Web-Based Project Management platforms not only streamline tasks but also foster seamless collaboration among teams, irrespective of their geographical locations. Let's dive into the top five tools that have set unparalleled standards in the realm of online project management.
#1.Onethread
Onethread is a leading web-based project management tool. It simplifies tasks, teams, and time management. With Onethread, you can track project progress effortlessly. It promotes team collaboration. Its intuitive design aids quick adaptation.
You can set milestones, allocate resources, and prioritize tasks. Real-time updates keep everyone informed. Onethread ensures data security. It's suitable for businesses of all sizes. Onethread transforms complex projects into manageable steps. Choose Onethread for efficient project execution.
Overview and key features
Onethread stands as a beacon in web-based project management. Here's an in-depth look at its distinctive features:
1. Simplified Task Management:
Onethread offers unmatched task organization. Users can effortlessly categorize and monitor tasks. Prioritization becomes straightforward with task dependencies. This approach ensures nothing is overlooked, fostering productivity and task clarity.
2. Real-Time Collaboration: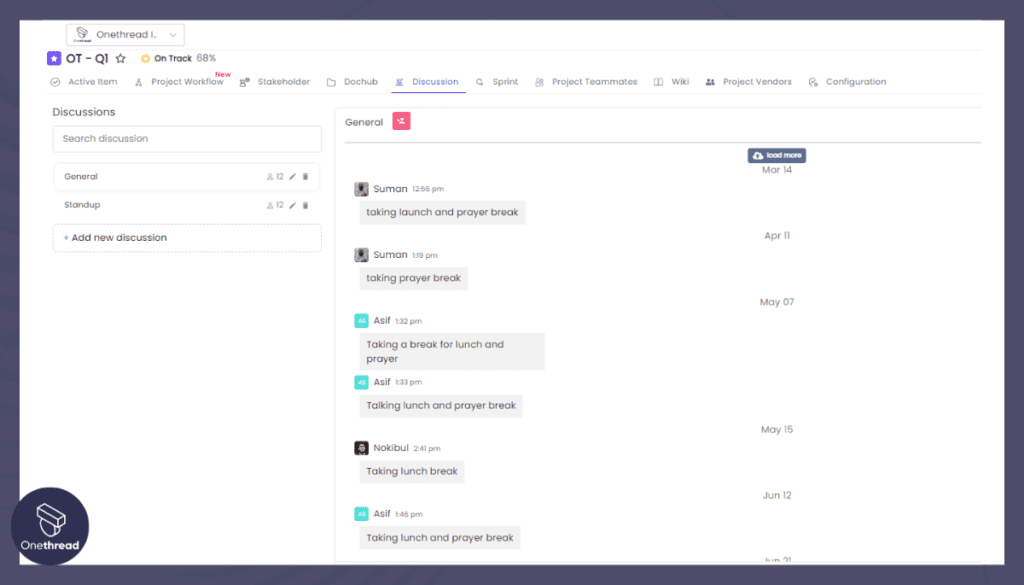 Teamwork is central with Onethread. It facilitates instant messaging, easy document exchange, and open group discussions. This interconnected setup means that teams, whether local or global, remain on the same page.
3. Intuitive Design:
Ease of use is paramount. Onethread boasts a design that's user-friendly. New users can adapt swiftly. Such a design minimizes training time, ensuring projects commence without delay.
4. Milestone Setting:
Projects can be lengthy and complex. Onethread assists by allowing clear milestone definitions. This ensures that teams can visually track and achieve project phases, enhancing overall efficiency.
5. Resource Allocation:
Maximizing team potential is essential. Onethread aids in assigning roles and distributing resources wisely. This ensures every team member's skills are optimally utilized.
Pricing plans and options.
Each is structured to ensure businesses get the best value. Here's a concise breakdown:
1. Free Plan:
Ideal for beginners or small teams.
Access basic features.
Manage a limited number of projects.
Suitable for up to 3 users.
Basic customer support included.
2. Growth Plan ($3.6):
Tailored for growing businesses.
Unlock advanced collaboration tools.
Unlimited project management.
Suitable for up to 20 users.
Premium customer support.
Integration capabilities with other tools.
3. Scale Plan ($6):
For large enterprises with vast needs.
Access all Onethread features.
Priority customer support.
Advanced security features.
Custom integrations.
Suitable for unlimited users.
Dedicated account manager.
Pros and cons
Pros:
User-Friendly Interface: Easy adaptation for new users, reducing training time.
Real-Time Collaboration: Facilitates teamwork with features like instant messaging and document sharing.
Scalability: Offers plans catering to both small businesses and large enterprises.
Robust Security: Ensures that user data and project details are safeguarded.
Resource Allocation Tools: Optimizes team potential by wisely distributing tasks.
Milestone Tracking: Makes tracking project phases efficient and visual.
Cons:
Limited Features in Free Plan: Might not suffice for teams with more complex needs.
Integration Limits: Certain plans might have restricted integrations with other tools.
Learning Curve: Despite its user-friendly nature, some features might require initial familiarization.
#2. Wrike

Wrike is a leading project management and work collaboration platform designed to streamline work processes for teams of all sizes. With Wrike, managing tasks and projects becomes effortless. Users can set deadlines, prioritize work, and collaborate seamlessly.
One of Wrike's standout features is its real-time update system, which keeps everyone in the loop about project progress. Gantt charts provide a clear visual representation of project timelines, while built-in templates expedite project workflows.
Wrike offers extensive integrations with various tools, enhancing productivity and centralizing work in one place. Its user-friendly interface ensures that both small and large teams can easily adapt and work efficiently.
Wrike: A Snapshot
Company Valuation: Wrike was acquired by Citrix for $2.25 billion.
Employee Numbers: In 2023, Wrike has approximately 1000 employees.
Founding Team:

Andrew Filev: Founder and CEO of Wrike, with a strong background in project management and business operations.
Details about other founding members are less documented; additional information might be available on specific platforms.
Features of Wrike:
Wrike is expertly crafted to fulfill the complex needs of modern businesses. Below, we'll delve into the remarkable features, pros and cons, pricing plans, customer ratings, and an unbiased review.
1. Dynamic Timeline & Gantt Chart:

Wrike's Dynamic Timeline, which employs Gantt charts, allows users to visualize project progress. You can effortlessly adjust timelines with drag-and-drop functionality. Dependencies between tasks are evident, ensuring teams recognize interconnected assignments. This feature fosters on-time project completion and adjusts flexibly to changes.
2. Collaborative Document Editing:
Wrike emphasizes seamless teamwork. Its collaborative document editing feature allows multiple team members to work on a document simultaneously. Real-time editing reduces wait times and ensures consistency. Moreover, it centralizes feedback, minimizing miscommunication risks.
3. Task Automation & Streamlining:
Automation is the future. Wrike's task automation minimizes repetitive tasks, freeing up time for core activities. With this feature, standard processes become more efficient. Projects move smoother, with reduced chances of manual errors.
4. Advanced Analytics & Reporting:
Data drives decisions. Wrike offers a robust analytics suite that provides detailed insights. You can customize reports to understand team performance, task status, and project health. These analytics guide managers in identifying areas of improvement, ensuring optimal resource utilization.
5. Customizable Dashboards:
Every team is unique. Wrike's dashboards can be tailored to suit specific team needs. You can quickly view essential metrics, project updates, and task lists at a glance. Such customizability ensures that every user gets the most relevant information upfront.
Pros & Cons of Wrike:
Pros:
Highly Adaptable: Can be tailored for various industries and project types.
Integration Capabilities: Compatible with a vast array of third-party apps.
Robust Security Features: Ensures data safety and GDPR compliance.
Mobile Accessibility: Mobile apps allow project management on the go.
Real-Time Notifications: Keeps teams updated on task changes and deadlines.
Cons:
Initial Learning Curve: Some users might find it slightly challenging to navigate initially.
Pricing: Higher-tier plans can be on the pricier side for small businesses.
Complexity: Given its rich features, it can feel overwhelming for simpler projects.
Pricing Plans for Wrike:

Free Plan: Basic tools suitable for small teams.
Professional Plan: Advanced features for growing businesses.
Business Plan: Comprehensive tools tailored for larger organizations.
Enterprise Plan: Custom solutions for enterprises with vast needs.
Customer Ratings:
G2: 4.2 out of 5 stars.
Capterra: 4.1 out of 5 stars.
Our Review:
Wrike, without a doubt, stands out in the world of project management tools. Its rich feature set, combined with flexibility, makes it a formidable choice for businesses aiming for growth. While there might be an initial adaptation phase, the payoff in terms of streamlined operations is substantial.
As with all tools, it's essential to assess your specific needs against what Wrike offers, but for most businesses, it is an investment that reaps rich dividends in productivity and efficiency.
#3. Basecamp

Basecamp is a user-friendly project management and collaboration tool, simplifying teamwork for a variety of organizations. With Basecamp, you can manage tasks, projects, and communication seamlessly.
The platform offers a centralized hub where teams can create to-do lists, share files, and discuss project details. This streamlined approach replaces the need for scattered emails and spreadsheets.
Basecamp's message boards facilitate clear and organized communication, and it keeps everyone on the same page with real-time notifications.
One of its strengths is its simplicity; it's easy for both small businesses and large enterprises to navigate. Basecamp is accessible from both desktop and mobile devices, ensuring flexibility and convenience.
Basecamp: A Brief Overview
Company Valuation: Basecamp is a privately held company, and while the specific valuation is unknown, it is assumed to be somewhere close to $100B.
Employee Numbers: Basecamp is known for its intentionally small team. Total employee is 450+ in 2023.
Founding Team:

Jason Fried: Co-founder and CEO, known for his unique approach to business and work culture.
David Heinemeier Hansson: Co-founder and CTO, a prominent figure in the programming world.
Distinguishing Features of Basecamp

Here are the top 5 features that make Basecamp a tough contender in this list:
1. To-Do Lists with Hierarchies:
Basecamp's To-Do Lists are thoughtfully crafted. They allow tasks to be broken down into actionable steps, each assigned to individuals or teams. Deadlines, priorities, and comments are seamlessly integrated, ensuring that tasks are systematically tackled, reducing oversight.
2. Message Boards & Real-Time Chat:
Communication is streamlined with Basecamp. Instead of scattered email threads, the Message Boards keep discussions topic-centric. Coupled with real-time chat rooms, teams can converse, brainstorm, and align efforts efficiently. It guarantees everyone remains in sync, fostering unity.
3. Document & File Storage:
Centralizing resources, Basecamp's document and file storage system eradicates the chaos of finding essential files. You can effortlessly upload, categorize, and share documents. With a history trail, any edits or changes are transparent, mitigating the risk of data loss.
4. Schedule & Calendar Integration:
Basecamp's scheduling tool ensures timely project completion. It's more than just a calendar; it's an integrated system to set milestones, events, and deadlines. By providing an overarching view of the project timeline, it helps in resource allocation and avoids scheduling conflicts.
5. Automatic Check-Ins & Updates:
Staying updated becomes hassle-free. Basecamp's automatic check-ins prompt team members for updates at set intervals. It reduces micromanaging, as project leads receive regular insights without constantly probing. It ensures transparency and progressive momentum.
Pros & Cons of Basecamp:
Pros:
User-Centric Design: Known for its simplicity and intuitive layout.
All-in-One Dashboard: Centralizes tasks, chats, and documents for easy access.
No Per-User Fees: Cost-effective for larger teams.
Third-Party Integrations: Connects seamlessly with various tools and apps.
Consistent Updates: The platform continually evolves with user feedback.
Cons:
Lacks Gantt Charts: Visual project planning tools are limited.
Customization: Some might find it less flexible for niche requirements.
Complex Projects: Might feel too simplistic for highly intricate projects.
Pricing Plans for Basecamp:

Personal Plan: Free, designed for personal projects or light use.
Business Plan: Flat rate, encompassing unlimited users and advanced features.
Customer Ratings:
G2: 4.0 out of 5 stars.
Capterra: 4.3 out of 5 stars.
Our Review:
Basecamp has long been a favorite among businesses for its clarity and cohesiveness. The tool, while simplistic at first glance, is a powerhouse when deployed effectively. Its strengths lie in unifying teams, streamlining communication, and centralizing tasks.
While it might not cater to the intricacies of highly complex projects, it's a reliable solution for most businesses, especially those weary of overly complicated platforms. Choosing Basecamp is about valuing simplicity, transparency, and a straightforward approach to project management.
#4. Smartsheet

Smartsheet is a versatile work management and collaboration platform that empowers teams to organize and execute tasks and projects efficiently. It's designed to enhance productivity across various industries and team sizes.
With Smartsheet, users can create and customize sheets, which serve as centralized workspaces. These sheets can include task lists, schedules, and project timelines. The platform's easy-to-use interface allows for seamless collaboration and sharing of information.
Smartsheet stands out with its grid, card, Gantt chart, and calendar views, providing flexibility in project management. Real-time updates and notifications keep everyone informed about project progress.
It integrates seamlessly with popular tools, enhancing your workflow and ensuring data consistency. Smartsheet is accessible on both desktop and mobile devices, making it suitable for teams on the go.
Smartsheet: Key Information
Company Valuation: Smartsheet is a publicly traded company (NYSE: SMAR). Its market capitalization $5.75B.
Employee Numbers:Smartsheet has over 3100 employees as of 2023.
Founding Team: Maria Colacurcio, Brent Frei, Eric Browne
Exceptional Features of Smartsheet:
1. Grid View with Hierarchical Tasks:

Smartsheet's primary view resembles a spreadsheet, but it's much more powerful. Tasks are organized hierarchically, letting you break projects into sub-tasks. Assign responsibilities, set dates, and integrate dependencies with ease. This view ensures clear project navigation and efficient task allocation.
2. Dynamic Gantt Charts:

Visualize your project timeline effortlessly. Smartsheet's Gantt chart is not only interactive but also adjustable. As tasks evolve or dates shift, the chart automatically updates. This dynamic visualization assists in tracking progress and identifying potential bottlenecks.
3. Automated Workflows:

Automation simplifies management. Smartsheet's automated workflows trigger actions based on set criteria. For example, when a task is marked complete, stakeholders can be automatically notified. This reduces manual updates and ensures real-time information flow.
4. Dashboards & Portals:

Gain a birds-eye view of your project. Smartsheet's dashboards compile critical metrics, key performance indicators, and overarching progress into a single pane. The portals allow easy access to vital resources, ensuring stakeholders remain informed and engaged.
5. Integration & Extensibility:

Being isolated isn't an option today. Smartsheet integrates seamlessly with popular apps like Slack, Microsoft Teams, and Google Workspace. Its extensibility ensures that as your tools evolve, Smartsheet remains compatible and integral to your tech stack.
Pros & Cons of Smartsheet:
Pros:
Intuitive Design: Offers the familiarity of spreadsheets with added power.
Versatile Views: Swap between grid, calendar, chart, or card views based on need.
Collaboration Tools: Facilitates real-time collaborative editing and discussions.
Security Protocols: Adheres to stringent standards ensuring data protection.
Customizable Templates: Get started quickly with industry-specific templates.
Cons:
Learning Curve: Some features may require initial training.
Subscription Costs: Advanced features come with a steeper price tag.
Mobile App Limitations: Not all functionalities are as smooth on mobile platforms.
Pricing Plans for Smartsheet:

Individual Plan: Suited for solo users managing simple projects.
Business Plan: Designed for teams needing advanced collaboration and integration features.
Enterprise & Premium Plans: Custom solutions for organizations with complex needs.
Customer Ratings:
G2: 4.2 out of 5 stars.
Capterra: 4.4 out of 5 stars.
Our Review:
Smartsheet carves a niche for itself by combining the best of traditional spreadsheets with cutting-edge project management capabilities. It appeals to those familiar with Excel while offering a suite of advanced tools to drive projects.
The platform is undeniably powerful, though some might find certain functionalities overwhelming at first. But with commitment, businesses can harness its full potential to foster collaboration, drive efficiency, and ensure timely project delivery. For organizations navigating complex projects, Smartsheet's innovative approach might just be the answer they seek.
#5. Monday.com

Monday.com is a versatile work operating system that revolutionizes work management for teams of all sizes. This intuitive platform simplifies task and project management, making it a valuable asset for organizations.
With Monday.com, you can create custom workflows, replacing the need for complicated spreadsheets. Visual boards enable you to track tasks, projects, and timelines effortlessly, while shared workspaces facilitate seamless collaboration.
The platform's adaptability shines through its extensive integration options with popular tools, ensuring a smooth workflow. Automations reduce manual work, and real-time notifications keep everyone updated.
Accessible on both desktop and mobile devices, Monday.com caters to various team needs. It's user-friendly for beginners while offering advanced features for tech-savvy users.
Monday.com: A Quick Overview
Company Valuation: Monday.com went public (NASDAQ: MNDY) with an IPO valuation of around $6.8 billion.
Employee Numbers: In 2023, Monday.com had over 2,000 employees.
Founding Team:

Roy Mann: Co-founder and CEO, providing leadership and vision for the company.
Eran Zinman: Co-founder and CTO, responsible for the technical aspects of the platform.
Lior Krengel: Co-founder and Chief Brand Officer, contributing to brand development and user experience.
Key Features of Monday.com
1. Visual Project Tracking:

Monday.com is a visual delight. Projects transform into vibrant, color-coded rows and columns. Whether tracking a task's status, priority, or owner, everything is visually represented. This ensures that at a glance, teams understand their current position and next steps.
2. Customizable Workflows:

No two projects are the same. Recognizing this, Monday.com offers customizable workflows. Teams can define stages, create automated actions, and ensure the process fits their unique needs. This customization eliminates inefficiencies and aligns with specific project goals.
3. Collaboration and Communication Hub:

Silos hinder progress. Monday.com's platform acts as a central hub for communication and collaboration. Discussions happen in real-time, right where the tasks are. Attachments, feedback, and updates are centralized, ensuring no important detail slips through.
4. Time Tracking and Reporting:

Time is of the essence. With Monday.com's inbuilt time tracker, every minute spent on a task is logged. This ensures accurate billing, resource allocation, and productivity insights. Coupled with comprehensive reporting, decision-makers receive a holistic view of project health.
5. Integration Ecosystem:

Monday.com doesn't work in isolation. It boasts an extensive integration ecosystem. Whether it's syncing with calendars, connecting with CRM tools, or collaborating via communication platforms, it seamlessly integrates to offer an all-in-one solution.
Pros & Cons of Monday.com:
Pros:
User-Friendly Interface: Intuitive design that's easy to navigate.
Highly Adaptable: Fits diverse industries and project complexities.
Automation Capabilities: Reduces repetitive tasks and boosts efficiency.
Transparent Pricing: Clear tiers based on features and users.
Continuous Improvements: Regular updates and feature additions.
Cons:
Overwhelming for New Users: Initial plethora of features can be daunting.
Price Point: Can become expensive as teams grow.
Dependency on Internet: Limited offline functionalities.
Pricing Plans for Monday.com:

Basic Plan: Entry-level features for small teams.
Standard & Pro Plans: Advanced features for growing businesses.
Enterprise Plan: Custom solutions for large organizations with intricate needs.
Customer Ratings:
G2: 4.3 out of 5 stars.
Capterra: 4.6 out of 5 stars.
Our Review:
Monday.com is a testament to what modern project management can achieve. Combining a sleek interface with power-packed features, it caters to both the novice and the expert. While its vibrant design stands out, it's the underlying capabilities that truly shine.
The platform is structured to evolve with teams, be it a startup or a global enterprise. The initial learning curve might appear steep, but the outcomes in terms of collaboration, efficiency, and transparency are unparalleled. In essence, Monday.com is not just a tool but a strategic ally in project success.
Getting the Most Out of Web-Based Project Management

Leveraging web-based tools is more than just about accessing features; it's about maximizing their potential for seamless, efficient work. Here's how to extract the most value from these tools:
Regular Training: Keep teams updated with tool functionalities.
Define Clear Processes: Establish consistent workflows within the tool.
Centralize Communication: Use integrated chats and discussion boards.
Leverage Integrations: Sync with other tools for a holistic platform.
Monitor Progress: Utilize dashboards and reports for insights.
Stay Updated: Regularly check for tool updates or new features.
Feedback Loop: Encourage team feedback to tailor tool usage.
Prioritize Security: Ensure data is protected and access is controlled.
By adhering to these practices, the full potential of web-based project management tools can be realized.
Summary
Web-based project management has revolutionized the way teams collaborate and achieve goals. By offering real-time collaboration, integrations, and centralized data access, it fosters efficiency and transparency.
As businesses evolve in the digital age, leveraging these tools is not just an option, but a necessity for streamlined operations and successful project outcomes.
FAQs
How do these tools improve team collaboration?
They offer features like chat, discussion boards, and shared task lists, which promote real-time communication and transparency.
Can I integrate other tools with web-based project management software?
Yes, many web-based tools offer integrations with popular software like Slack, Google Workspace, and CRM platforms.
Is there a steep learning curve associated with these tools?
While some tools may require training, many are user-friendly and designed with intuitive interfaces for easy adoption.
Do web-based tools support mobile devices?
Most modern project management tools have mobile apps or are mobile-responsive, ensuring access on the go.
What happens if there's an internet outage?
While an active internet connection is crucial, some tools offer offline modes, syncing data when the connection is restored.